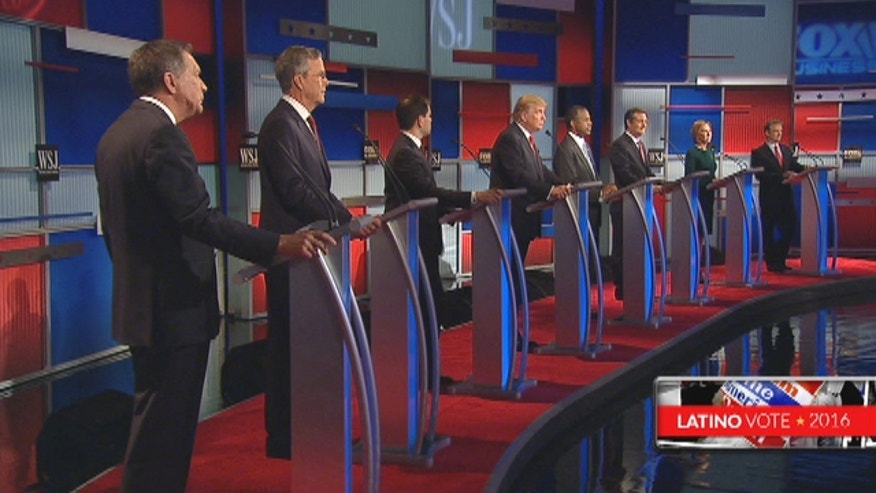 Less than one hour into the fourth Republican presidential debate on Tuesday, a few of the candidates got into a heated discussion over what to do with the country's estimated 12 million undocumented immigrants.
Asked by Fox Business Network moderators about the Monday federal appeals court decision to uphold an injunction against President Barack Obama's executive action shielding millions of undocumented immigrants from deportation, Donald Trump praised the ruling.
"I was so happy yesterday when I saw that decision come down," said Trump, who has enjoyed front-runner status among GOP candidates for much of the election cycle.
"We have to stop illegal immigration," said Trump, "it's hurting us economically."
Trump repeated his promise to build a wall along the U.S.-Mexico border and deporting millions of people here illegally.
"We are a country of laws. We need borders. We will build a wall," he said.
That prompted sharp rebukes from Ohio Gov. John Kasich and former Florida Gov. Jeb Bush.
Kasich, who supports a pathway to legal status, attacked Trump's plan as impractical.
"For the 11 million people, c'mon folks," he said. "We all know you can't pick them up and ship them across the border."
Bush, who also supports a pathway to legal status, spoke to the more to the political dynamic of the divisive issue.
He started by suggesting that Trump's tough talk on immigration was a boon to Democratic frontrunner Hillary Clinton's campaign, then he added, "To send them back, 500,000 a month, is just not possible ... The way you win the presidency is you have practical plans."
Sen. Ted Cruz, who went into Tuesday's debate following a strong performance in the last one, said Republicans will lose the presidential race if they offer "amnesty" to undocumented immigrants.
"For those of us who believe people ought to come to this country legally, we should enforce the law. We're tired of being told it's anti-immigrant – it's offensive," Cruz said. "I am the son of an immigrant who came to this country legally from Cuba to seek the American Dream, and we can embrace legal immigration while believing in the rule of law."
Framing this as an economic issue for many Americans, Cruz asked how the press would feel if "people with journalism degrees were coming over and driving down wages."
Like Cruz, Sen. Marco Rubio went into the debate riding on strong momentum from the third GOP debate.
Rubio said people are working hard, but the economy is not providing jobs that pay enough. The answer, he says, is to reform taxes, ease the way for businesses and make higher education more accessible, particularly for vocational training.
In one of the most talked-about lines of the debate on social media, Rubio said, "Welders make more money than philosophers. We need more welders and less philosophers."
He said that high corporate tax rates force companies to move jobs out of the country, the president's health care law discourages businesses from hiring new workers, and the existing higher education system doesn't teach 21st century skills.
The government must respond to the country's ongoing "economic transformation," Rubio said.
Tuesday's debate, the last for GOP candidates until mid-December, occurred as retired neurosurgeon Ben Carson began to rise above Trump in polls of likely Republican voters.
As he's risen in the polls, Carson has also faced a flurry of questions about his biography – which described a violent youth and his overcoming it largely through religion and which has been central to his connection with voters.
Carson has insisted in media interviews that his account is accurate and that media is on a witch hunt against him.
Just ahead of the debate Tuesday, Carson's Twitter team posted a video filmed on his way to the venue in Milwaukee.
In it, Carson says: "It really is not about me, it's about America. It's about what are we going to do for the kids, for the next generations. And I think if we start working together and stop allowing the purveyors of division to prevail, we're going to be just fine, because we are the United States of America."
In previous debates, Carson has generally avoided criticizing his rivals, but they have not been as shy about taking shots at him.
Rubio is widely seen as among the most talented politicians in the GOP field, and his rise has appeared to worry some of his rivals.
That is especially true of Bush, the former governor of Florida – the friend and political mentor of Rubio. Bush struggled in his attempts to challenge his younger colleague in the last debate, though he's continued to needle him in subsequent campaign appearances, and his well-funded super PAC has signaled its intention to go aggressively after the senator in the coming weeks.
Trump has also stepped up his criticism of Rubio, calling him a "total lightweight" and a "highly overrated politician" in tweets sent late Monday night.
Missing from the main stage were New Jersey Gov. Chris Christie and former Arkansas Gov. Mike Huckabee. Both fell from the top-tier debate because of low poll numbers in national surveys, sparking criticism for the way the networks hosting the debates have determined participation.
Instead Christie and Huckabee appeared in the undercard debate, along with Louisiana Gov. Bobby Jindal and former Pennsylvania Sen. Rick Santorum.
Former New York Gov. George Pataki and South Carolina Sen. Lindsey Graham failed even to qualify for the second-tier event.
The Associated Press contributed to this report.
Like us on Facebook
Follow us on Twitter & Instagram