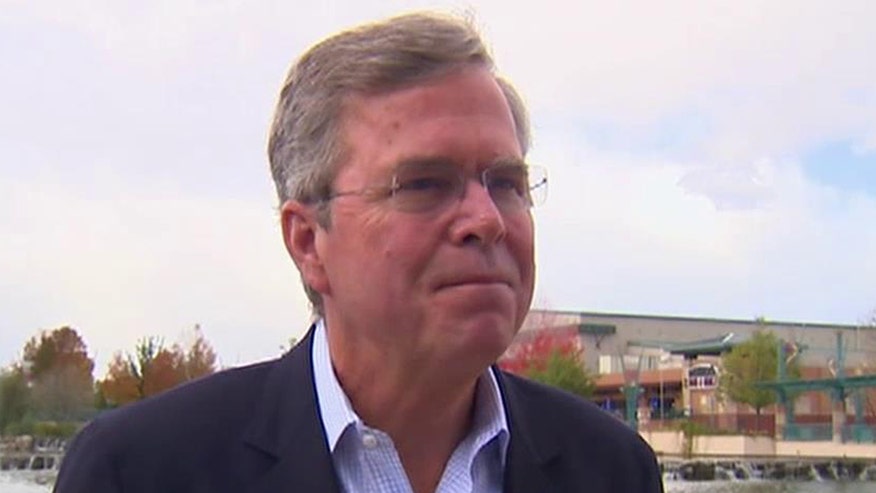 **Want FOX News First in your inbox every day? Sign up here.**
Buzz Cut:
• Dos and don'ts for the third GOP debate
• The structured liquidation of the Boehner speakership
• Hillary courts base on banks ahead of N.H. swing
• Runs for cover on VA gaffe
• Art now is literally garbage
DOS AND DON'TS FOR THE THIRD REPUBLICAN DEBATE
Republicans gather in Boulder, Colo. tonight for the third debate of the 2016 cycle. The event, hosted by CNBC, promises a heavy focus on business issues and economics. But, whatever the hosts would like to talk about, the real issue is a Republican electorate that is increasingly unsettled.

As the latest poll on the race shows, only 28 percent of Republican voters said their minds were made up about their candidate choice. That's not surprising. At this point in the 2012 cycle –96 days before the Iowa caucuses – there had already been six debates. Republicans need more input from their prospective leaders.

It is less than two weeks until the Fox Business Network's debate, and the race is entering a new phase. Voters are getting serious and candidates are passing the point where concerns can be addressed by saying "it's still early."

With that in mind, here are some dos and don'ts for the 10 candidates on the main stage.

Donald Trump
Do: Keep it real. Trump's supporters want the agent of disruption who they met this summer, flinging insults and delivering laugh lines.

Don't: Break character. Trump has been trying to behave himself of late, sometimes… Yuge mistake. Trump people are looking for an aggressor who taunts opponents and disrupts the status quo. He needs to keep doing that.

Ben Carson
Do: Be presidential. Carson has the exact opposite problem as Trump. Carson's gentle voice, and relaxed demeanor are what appeals to his supporters, but they also give an impression that he's not fully present. He needs to help voters imagine a Carson presidency.

Don't: Take the bait. Carson is going to find himself on the receiving end not just from Trump but probably second-tier contenders and the moderators. He needs to pick his battles wisely. Engaging with Trump is pointless. Carson should instead focus on pushing back against his questioners behind the desk.

Marco Rubio
Do: Have an answer for why he misses so many votes in the Senate. His absences may pale in comparison to those of then-Sen. Barack Obama during his presidential campaign, but that's not a comparison Rubio would relish. He might find a subtle way to point out that Sen. Ted Cruz has a worse career record on missing votes, but Rubio mainly needs an explanation that doesn't sound dodgy.

Don't: Get caught in the crossfire between Jeb Bush and Donald Trump. Bush's poor poll performance has taken him from center stage and Rubio has replaced him. Proximity to Trump may get you more camera time, but being in between his former governor and the pugilistic Trump is not good real estate. Rubio should practice his "can-you-believe-these-guys" face.

Jeb Bush
Do: Keep the focus on Hillary Clinton. Bush has done his best this campaign cycle when he poses himself against Clinton, and not his fellow Republicans. If he keeps the compare and contrast to the Democratic frontrunner Bush will be in a stronger position to show he's the one that can take her on.

Don't: Engage in fights with fellow Republicans. Lately, there's been a lot of talk from the Bush camp about knocking down Sen. Marco Rubio, and Bush has been hitting back at Trump more frequently, which has made him seem more whiney than bold.

Ted Cruz
Do: Continue to avoid getting into dustups with your fellow candidates. Being the heir apparent for conservative voters (if and when Ben Carson's rise reverses) means not publicly attacking Carson or Trump. Being broadly palatable to a party that holds reservations about Cruz also means not lacerating -- too much -- candidates preferred by more moderate voters.

Don't: Repeat the creepy telemarketer routine from the second GOP debate, in which Cruz spoke directly to the camera instead of moderators or his competitors.

Carly Fiorina
Do: Prove she's in it to win it. The narrative going into tonight's debate is a bad one. Prior to her breakthrough performance in September, Fiorina was surging and fought her way onto the stage. This time there are doubts about her commitment. Aside from an understandable dip in the polls, there is the report in WSJ that she is shopping for high-paying speaking engagements and her overall low media profile.

Don't: Several of the candidates on the stage are feeling the squeeze Fiorina felt last time: their toe-hold on the main stage is tenuous. Other candidates will be using Fiorina's second-debate approach of butting in and filibustering to increase their word counts. She can't be one of the bottom tier barkers this time. She needs to elevate.

Mike Huckabee
Do: Continue to attack conservative orthodoxy. Huckabee's opposition to changes to Social Security and Medicare as well as his opposition to free trade make him different than most of his party. But the model of fiscal moderation and social conservatism remains an attractive one for many, especially older voters.

Don't: Be peevish. A bit of lighthearted indignation at moderators for inequitable speaking time may work, but being grouchy about it will not.

Rand Paul
Do: Make your promised filibuster of the pending budget deal the center piece of your debate. Paul's high-profile opposition to the bipartisan deal is the last chance for his struggling campaign but it's not a bad last chance to have. Paul can use this debate to set up a Mr. Smith moment when the legislation comes to the floor.

Don't: Be bitter.

John Kasich
Do: Keep busting Bush, whom Kasich mocked Tuesday for bragging about vetoes. Kasich is a long way from having to worry about fighting for conservative voters. Right now he's got to demonstrate that he is a better choice for moderates than Bush or Chris Christie.

Don't: Do as planned. In the same remarks that he attacked Bush, Kasich broadly condemned the entire field saying "I've about had it with these people." Polls would indicate that voters would have about had it with Kasich. And now is not the time to act superior.

Chris Christie
Do: Have an awesome joke about getting kicked out of the quiet car. Christie can be a very funny guy, and his levity has not been much on display in the first two debates. It's not easy to laugh when your campaign is hanging by a thread, but it beats crying or yelling.

Don't: Be too chummy with the moderators. Christie knows well the world of Wall Street and the reporters who cover it. His audience is not the typical CNBC viewer, but rather those Republicans tuning in in an effort to make their choice. Christie needs to keep his head outside the New York metro area and in real America, like say, New Hampshire…

WITH YOUR SECOND CUP OF COFFEE…
National Geographic: "The excavators exploring a small stone shaft on a rocky promontory in southern Greece had found an unusual tomb of an ancient warrior…Along with the well-preserved skeleton of a man in his early thirties, the grave contains more than 1,400 objects arrayed on and around the body, including gold rings, silver cups, and an elaborate bronze sword with an ivory hilt. More surprising were 50 stone seals intricately carved with goddesses, lions, and bulls, as well as a half-dozen delicate ivory combs, a bronze mirror, and some 1,000 carnelian, amethyst, and jasper beads once strung together as necklaces… 'Not since Schliemann have complete burials of this type been found in Greece,' says John Bennet, an archaeologist at the University of Sheffield in Britain and director of the British School at Athens, who is not involved with the dig"

Got a TIP from the RIGHT or the LEFT? Email FoxNewsFirst@FOXNEWS.COM

POLL CHECK
Real Clear Politics Averages
Obama Job Approval: Approve – 45.4 percent//Disapprove – 50.4 percent
Directions of Country: Right Direction – 26.1 percent//Wrong Track – 63.4 percent

THE STRUCTURED LIQUIDATION OF THE BOEHNER SPEAKERSHIP
When General Motors when kablooey in 2009, the Obama administration's solution was not just dumping $50 billion from taxpayers into the company, but, more importantly, a novel approach to federal bankruptcy law.

In this plan, all the liabilities GM had racked up over the decades were left behind in "old GM" while all of the assets were magically transported to "new GM." Poof.

Outgoing House Speaker John Boehner has a similar idea for what to do with the final budget plan of the Obama era. The deal, unpopular among Republicans for its lack of spending discipline and avoidance of fights on issues like ObamaCare and Planned Parenthood, is the outstanding liability of his speakership.

The assets, including the largest majority since the 1920s and a successful blockade of President Obama's legislative agenda, will go to the new entity: presumptive speaker Paul Ryan.

And it is a telling moment in Washington that the budget bundle, which is not well liked by anyone, is broadly expected to sail through to passage with mostly Democratic votes. Almost five years of fiscal cliff diving and endless battles for minimal gains has Washington very much in the mood for a fresh start.

The deets - USA Today: "The deal the House is expected to pass would suspend the debt ceiling until March 2017 and create a two-year budget plan that provides some relief from across-the-board spending cuts."

[Watch Fox: Chief Congressional Correspondent Mike Emanuel is on Capitol Hill with the latest on the budget showdown.]

HILLARY COURTS BASE ON BANKS AHEAD OF N.H. SWING
Hillary Clinton is taking no chances with the Democratic base as she looks to lock up the nomination. Asked on late night TV Tuesday if as president she'd let big banks in trouble fail, she responded: "Yes, yes ,yes, yes, yes." The tough line on banks continues Clinton's swing to the left and looks to quiet concerns over her cozy relationship with Wall Street.

Clinton may have New Hampshire on her mind, though, as she starts a two-day swing in the state, starting at St. Anselm College. Her putative challenger, Vermont socialist Sen. Bernie Sanders has polled well in his neighboring state. He may not be in contention for the nomination, but Sander's winning in New Hampshire would be an unwanted embarrassment in Clinton's newly resumed coronation.

Runs for cover on VA gaffe - Hit with a torrent of criticism, the Clinton campaign is beating a hasty retreat from her claim that the Veterans Administration scandal was "not as widespread as it has been made out to be."

Target: Hillary - WSJ: "A collection of top GOP operatives, financed by prominent Republican donors, is launching two new groups to take aim at Democratic presidential frontrunner Hillary Clinton. The groups—Future45, a super PAC, and 45Committee, an issue-advocacy organization—are designed to seize on issues that emerge in the campaign or comments Mrs. Clinton makes and quickly assemble ads that will run both online and on television. Organizers are hoping the groups will become something of an experimental, quick-strike vehicle to see what messages and tactics work."

[Future45 group launched its first ad today, which focuses on Hillary Clinton's record as secretary of state. The ad is set to air on broadcast TV in Iowa and New Hampshire and on national cable.]

Power Play: GOP's faith factor, in 60 seconds - You've heard all about the new libertarian Republican party, right? Maybe not? In just 60 seconds, Chris Stirewalt explains the shifting currents of faith within the GOP. WATCH HERE.

ART NOW IS LITERALLY GARBAGE
AOL: "Do you think contemporary art is trash? Some cleaners in Bolzano, Italy, certainly did so. After seeing what was supposed to be an art installation at the Museion gallery, a group of cleaners thought they needed to get to work and clear up the area from all the 'garbage' someone left behind. The art installation looked like the aftermath of a party room with many bottles on the floor, confetti and a hanging sign that reads 'Tutti Assolti' (everyone absolved). The art piece by Milanese artists Goldschmied & Chiari was entitled as 'Where are we going to dance tonight?' and the gallery described it as the perfect metaphor for the 1980's. Unfortunately for the artists, they found their installation in a garbage bag. The gallery added a sign announcing that the artwork was going to be reinstalled and it is now ready to be viewed again."

Chris Stirewalt is digital politics editor for Fox News. Want FOX News First in your inbox every day? Sign up here.
Chris Stirewalt joined Fox News Channel (FNC) in July of 2010 and serves as politics editor based in Washington, D.C. Additionally, he authors the daily Fox News Halftime Report political news note and co-hosts the hit podcast, Perino & Stirewalt: I'll Tell You What. He also is the host of Power Play, a feature video series on FoxNews.com. Stirewalt makes frequent appearances on network programs, including America's Newsroom, Special Report with Bret Baier and Fox News Sunday with Chris Wallace. He also provides expert political analysis for FNC's coverage of state, congressional and presidential elections.