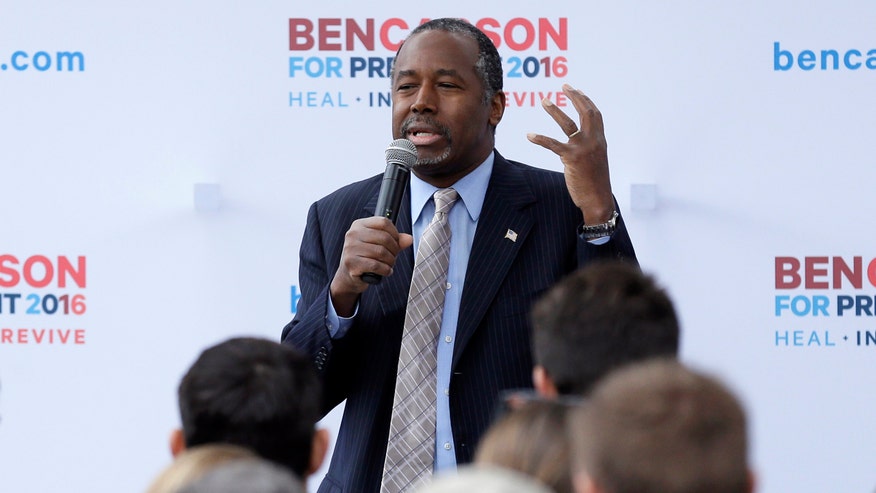 **Want FOX News First in your inbox every day? Sign up here.**
Buzz Cut:
• Christian conservatives put Carson on top
• GOP and Obama reach terms on spending, debt plan
• Hillary drops gender bomb on Bernie
• Jeb steps up Rubio attacks, again
• Napoleon Dynamite P.D.
CHRISTIAN CONSERVATIVES PUT CARSON ON TOP
Each election cycle, we are told that this is the season in which social moderation and libertarianism is ascendant in the GOP. And then we get to voting…

New polls this week show the might of Christian conservatives within the Republican Party as Ben Carson's rise takes him into what is shaping up to be a tie with Donald Trump, who had been the undisputed poll king since mid-July.

Carson today saw his second-ever lead in any national poll, and the NYT/CBS News survey conforms to the general trend: Carson has been gaining ground steadily since the last GOP debate six weeks ago.

And it's no wonder.

Consider this from CBS: "Carson's support among evangelicals has risen and he now leads Trump by more than 20 points with this group. Carson performs well among conservative Republicans and those who identify as Tea partiers. Trump does well with moderates…."

Almost half of Republican voters in 2012 identified themselves as "born-again Christians," which should give you some sense of what that bloc means in a GOP primary.

Trump's struggle with Christian conservatives helps explain what's happening in Iowa, where Carson is now the clear frontrunner. In one recent poll there, 40 percent of likely caucus goers did not know if Trump was "a committed Christian" and another 28 percent said they were certain he was not. In a state where 60 percent of GOP caucus goers were self-identified Evangelical Christians, that's not where you want to be.

But Trump is not yielding in his bid for evangelical votes, attacking Carson today on MSNBC for what seemed to be having conducted clinical trials in the 1990s on fetal tissue. Trump is also talking frequently again about his own faith, a "down the middle of the road" Presbyterianism.

(One can imagine the paroxysms of anguish in the hushed hallways of the proudly liberal main branch of the Presbyterian Church in the U.S. as Trump more and more loudly proclaims his devotion to the Scottish-born brand of Reformed theology. They will have to conduct thrice the number of same-sex marriages just to get their reputation restored.)

One senses that Trump has not yet learned the language of faith that prior Republican nominees have had to master to win support from the party's conservative base. He has had great success with more moderate, less conspicuously Christian voters, but a drive to the nomination will require the GOP base to be on board.

And most worrisome for Trump, even beyond the polls, is what we learn in David Drucker's dispatch from Carson's campaign headquarters: The doctor is putting together a real campaign and running ads.

While Trump's success has relied on endless coverage of his campaign events and sundry outrages, Carson is trying to make the leap to a durable organization. If he can do that, Trump might have to get used to not winning for a while.

Trump looks at upside on burkas - The Hill: "Republican presidential candidate Donald Trump on Monday said the U.S. should not tell countries with large Muslim populations to forbid burkas. 'They want to [wear them]!' Trump said to his supporters at a town hall in Atkinson, N.H. 'What the hell are we getting involved for? In fact it's easier. You don't have to put on makeup, look how beautiful everyone looks. Wouldn't it be easier?'"

Kasich reacts to Trump's Ford claims - On Monday's "The Kelly File" Ohio Gov. John Kasich commented on Ford Motor Company's decision to put a new plant in his state instead of Mexico. The Ford deal gained attention from Donald Trump's comments, but Kasich said Trump shouldn't be credited for the move: "We were able to get Ford because we got a great workforce. We've taken Ohio from debt to surplus. We've reduced taxes. We do workforce. I mean, we're up 347,000 jobs in Ohio. We're a different state today, but we didn't do it by, you know, going and raiding other states or all this bombast." Watch here.

Jeb steps up Rubio attacks, again - Politico: "The campaign's fixation on the Florida senator was evidenced by several slides, including one noting the allies of both Rubio and Bush who have sided with Bush's campaign…The following slide called Rubio 'a GOP Obama' and noted their 'strikingly similar profiles…'"

DEAL OR NO DEAL? GOP AND OBAMA REACH TERMS ON SPENDING, DEBT PLAN
Fox News: "House Republican leaders have unveiled a tentative two-year budget agreement with the Obama White House aimed at preventing a partial government shutdown and forestalling a debt crisis. The text of the deal was posted to the House Rules Committee's website late Monday, setting up a final debate and vote on the plan Wednesday. Sources told Fox News the House GOP leadership will likely require the support of almost all House Democrats and between 90 and 100 Republicans to see the agreement through. The measure was to be discussed further at a GOP meeting Tuesday morning.
The budget pact, coupled with a must-pass increase in the federal borrowing limit, would solve the thorniest issues awaiting Rep. Paul Ryan, R-Wis., who is set to be elected Speaker of the House on Thursday. However, sources told Fox that conservatives opposed to Ryan as speaker may use the proposed budget as a reason to vote against the House Ways and Means committee chair. Not enough members were expected to defect to imperil Ryan's ultimate election."

[Watch Fox: Chief Congressional Correspondent Mike Emanuel is on Capitol Hill with the latest on the budget talks and speaker race.]

WITH YOUR SECOND CUP OF COFFEE…
If you have ever been in love with words you have probably been at least a little in love with Dylan Thomas. The tragic, elegiac poet was born on this day in 1914. His most famous work "Do not go gentle into that good night" has captured the imagination of many students to find their emotions met so fully and mirrored so well by the words of another. Thomas is among the most famous poets in America thanks in part to his frequent, dramatic radio readings and public tours in the United States. Thomas' image as a tragically romantic figure was cemented by his death on a drunken binge in New York at age 39 in 1953. But much of Thomas' work is tinged with hope as he wrote in a poem about his own birthday: "O may my heart's truth Still be sung On this high hill in a year's turning."

Got a TIP from the RIGHT or the LEFT? Email FoxNewsFirst@FOXNEWS.COM

POLL CHECK
Real Clear Politics Averages
Obama Job Approval: Approve – 45.0 percent//Disapprove – 50.3 percent
Directions of Country: Right Direction – 26.1 percent//Wrong Track – 63.4 percent

HILLARY DROPS GENDER BOMB ON BERNIE
Hillary Clinton dealt the gender card over the weekend, hitting Vermont socialist Sen. Bernie Sanders for his comment on gun control at the Democrats debate Oct. 13 where he said "all the shouting in the world" wouldn't keep guns out of the wrong hands. Clinton felt his phrasing was sexist saying, "I haven't been shouting, but sometimes when a woman speaks out, some people think it's shouting." Sanders rejected the knock, saying Clinton was "taking words and misapplying them."

More to come - National Review's Rich Lowry says "Sanders should get used to it. If he remains a threat to Clinton in the early states, he'll be deemed a cross between Archie Bunker and Andrew Dice Clay before it's over… If Hillary is perfectly willing to use this tack against Sanders, a down-the-line supporter of the feminist policy agenda who has spent his adult life soaking in left-wing pieties, just wait until she gets into a race with Donald Trump, Ted Cruz, or any other Republican. No microaggression will be too "micro" to try to use to win a news cycle. Hillary will pretend to have the exquisite sensibilities of a campus feminist insisting she needs a 'safe space' from the bristling hostility all around her."

Hillary PAC launches web campaign - Hillary Clinton's super PAC, Priorities USA, is launching a $1.5 million digital campaign called "Wrong For Us" to "hold GOP Presidential candidates accountable for their dangerous positions on key issues and contrast their records with Hillary Clinton's lifelong commitment of standing strong for American families," according to the group's statement. The campaign includes paid digital ads running in primary and general election battleground states, and web videos.

[Surprise! - AP: "Ending months of delay that drew criticism from some fellow Democrats, New York City Mayor Bill de Blasio is planning to endorse Hillary Rodham Clinton for president, a person familiar with his plans told The Associated Press on Monday."]

SOUND OFF: READERS RESPOND GOP 2016 POWER INDEX
"It's always good to have opinions and call it analysis, I guess. The Fox media has been for Trump and sneering about Bush from day one. Hopefully, Carson will get the nomination so I'll be able to vote in this election." – Anna Kingry

"Carson and Trump speak candidly about the many dysfunctional aspects of our current bloated government. The endorsement should go to someone who outlines solutions to major problems and has experience in effective operations of a major enterprise." – Terence Quigley

"I would participate in your power index, but I don't even smoke pot. And I assume that you must be smoking it a lot to come up with the line-up you have." – Bob Lewis

"I thought that Herman Cain had left the stage.....instead he has returned in the schizoid version of Dr. Carson and Donald Trump. Neither of these gentlemen would or could carry one state. They would return the Republican Party to a minority status or the rest of my life. The Senate would be lost and the House would have an institutional majority of Democrats." – Steve Bresset

NAPOLEON DYNAMITE P.D.
LAT: "The police force in the Northern California town of about 10,000 people plans to equip its 20 officers with nunchakus, also known as nunchucks. Basically, they're what martial arts legend Bruce Lee used – besides his fists of fury and feet -- to take down all those bad guys in his movies. The police department was looking for a versatile tool that would limit injuries to officers and the people they detained – but that would still be an effective means of subduing an unruly suspect. Anderson's top brass decided nunchakus were the way to go, said Sgt. Casey Day. 'It gives us the ability to control a suspect instead of striking them," he said. Of course, if you've watched enough Lee movies you'll notice that he didn't use nunchakus to pacify his enemies. He beat them up with them. But Anderson police insist they can detain someone with them in a relatively peaceful way.'"

Chris Stirewalt is digital politics editor for Fox News. Want FOX News First in your inbox every day? Sign up here.
Chris Stirewalt joined Fox News Channel (FNC) in July of 2010 and serves as politics editor based in Washington, D.C. Additionally, he authors the daily Fox News Halftime Report political news note and co-hosts the hit podcast, Perino & Stirewalt: I'll Tell You What. He also is the host of Power Play, a feature video series on FoxNews.com. Stirewalt makes frequent appearances on network programs, including America's Newsroom, Special Report with Bret Baier and Fox News Sunday with Chris Wallace. He also provides expert political analysis for FNC's coverage of state, congressional and presidential elections.