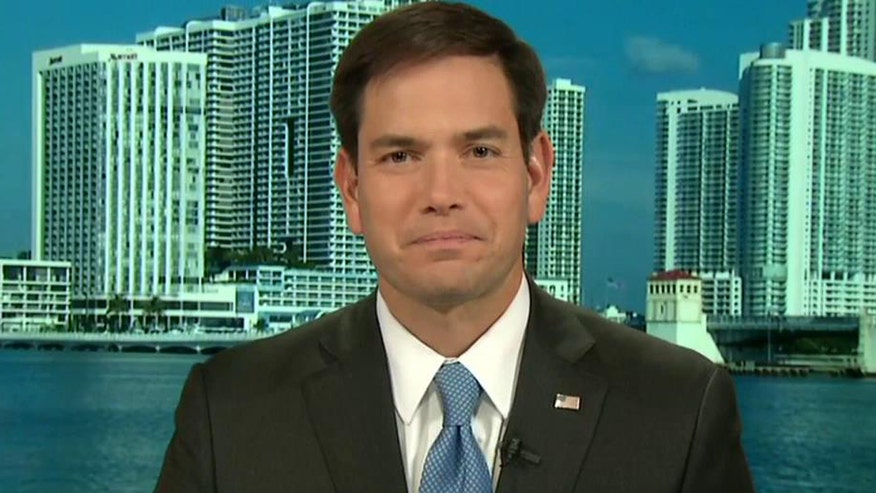 Not planning on watching the first Democratic presidential debate Tuesday night?
Well, neither is Sen. Marco Rubio.
"I doubt I'll be watching," the Florida senator told Greta von Susteren on Fox News' "On the Record" on Monday. "I've got a busy day ahead of me. I'm sure I'll see the clips and the highlights."
No, the Republican presidential candidate isn't skipping the debate to tune into the Mets-Dodgers baseball playoff game or to see who Adam Levine and Shelton choose on "The Voice." He just doesn't want to see his Democratic rivals argue over "who is the most liberal."
"I think it's a race to the left," Rubio said. "All the candidates will see which one can out-liberal the other."
Rubio – a conservative whose moderate position on immigration has at times alienated him from the tea party wing of the GOP – hinted that Democratic candidate and Vermont Sen. Bernie Sanders, a self-proclaimed democratic socialist, is closing the gap in the polls with frontrunner Hillary Clinton and this could be steering the conversation within the party's ranks to the left.
"In essence, they want to do everything Barack Obama is doing, but even more of it," Rubio said. "They want to expand the Obama agenda."
While the Florida senator has been a recent target of attacks from other Republican presidential challengers like Donald Trump and Jeb Bush as he begins to rise in the polls, he said he also expects to be a target of attacks when the Democrats take the stage in Las Vegas Tuesday night.
Possibly another reason he won't be watching the debate.
Like us on Facebook
Follow us on Twitter & Instagram