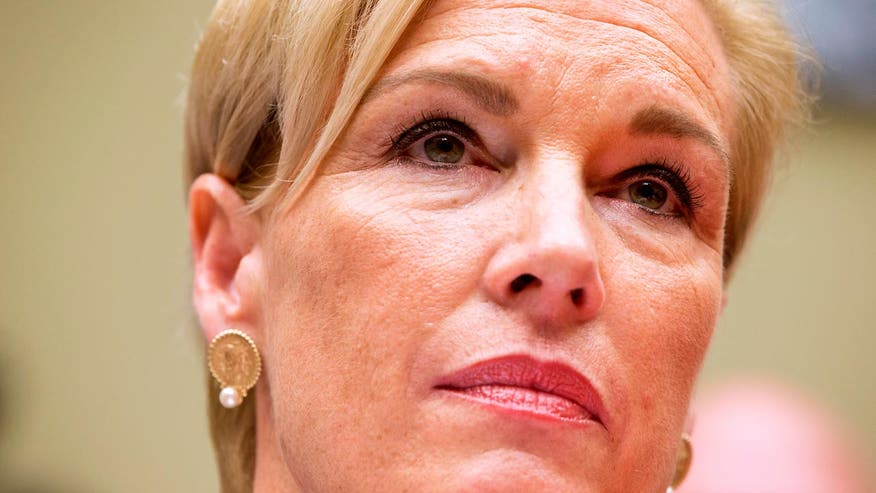 The release of videos showing Planned Parenthood officials discussing fetal tissue harvesting — which led to a contentious House hearing on the organization's use of taxpayer dollars — has put the spotlight on its president, Cecile Richards.
For Republicans, Richards is not just a hearing witness on a heated topic — but a potent political foe. Hardly one to hide her leanings, Richards' history is firmly rooted in Democratic politics – a fact touched on during the hearing, with one prominent Republican on the panel pointing out that Planned Parenthood uses its political arm to almost exclusively back Democrats, who in turn support the group's continued taxpayer funding.
"All this money is going to the Democrats. Why should federal taxpayers pay for that?" Rep. Jason Chaffetz, R-Utah, told Fox News earlier this week.
The daughter of the late Texas Gov. Ann Richards, Richards has been involved in Democratic politics since her teenage years. At age 15, according to The Dallas Morning News, she helped her mother elect Roe v. Wade lawyer Sarah Weddington to the Texas legislature. In 1996, at the age of 39, she started the Texas Freedom Network, an organization whose mission is to counter the religious right, particularly in the area of public school curricula.
Before taking over Planned Parenthood, she was deputy chief of staff for House Democratic Leader Nancy Pelosi. And in 2012, Richards made an impassioned pitch for President Obama's re-election at the Democratic convention — even invoking her mother, who died in 2006, telling delegates that she knew Obama and wanted him to succeed politically.
"President Obama understands women. He trusts women. And on every issue that matters to us, he stands with women," she said in her DNC speech.
She's also married to Kirk Adams, the international executive vice president at the SEIU, one of the largest labor unions in the country. And her daughter Lily works on Hillary Clinton's Iowa campaign team.
"She is definitely a Democrat and a pro-abortion insider," said pro-life activist Lila Rose, the founder of Live Action and an outspoken critic of Planned Parenthood.
According to federal campaign finance records, Richards, 58, personally has contributed nearly $60,000 since 1997, mostly to Democratic candidates and groups including Obama as well as Planned Parenthood's political arm, the Action Fund.
The organization's Action Fund and super PAC, meanwhile, spent $11.8 million in the 2012 election, most of it on defeating Republicans. According to the Center for Responsive Politics, $9.3 million was spent attacking the GOP, while $2.5 million was spent trying to elect Democrats. No money was given to Republicans. In 2014, only a tiny fraction went to Republicans.
According to a report by Chaffetz, over the past five years, Planned Parenthood has given the Planned Parenthood Action Fund more than $21 million in grants. During Tuesday's hearing, Richards stressed that the Action Fund remains a "totally separate corporation" that receives no federal taxpayer support.
According to the campaign finance watchdog, Planned Parenthood also spent $6.6 million lobbying the federal government from 2010 to 2014, pressing lawmakers to support contraception and abortion rights during heated budget and health care debates.
"The cycle of cash, of money, from Planned Parenthood to politicians and from politicians back to Planned Parenthood – it's a vicious cycle," Rose said.
But Bill Scher, online campaign manager at the nonprofit think tank Campaign for America's Future, said this is selective outrage.
"Is it a problem in the way that oil companies get federal subsidies and then turn around and give to Republican candidates?" he said, pointing out that Republicans have fought hard to give corporations "free speech" when it comes to funding political campaigns. "Doesn't that apply to nonprofits too?" he said. "Or because you disagree with [Planned Parenthood's] activity, she loses her right to participate in the political process?"
Richards' bio on the Planned Parenthood website notes she founded America Votes, which is described as "a coalition of 42 national grassroots organizations working to maximize registration, education, and voter participation." But the nonpartisan Center for Public Integrity called the group a "secretive nonprofit network … to advance liberal policies and win votes."
The watchdog said the network was bankrolled by a handful of big-dollar donors – about $12 million the previous fiscal year – and its money went to liberal causes, including Planned Parenthood and NARAL.
Scher suggested this was nothing new or surprising. "There is no hypocrisy there. She is acting on her principles," he said.
Conservatives' efforts to defund Planned Parenthood as part of the latest budget bill failed earlier this week, when Congress passed a "clean" short-term government budget measure. The battle could resurface in the coming months. According to Chaffetz' office, about 41 percent of the group's $1.3 billion in revenue is government funding. Most of the funds are reimbursements through Medicaid, but $60 million comes from the "National Family Planning Program," and that's the funding Chaffetz says is in question.
Democrats stood up for Richards during Tuesday's congressional hearing, where Chaffetz and others questioned her $520,000 annual compensation. Rep. Carolyn Maloney, D-N.Y., admonished Chaffetz for "beating up on a woman … for making a good salary."
But Richards, the daughter of a woman whose 1988 Democratic National Convention speech criticizing Vice President George H.W. Bush is now taught in political science courses, indicated she was unfazed. Asked if she felt she needed special treatment as a woman, she replied, "absolutely not. That's not how my mama raised me."
FoxNews.com's Kelley Vlahos contributed to this report.