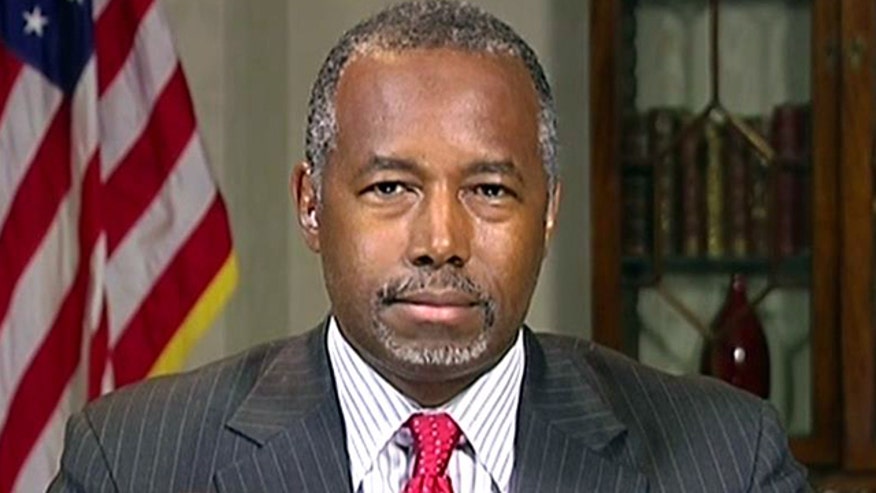 **Want FOX News First in your inbox every day? Sign up here.**
Buzz Cut:
• GOP 2016 Power Index: Carson cracks the top five
• Walker hits Jeb hard in new spot
• Huge Hillary email dump due today
• Hillary Iowa support down by a third
• Jenny-mandered
GOP 2016 POWER INDEX: CARSON CRACKS THE TOP FIVE
One of the aphorisms of modern presidential politics is that primary candidates first must fail in order to eventually succeed. That's certainly a common refrain from the campaign war rooms in Miami and Madison these days.

The oft-repeated lines about John McCain's implosion two years ago or Mitt Romney's myriad struggles in 2011 and 2012 are only right in hindsight. Sometimes setbacks lead to success. Other times, not so much…

But if you want a story about comebacks in the GOP 2016 field, it would be hard to improve on that of Dr. Ben Carson. This spring, Carson had mangled his way through enough interviews to squander a groundswell of early support. Down to 8th place in the crowded field, Carson was declared dead. Decisively so.

And yet four months later, Carson has climbed into second place in the GOP horserace nationally and with even more clout in Iowa, where a new poll from Monmouth University shows Carson tied frontrunner Donald Trump. That follows a poll from the Des Moines Register that showed Carson catching up to Trump.

In the airless room that is the national political discussion, the explanation of Trump's success is almost always that his indignant anger mirrors the party's mood. Then how do we explain Carson's success? He may be fed up, but Carson is the exact opposite of angry. He is kind and good-natured and exudes a calm that seems to be the antithesis of Trump's Tigger-like bouncing.

The other, even less charitable, explanation for Trump's success is that white nationalism is rampant in the Republican Party. Carson's success would seem to, ahem, rather undercut such claims.

Perhaps it's just because Fox News First is in love with words, but there seems to be a better explanation for the summer success of Trump, Carson and fellow outsider Carly Fiorina: Politicians have so thoroughly defeated the language of American English that anyone who sounds like a person sounds wonderful to the ears of a voter.

The replacement of plain language with the soul-crushing, Orwellian paragraphs of political boilerplate has been one of the worst consequences of the video era. Everywhere, all the time politicians cover their real meanings with doublespeak. Everyone from your mayor to your president (goodness yes) knows to cover you with jargon, clichés and general drivel.

It's always been a problem, but in the era of social media and campaign trackers, it has become a noxious gas that has settled in every valley and swale of this once straight-talking nation.

Carson does not talk like a politician. And that's why voters are listening.

Will it last? Can he sustain his rise in the face of additional scrutiny that his success will bring? That's a question for after Labor Day. For now, just enjoy the music of plain English.

1) Jeb Bush; 2) Ted Cruz; 3) Donald Trump [+1]; 4) Scott Walker [-1]; 5) Ben Carson [+2]; 6)Carly Fiorina [-1]; 7) Marco Rubio [-1]; 8) John Kasich; 9) Chris Christie [+1]; 10) Rand Paul

On the radar: Mike Huckabee, Rick Perry, Rick Santorum, Bobby Jindal, Lindsey Graham, George Pataki, Jim Gilmore

What would you say? - Give us your take on the 2016 Power Index we will share the best and brightest with the whole class. Send your thoughts to FOXNEWSFIRST@FOXNEWS.COM

[Watch Fox: Chris Stirewalt joins "The Real Story" in the 2 p.m. ET hour with the latest on who's up and who's down in the 2016 Power Index.]

Walker hits Jeb hard in new spot - In a new ad, Gov. Scott Walker, R-Wisc., compares Florida Gov. Jeb Bush to Democrats on the Iran nuclear deal, name-checking him, and making a direct comparison to Democrats. The ad has a clip of Bush hitting Walker – albeit not by name – for the Wisconsin governor's promise to tear up the he'd "look at [the deal]" and not just "tear [it] up" on his first day as president.

"We have people right there as air controllers who could literally draw in air strikes with absolute precision. They can't do that. That's particularly difficult because I talked to a general early this year who said air strikes can be effective, but right now, they're like a drizzle. He said, 'We need to have a thunderstorm there'" – Scott Walker in an interview with NBC News.

Trump's tax hikes have general election appeal - Byron York says: "First Donald Trump antagonized the Republican establishment with his proposals on immigration. Then he irritated some with his stands on trade and Social Security. Now Trump is preparing a tax proposal that will again set him far apart from the party's powers-that-be. The problem for the establishment is that Trump's positions on all three issues are more in line with the majority of American voters than the establishment's preferred policies."

Cruz says he'll be 'all in' in N.H. going forward - NHPR: "[Sen. Ted Cruz, R-Texas] has campaigned more heavily in more socially conservative states such as Iowa and South Carolina; this was his first New Hampshire visit since late May. Cruz says going forward his campaign will be "all in" when it comes to New Hampshire."

[The Boston Herald looks at which campaigns are spending the most on New Hampshire airtime.]
Fiorina backers push for debate changes - In an email to supporters, Super PAC Carly for America sent out a petition to lobby CNN to force a change in the upcoming debate's requirements. As it stands, Fiorina will not make the main stage again this round despite a much improved performance in the early state polls.
WITH YOUR SECOND CUP OF COFFEE…
President Obama will today in Alaska will formally rename America's tallest mountain, Mt. McKinley, as Denali, the Athabaskan name for the 20,237-foot peak in Alaska's national park of the same name. Democrats have long despised McKinley – a booster of big business and American imperialism – but maybe they were just jealous. McKinley was the first president to be filmed in office, thanks to Thomas Edison. He was also the first president to ever ride in an automobile, a steam-powered car, built by brothers Francis and Freelan Stanley. Their company, Stanley Motor Carriage Company, produced a number of steam-engine cars before losing out to the superior internal combustion engine. A less enviable first: McKinley would also ride in an electric ambulance after his assassination in on Sept. 5, 1901.

Got a TIP from the RIGHT or the LEFT? Email FoxNewsFirst@FOXNEWS.COM

POLL CHECK
Real Clear Politics Averages
Obama Job Approval: Approve – 44.7 percent//Disapprove – 51.2 percent
Directions of Country: Right Direction – 28.8 percent//Wrong Track – 63.0 percent

HUGE HILLARY EMAIL DUMP DUE TODAY
The largest email batch yet from Hillary Clinton's private server is set to be released today by the State Department. WashEx: "State officials have said they plan to release '6,106 or more pages' of emails Monday, according to court documents filed in a Freedom of Information Act lawsuit filed by Vice News that has forced the agency to publish Clinton's emails on a rolling basis."

The document dump comes just days after Clinton's effort to dispel clouds of doubt among the party elite over her server scandal at the DNC's summer meeting and follows a week which saw the number of emails that contained classified information shared among the former secretary of state and her close confidents rise to 63. That number is expected to grow. Clinton surrogates are arguing that since she did not know what she was mishandling was classified, she is not likely guilty of some of the more serious criminal charges that have been discussed.

[Politico delivers a who's who of those drawn into the email quagmire.]

Well, he can kiss the perv vote goodbye - "Huma Abedin, the top aide to Hillary Clinton and the wife of perv sleazebag Anthony Wiener, was a major security risk as a collector of info" – Tweet from Donald Trump.

Hillary Iowa support down by a third - Des Moines Register: "…Clinton has lost a third of her supporters since May, a trajectory that if sustained puts her at risk of losing again in Iowa, the initial crucible in the presidential nominating contest. This is the first time Clinton, the former secretary of state and longtime presumptive front-runner, has dropped below the 50 percent mark in four polls conducted by the Register and Bloomberg Politics this year. Poll results include Vice President Joe Biden as a choice, although he has not yet decided whether to join the race. Biden captures 14 percent, five months from the first-in-the-nation vote Feb. 1. Even without Biden in the mix, Clinton falls below a majority, at 43 percent."

Pressure piling up on Schultz for shielding Hillary from debates - NPR: "Making a parallel argument to the one conservatives make on the Republican side, [Sen. Bernie Sanders, I-Vt.] blamed the party, in part, for major losses in the 2014 midterm elections, because liberal base voters didn't have something to vote for.… Former Maryland Gov. Martin O'Malley also took aim at the party's establishment, repeating his criticism of the Democratic debate schedule, which begins in October. He described it as a 'rigged process' and 'a cynical move to delay and limit our own party debates.' O'Malley, who trails in the polls, wants more debates. 'Four debates, and four debates only, we are told — not asked — before voters in our earliest states make their decision,' O'Malley said, making for a rather awkward moment with DNC Chairwoman Debbie Wasserman Schultz as he left the stage."

Clinton campaign touts re-re-endorsement from Shaheen - Sen. Jeanne Shaheen, D-N.H., has been a Hillary Clinton supporter nearly as long as anyone, and made her support for the current Clinton candidacy official two years ago. But looking to shore up a crumbling New Hampshire lead, Clinton is recycling Shaheen's support for a campaign event there on Saturday.

2016 Democratic Power Index: Mo'Joe - 1) Hillary Clinton; 2) Joe Biden; 3) Bernie Sanders; 4) Martin O'Malley; 5) Jim Webb; 6) Elizabeth Warren; 7) Lincoln Chaffee; 8) Al Gore

JENNY-MANDERED
Quartz: "They say that every vote counts, but it's not usually this literal: A vote on a local sales-tax increase in Columbia, Missouri will be decided this month by Jen Henderson, a 23-year-old college student. Henderson is the only person eligible to vote on the increase because she is the only legal resident of the Business Loop 70 Community Improvement District (CID), the Columbia Tribune reports. That's where the City Council is trying to push through a sales tax increase at the behest of the district's business owners. Under state law, the increase must be approved by residents of the district…Henderson is leaning against voting for the tax increase, the Tribune reported, after the CID's director approached her to consider unregistering her vote, which she said was 'pretty manipulative.'"

Chris Stirewalt is digital politics editor for Fox News. Want FOX News First in your inbox every day? Sign up here.
Chris Stirewalt joined Fox News Channel (FNC) in July of 2010 and serves as politics editor based in Washington, D.C. Additionally, he authors the daily Fox News Halftime Report political news note and co-hosts the hit podcast, Perino & Stirewalt: I'll Tell You What. He also is the host of Power Play, a feature video series on FoxNews.com. Stirewalt makes frequent appearances on network programs, including America's Newsroom, Special Report with Bret Baier and Fox News Sunday with Chris Wallace. He also provides expert political analysis for FNC's coverage of state, congressional and presidential elections.