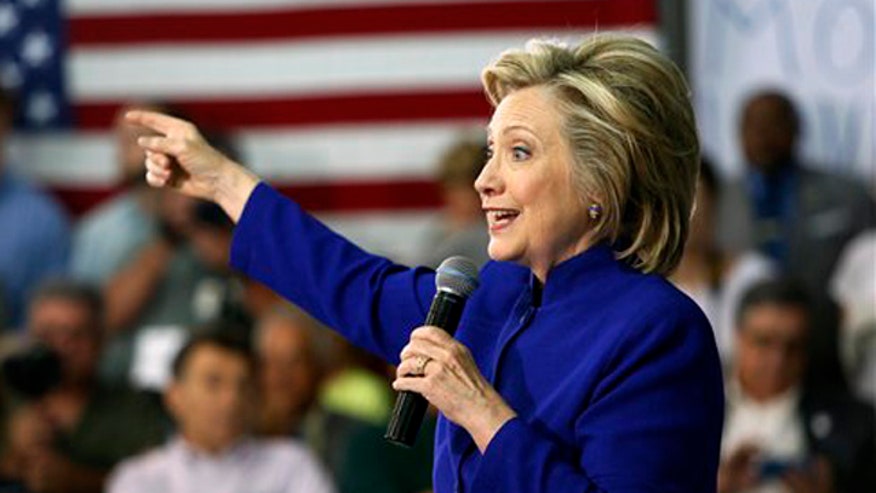 **Want FOX News First in your inbox every day? Sign up here.**
Buzz Cut:
• Holy meltdown, Hillary!
• Trump waffles on Planned Parenthood
• Walker = Coolidge?
• Christie signs taxpayer pledge
• They do wear masks…
HOLY MELTDOWN, HILLARY!
Given the breadth of her experience, you would think that Hillary Clinton's scandal-management skills would be better by now. But instead, here we are with Clinton suddenly trailing in a New Hampshire poll just as the FBI seizes her secret email server and her lawyer's backup files.

Remember, that's the same server that she defiantly told reporters five months ago "will remain private."

Recall that Clinton was refusing a request from Congressional investigators that she make the server available to a neutral third party for review. Clinton's reason was that "no one wants their personal emails made public." Well, sure. But not everyone sets up a "homebrew" server to circumvent federal email policies.

And what about the rules – especially about classified information? Clinton was absolute: "I did not email any classified material to anyone on my email. There is no classified material."

As has been the case with many Clinton claims about the scandals that have steadily stalked her candidacy, that turned out not to be true.

Clinton's claim that she had destroyed the evidence – more than 30,000 emails she says were strictly personal – that she claimed would have exonerated her always sounded fishy. Wouldn't prudence demand retaining the evidence you say would clear you? But her refusal to let anyone substantiate those claims rendered the evidence destruction argument absurd.

The good news for Clinton is that the FBI investigation is focused on the least politically damaging part of the scandal: violation of the email policies themselves. It's embarrassing for Clinton and could even end up with her facing criminal charges.

But it's far better for her to have the server in the hands of the Justice Department than of congressional investigators who would be scanning for more than just classification breaches. Being accused of letting enemies steal classified information because she wanted control over her email would be potentially debilitating, but far less so than evidence that might arise about payola allegations from her time in office.

She can be happy for now that the server is in a safe place, but also has to worry what a judge might say or do. This could get out of control quickly. She can be pretty confident that her system functioned as designed and allowed for the permanent deletion of emails. But what if somebody finds a way to recover some? What if the server ends up in Trey Gowdy's hands?

And it all could have been avoided. Had Clinton agreed to an independent review months ago, or, even better, at the time she first surrendered what she says are all of her work emails, this would be long in the rearview mirror.

Instead, Clinton is being publicly dragged to the place were good sense should have taken her from the beginning and she arrives with her earlier claims and her reputation for accountability in tatters. Hillary Clinton touts the history-making nature of her candidacy. One milestone she obviously hadn't expected to need to make: First major-party nominee to win while the subject of a federal criminal investigation.

Hey, look over there - WSJ: "The former secretary of state has dispatched her advisers to speak with medical professionals and substance-abuse advocates as the campaign develops policy proposals during the coming months. On Tuesday, Mrs. Clinton offered only broad prescriptions at the town hall event in Keene, saying that she wants to learn from the experts about what works."

O'Malley cites legal issues with DNC debates - WaPo: "As part of an escalating feud with the Democratic National Committee, longshot presidential hopeful Martin O'Malley on Tuesday released a memo from a campaign lawyer calling the party's debate plan 'legally problematic'…The memo released Tuesday takes issue with an 'exclusivity' requirement, under which any Democratic candidate who participates in a non-sanctioned debate could be barred from the DNC-sponsored debates, the first of which is in October."

TAKE FIVE: WHAT DO YOU SAY?
Eyes may be on the White House, but the fight for the Senate has already heated up. Democrats need five seats to flip the Senate from red to blue. Who will be in and who will be out? Tell us what you think. We'll track your votes and comment and share them here each and every Thursday.

Share your top five picks. Email them – just five, please – to FOXNEWSFIRST@FOXNEWS.COM or tweet @ChrisStirewalt.

WITH YOUR SECOND CUP OF COFFEE…
Fragments discovered from an old map may have led scientists on the path to solve the mystery of the "Lost Colony." In 1587, John White brought a group of settlers to the New World in what is now North Carolina. White then returned to England for supplies, and when he returned to the colony in 1590 everyone was gone. There is no historical documentation that explains what happened to this colony, but scientists announced Tuesday that they are much closer to knowing than ever before. That examination of older maps show an original plan for the city of Raleigh, in what is now the rural community of Merry Hill, N.C. Finding several artifacts in the area, scientists believe the colonists left the original colony in waves and settled in this region. Why and what happened after the move remains unknown, but further research of these items provide promising clues.

Got a TIP from the RIGHT or the LEFT? Email FoxNewsFirst@FOXNEWS.COM

POLL CHECK
Real Clear Politics Averages
Obama Job Approval: Approve – 45.3 percent//Disapprove – 49.4 percent
Directions of Country: Right Direction – 29.0 percent//Wrong Track – 62.6 percent

TRUMP WAFFLES ON PLANNED PARENTHOOD
Donald Trump's debate performance may not be the only thing hurting him with Iowa voters. In an interview with CNN, Trump praised Planned Parenthood, saying the organization provides positive services for women, despite performing abortions. Trump said he did not watch videos in which officials with the group discuss harvesting the organs of aborted babies. Planned Parenthood released a statement to the Daily Beast which said in part, "Donald Trump seems to have realized that banning all abortions, shutting down the government, and defunding Planned Parenthood are extreme positions that are way too far outside the mainstream for even him to take," said spokesman Eric Ferrero. "We hope that the rest of the GOP field will wake up…"

JEB TAKES ON OBAMA-HILLARY-IRAQ IN POLICY SPEECH
Chastising Hillary Clinton for standing by as the Obama administration threw away a hard-won American victory in Iraq and allowed ISIS to rise, former Gov. Jeb Bush plunged directly into a topic of political opportunity and risk. As part of a detailed foreign policy plan, Bush said the U.S. may need to send more ground troops into Iraq to defeat Islamic State militants, but added "a major commitment of American forces" was not needed. Hitting his Democratic rival's vulnerable record as former secretary of state, Bush presented a broad plan to re-engage in the Middle East, and resolved to deal with threats "before they become catastrophes." "Who can seriously argue that America and our friends are safer today than in 2009, when the president and Secretary Clinton - the storied "team of rivals' - took office?" Bush said. "So eager to be the history-makers, they failed to be the peacemakers."

Jeb clinches key endorsements - Reno Gazette-Journal: "U.S. Sens. Dean Heller, R-Nev., and Orrin Hatch, R-Utah, have endorsed former Florida Gov. Jeb Bush for president. The endorsements will be officially given at a noon rally Wednesday for Bush in Reno."

[Stephen Colbert tweeted: ".@JebBush will be on #LSSC Sept. 8! My first GOP candidate! Luckily I do 200 shows a year, so I think I can fit them all."

Walker = Coolidge? - Jon Gabriel of Ricochet writes that Wisconsin Gov. Scott Walker's position as a boring, Midwestern guy could be his greatest strength. Instead of a political celebrity for a president, Gabriel says people want to return to "normalcy." To a president who isn't at the center spotlight of every issue, but who just does his job and stays out of their way. He writes, "If Scott Walker is able to capitalize on that mood — starting with a definition of what 'normal' even means anymore — the White House chef might need to stock up on hot ham and rolls."

[Walker won a Twitter throwdown with Hillary Clinton over college costs.]

Strong debate performance boosts Rubio - WaPo: "[Sen. Marco Rubio, R-Fla.] donors say they have been flooded with calls, texts and e-mails in recent days from uncommitted patrons now eager to make and bundle contributions to help him. In addition, his comments against abortion during the debate have also allowed Rubio to emerge as one of the GOP's leading voices on the issue — drawing sharp criticism from Clinton, which is always a plus in the Republican primary."

Kasich riding high in N.H. - With a new poll showing him surging into third place in New Hampshire, Gov. John Kasich, R-Ohio, scored a major Granite State endorsement. Tom Rath, former state attorney general, will join as national adviser and co-chairman to the campaign, according to Kasich's campaign. Rath has served as senior adviser on several presidential campaigns including that of former President George W. Bush.

[Kasich has a pair of events in New Hampshire concluding with a meeting with the Belknap County Republicans. Kasich picked up the endorsement of the County Sheriff, Craig Wiggin on Tuesday.]

Trump says he'll do well with Hispanics - Detroit Free Press: "Trump brought his campaign to Michigan Tuesday after several days of media attention focused on his statements about women and Latinos…He said he'll build up the military, get rid of Obamacare, scuttle the Iran nuclear deal and compared his run for presidency to his former NBC television show, The Apprentice, noting people were skeptical about the show, but it went on be hugely successful."

Cruz set to release bundler names - WaPo: "Sen. Ted Cruz will release the names of people who are raising money for his presidential campaign, a reversal of the campaign's earlier stance…A Cruz spokesman said there is no timetable for releasing the names. Fellow Republican candidate Jeb Bush plans to release the name of his bundlers. Candidates are only required to release the names of lobbyist bundling for them."

[Cruz continues his Southern states bus tour today in Arkansas, with stops in Little Rock, Russellville and Van Buren.]

PACs keep failing candidates viable - Wash Ex's David Drucker writes that today's PACs keep candidates alive when they would normally be forced to drop out. Rick Perry and Bobby Jindal are two cases in the 2016 cycle that best show this at work. Drucker writes, "Austin Barbour, the Republican strategist behind Opportunity and Freedom PAC, told the Washington Examiner that his organization is adjusting its strategy after news that Perry is short on cash… Barbour said Opportunity and Freedom PAC is building a ground game operation to keep Perry viable."

Carson heads to the Big Apple - Ben Carson is in New York today where he is set to deliver remarks to Queens County Republicans. Carson will also go to Sylvia's Queen of Soul Food Restaurant on Malcolm X Boulevard in Harlem.

[Watch Fox: Ben Carson appears on "Your World with Neil Cavuto" today at 4 p.m.]

Christie signs taxpayer pledge - Gov. Chris Christie, R-N.J., signed the Taxpayer Protection Pledge, which commits to, "oppose and veto any and all efforts to increase taxes." President of Americans for Tax Reform, Grover Norquist, praised Christie saying, "Governor Chris Christie has vetoed more tax hikes than any other Governor in modern American history…And he made those vetoes stick. Without the Christie governorship, New Jersey would be somewhere between Detroit and Greece."

THEY DO WEAR MASKS…
First it was moose and squirrel and now there's a new animal enemy. The Russia-boosters at Pravda are keeping an eye on a new threat in Ukraine. That's right: raccoons. Pravda: "The Ukrainian Armed Forces may soon have new soldiers, and those soldiers will be raccoons. Reportedly, the animals will be used for combat engineering purposes. The work to train the animals look for mines are already being conducted in the Kharkov region of Ukraine. In one of the military units of Kharkov, there is a raccoon named Hook. Dog handlers have picked a female for the raccoon - a female raccoon named Alice. After the animals produce offspring, they will be taught to search for explosives."

AND NOW A WORD FROM CHARLES…
"On this issue today, it's not only [Hillary Clinton's] trustworthiness, it's the fact that nothing she says ever is true three weeks later. She says there was nothing classified and I know how to do that, I know the process, and then it was revised to nothing that at the time was classified. Well, now we're learning that it is quite probable that actually at the time it was, and she should have known it even if she'll claim, obviously, that she didn't." – Charles Krauthammeron "Special Report with Bret Baier" Watch here.

Chris Stirewalt is digital politics editor for Fox News. Want FOX News First in your inbox every day? Sign up here.
Chris Stirewalt joined Fox News Channel (FNC) in July of 2010 and serves as politics editor based in Washington, D.C. Additionally, he authors the daily Fox News Halftime Report political news note and co-hosts the hit podcast, Perino & Stirewalt: I'll Tell You What. He also is the host of Power Play, a feature video series on FoxNews.com. Stirewalt makes frequent appearances on network programs, including America's Newsroom, Special Report with Bret Baier and Fox News Sunday with Chris Wallace. He also provides expert political analysis for FNC's coverage of state, congressional and presidential elections.