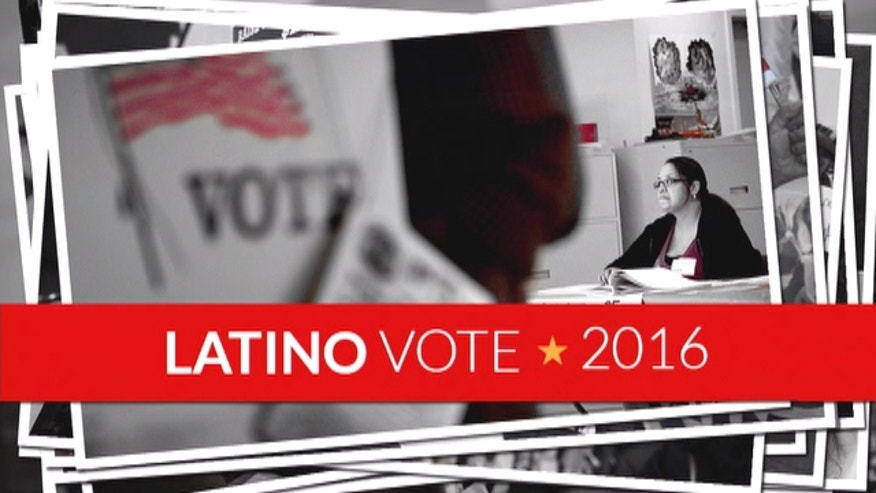 Jeb Bush probably had the most Latino-feeling presidential campaign launch ever, complete with Cuban music, speeches by him and one of his sons in both English and Spanish, and loving references to his Mexican wife.
Marco Rubio did his launch at the Freedom Tower—an iconic, Ellis Island-like landmark where the federal government once processed Cuban immigrants fleeing the Castro regime. He, too, infused Spanish into his speech, and spoke reverentially of his Cuban immigrant parents and their faith in the American Dream.
Hillary Clinton's first major policy speech was about her pledge to provide a path to citizenship to undocumented immigrants. She delivered the speech at a Las Vegas high school where the student population is 70 percent Latino.
Seldom has the courting of Latino voters begun so early in the presidential election cycle. Then again, Latinos will be a bigger part of eligible American voters than they have ever been.
"The road to the White House will be paved by Latino voters," said Cristobal Alex, president of the Latino Victory Project in Washington D.C. "We expect a record turnout by Latino voters."
A record 25.2 million Latinos were eligible to vote in the 2014 midterm elections, making up their largest share ever, 11 percent, of all eligible voters nationwide.
Some 28 million Latinos are expected to be eligible to vote next year, according to the National Association of Latino Elected and Appointed Officials, or NALEO.
If just half, 14 million, vote, that would be higher than their pivotal turnout of 11 million in 2012, when 70 percent of Latinos gave Obama the nod.
Their growing numbers, as well as the role they are said to have had in the 2012 bruising loss of GOP presidential candidate Mitt Romney to President Barack Obama – because of Romney's perceived anti-Latino, anti-immigrant views – are making Latinos more of a force in the next year's race for the Oval Office.
"The competition for Hispanic political support is not just about the present," wrote Gene Budig, past president of three universities, and Alan Heaps, former vice president of the College Board, in a recent opinion column. "It is also about the future. The Hispanic population is growing faster than most other groups. Today, it is 18 percent of the total population. By 2040, it will be 24 percent. By 2060 it will be 29 percent."
Clinton hired key staffers of Latino descent, including Amanda Renteria, who is her campaign's national political director. Xochitl Hinojosa, a former U.S. Labor Department official, is her campaign's director of coalitions press. Emmy Ruiz is running Clinton's campaign in the strategically vital swing state of Nevada. And Jose Villarreal is Clinton's campaign treasurer.
"What will be interesting to see is if Clinton will have the same level of support among Latino voters in 2016 that she did in 2008," said Arturo Vargas, the executive director of the National Association of Latino Elected and Appointed Officials. "Her consistent support from Latinos in 2008 – 2-to-1 against Obama in the primaries – was what really kept her in the race."
Ted Cruz and former Maryland Gov. Martin O'Malley, a Democratic presidential candidate, took part in separate question-and-answer sessions sponsored by the U.S. Hispanic Chamber of Commerce in Washington D.C. Rubio is expected to take part in one in August.
On Saturday, O'Malley became the first 2016 presidential candidate to make a campaign stop in Puerto Rico this year as part of an effort to woo Latino voters.
He met with local legislators and residents to talk about their concerns as the U.S. territory tries to emerge from a nearly decade-long economic slump and struggles with $72 billion in public debt. O'Malley attended a fundraiser Saturday night.
Jeb Bush traveled to Puerto Rico earlier this year, before he launched his campaign.
Alfonso Aguilar, a former George W. Bush administration executive director of American Principles Project's Latino Partnership, pronounced the attention on Puerto Rico and Puerto Ricans "a smart move," given the growing Puerto Rican population in Florida, a key primary state.
On July 27, Bush spent the day in central Florida, meeting with Latinos at various events.
"The Hispanic community isn't just a priority for Gov. Bush, it's a part of who he is and his family," said Emily Benavides, who manages Hispanic outreach for the Bush campaign. "No one is advising him to do this, it comes from him, he sees Hispanics as an important part of the American population."
Republicans often wait until after their primaries to court Latinos.
"The participation of Latinos in the primaries is lower than the general population," Abrajano said. "This early on in the competition, having a very targeted strategy for Latinos may not be seen as the best use of their resources. After they secure the nomination, we see candidates micro-targeting subgroups."
Benavides said the Bush campaign decided to reach out to Latinos early in the race. One reason is to acquaint Latinos outside of Florida with Bush, whose name is known to them, but who remains something of an enigma to many.
"We want to make sure they're engaged with the political process, and they know his vision for America," Benavides said.
Bush, like Rubio, has the advantage of speaking fluent Spanish.
"Jeb Bush doesn't just resonate linguistically, but culturally, too," Benavides said about the candidate, who lived in Mexico and Venezuela. "He understands colloquialisms, he has spent time in different demographics."
Though Spanish and overtures to Latinos may be happening earlier in this presidential campaign, many experts say Latinos will be swayed by what candidates say about policies and problems that are important to the community.
"Presidential candidates will need to focus their message in a way that includes Latinos and advances policies that Latinos – and most other Americans – want to see," Alex said. "Those are an increase in minimum wages, access to affordable healthcare, quality education, a clean environment."
The political hot potato – immigration – has surfaced earlier than usual in this presidential election, thanks to Donald Trump.
Trump started his campaign with controversy when he said in his speech announcing that he was running "When Mexico sends its people, they're not sending their best…They're sending people that have lots of problems, and they're bringing those problems with us. They're bringing drugs, they're bringing crime, they're rapists, and some, I assume, are good people."
His comments brought forth vehement condemnation by Latino groups and immigration advocates.
"Republicans did not think immigration would come up this early," said Aguilar.
The delay in the GOP denunciation of Trump's remarks about Mexicans was criticized by many Latino leaders who contrasted the lag with the quick and vehement rebuke of the flamboyant New Yorker by the GOP after he made denigrating remarks about Sen. John McCain, an Arizona Republican, questioning his war hero image.
Trump said that McCain, who was held in Vietnam as a prisoner of war, was not a hero and added that he admired people who were not captured.
"Whether Latinos will turn out in larger numbers will depend if they're being unfairly targeted," Abrajano said. "The most important issues to them are the economy, jobs and education…But immigration is a gateway issue to Latinos. They see it as a measure of how candidates understand and respect the community."
Elizabeth Llorente is Senior Reporter for FoxNews.com, and can be reached at Elizabeth.Llorente@Foxnews.com. Follow her on Twitter @Liz_Llorente.