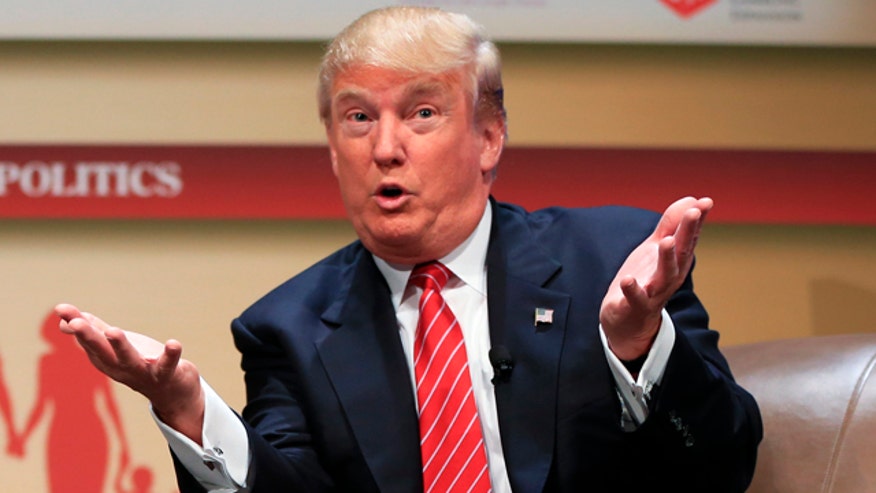 **Want FOX News First in your inbox every day? Sign up here.**
Buzz Cut:
• The Donald undone?
• Jeb takes on 'Mount Washington'
• Kasich's late bid a debate Hail Mary?
• Dems drub their own
• Epic, Brah!
THE DONALD UNDONE?
Apologize? Drop out of the race? Hardly. Donald Trump's answers to a deluge of criticism from Republican rivals and the national party over his attack on Sen. John McCain's standing as a war hero and the Arizona Senator's record on veterans: "They're very upset that I'm leading the polls," and by the way, "the news media are also distorting my words." In the latest round of barbs, Trump doubled down on his criticism of McCain's record in a USAT OpEd, and balked at competitors scorn saying, "I do not need to be lectured by any of them."

[He knows best - NYT: "[His] improvised fit of pique…exposed the biggest vulnerability of Mr. Trump's campaign for president: It is built entirely around the instincts and grievances of its unpredictable candidate — and does not rely on a conventional political operation that protects presidential hopefuls from themselves."]

The past 48 hours have seen a number of reports that Trump's comments have passed a tipping point. Others have surfaced questioning the billionaire's service deferments during the Vietnam war. But the fact remains he continues to draw oxygen from a crowded GOP field, particularly the likes of Sen. Ted Cruz, R-Texas, and Carly Fiorina. With the first debate just 17 days away and another candidate about to join the group that oxygen is becoming precious, especially for those on the debate stage bubble.

So far, name recognition and strong poll numbers have enabled Trump to throw his verbal grenades and to an extent channel them into issues that find some resonance in the party. Whether he can do the same with his latest blast, or if he has dropped this one too close to his feet remains to be seen. The rapid Republican backlash may point to the beginning of the end of a Trump pageantry. The Donald's response clearly shows he thinks he has by no means reached his undoing.

[Asked on MSNBC's Morning Joe if Trump owes him an apology, McCain responded: "No, I don't think so. But I think he may owe an apology to the families of those who have sacrificed in conflict and those who have undergone the prison experience in serving their country."]
But that wasn't the worst of it - Wash Ex's Byron York says that bashing McCain wasn't Trump's worst mistake in Iowa this weekend. He writes, "Instead, Trump's casual and disengaged characterization of religious faith may have made a far worse impression on the mostly evangelical conservatives who came to hear Trump and other Republican hopefuls speak."

JEB TAKES ON 'MOUNT WASHINGTON'
In a variation on theme he used as Florida's governor to rein in spending, Jeb Bush outlines his presidential priorities in a speech today from the state's capitol. From excerpts: "We used to call this city 'Mount Tallahassee' because it was so remote from the people, so caught up in the settled ways of a comfortable establishment….Should I win this election, you will not find me deferring to the settled ways of 'Mount Washington,' either. The overspending, the overreaching, the arrogance, and the sheer incompetence in that city – these problems have been with us so long that they are sometimes accepted as facts of life. But a president should never accept them, and I will not. We need a president willing to challenge the whole culture in our nation's capital –and I mean to do it!"
Jeb's nickname 'Veto Corleone' - In a new web video out today, the campaign highlights Bush's veto power as Governor of Florida. Florida State Senate President Andy Gardiner says that if your project didn't meet Bush's fiscal standards the project didn't go through. Hence he got the nickname "Veto Corleone" because no member was safe from Bush's veto regardless of party.
Art imitating life - Springfield News-Ledger reports a local comic writer has a new addition out…about Jeb Bush. Michael Frizell has written comics about other candidates including Gov. Chris Christie, R-N.J., and Hillary Clinton. Frizell's comic is out in August, but you can see a sneak of the cover art here.
Walker confronted by family of illegal immigrant - ABC News: "[Gov. Scott Walker, R-Wisc.] was confronted by a family of an undocumented worker in his childhood hometown of Plainfield, Iowa during one of the final stops of his whirlwind presidential campaign launch tour on Sunday. Jose Flores, an undocumented immigrant who calls Wisconsin home, was accompanied by his 13-year-old daughter Leslie and 7-year-old son Luis, both of whom were born in the United States and naturalized citizens…Shaking Flores' hand, Walker said he 'completely sympathize[s] with the situation you're all in and others are in' but… 'The fact is, we're a nation of laws," Walker said. "And unfortunately, the president last year, after saying 22 times before last year that he couldn't make the law himself, he said he wasn't the emperor…he decided to change the law even though the courts announced that you can't do that.'"

Set to sign abortion bill - Milwaukee Journal Sentinel: "Wisconsin Republican Gov. Scott Walker is scheduled Monday to sign a bill banning abortions at or beyond 20 weeks of pregnancy. A schedule released by Walker's office on Sunday shows the bill is among four Walker plans to sign Monday in Oshkosh. Walker, a longtime abortion opponent, has said he would sign the proposed 20-week ban on non-emergency abortions."

Poll: Rubio trails Jeb back home - Miami-Dade County says they're in for Bush. A new poll of the Sunshine State's largest county conducted for the Miami Herald has Bush leading fellow Floridian Sen. Marco Rubio, R-Fla., by 10 points. No other Republican candidate made it in the double-digits. The poll was conducted in both English and Spanish.
Carly turns to humor to take on office sexism - In a BuzzFeed video, Carly Fiorina poses the question: What would it be like if men were treated like women in the workplace? The video highlights sexism in the workplace. Fiorina says to a male coworker in a board meeting, "You like to bake. Why don't you handle the cake for Schena's birthday?"
Kasich's late bid a debate Hail Mary? - Bloomberg: "If the timing of his presidential announcement gives him even a modest bounce in the polls in the coming weeks, as it did for other Republicans this year, [Gov. John Kasich, R- Ohio] could leapfrog over his fellow candidates and onto the debate stage. Whether intentional or not, there are benefits to being fashionably late to a presidential race."
Christie PAC ad hits Obama on fighting terror - The PAC supporting Gov. Chris Christie, R-N.J., put out its first television campaign ad in New Hampshire with a focus on protecting the homeland and fighting terrorism. Watch here.

[In South Carolina today, Christie starts off with a breakfast meet and greet and town hall combo on Hilton Head Island, and holds a second town hall in Mt. Pleasant.]

Ben Carson delivers the keynote speech at the District of Columbia Republicans Straw Poll reception in Washington.
WITH YOUR SECOND CUP OF COFFEE…
With the revolutionary images of Pluto capturing the nation's attention last week it seems only fitting to remember the first major planetary achievement: man on the moon. On this day in history 46 years ago, Neil Armstrong, and his astronaut crew made history: "After traveling 240,000 miles in 76 hours, Apollo 11 entered into a lunar orbit on July 19. The next day, at 1:46 p.m., the lunar module Eagle, manned by Armstrong and [Edwin Aldrin Jr.,] separated from the command module, where [Michael Collins] remained…and at 4:18 p.m. the craft touched down on the southwestern edge of the Sea of Tranquility…
"At 10:39 p.m., five hours ahead of the original schedule, Armstrong…made his way down the lunar module's ladder, a television camera attached to the craft recorded his progress and beamed the signal back to Earth, where hundreds of millions watched in great anticipation. At 10:56 p.m., Armstrong spoke his famous quote, which he later contended was slightly garbled by his microphone and meant to be "that's one small step for a man, one giant leap for mankind." He then planted his left foot on the gray, powdery surface, took a cautious step forward, and humanity had walked on the moon."
Got a TIP from the RIGHT or the LEFT? Email FoxNewsFirst@FOXNEWS.COM
POLL CHECK
Real Clear Politics Averages
Obama Job Approval: Approve – 44.7 percent//Disapprove – 50.7 percent
Directions of Country: Right Direction – 30.3 percent//Wrong Track – 61.3 percent
DEMS DRUB THEIR OWN
Fox News: "Democratic presidential candidates Martin O'Malley and Bernie Sanders faced hecklers Saturday in the annual Netroots Nation convention in Phoenix as they tried to impress some of the party's most influential activists. As O'Malley was being interviewed on stage, demonstrators protesting cases of police brutality and the treatment of black Americans by law enforcement interrupted the setting. The protesters stormed the convention hall chanting, 'Black lives matter!'…Sanders was met with heckling and protesters from the crowd as well as he tried to address the 3,000 Netroots activists. At one point, Sanders said: 'Black lives of course matter. I spent 50 years of my life fighting for civil rights and if you don't want me to be here, that's OK.'"
Hillary skips it - TIME: "Clinton's campaign said their candidate could not attend because of scheduling conflicts—though the organizers set the date for the conference a year in advance. Netroots would have been an unwieldy and raucous stage for [Hillary Clinton], who tends to favor controlled spaces. And this year was less controlled than usual…"
Hillary goes big on Latino outreach - LAT: "Now, [political director for Hillary Clinton's campaign, Amanda Renteria] is putting the campaign's vast resources to work…Clinton's massive Latino outreach machine is unprecedented for this stage in a primary. Most Latinos don't even know the name of Clinton's closest challenger…Yet about 500 days before the general election, the outreach effort overseen by Renteria is running on all cylinders."

Bernie welcomed in Texas - Dallas Morning News: "Sanders' appearance in Dallas, though, drew no protests. The crowd hailed his standard lines on topics from abortion and civil rights to Social Security and corporations."

Biden touts administrations economic agenda in Denver - KMGH: "Vice President Joe Biden is coming to Denver on Tuesday to talk about the administration's economic policies. He also plans to talk with officials and educators about the role that partnerships between community colleges and employers can play in helping Americans get the skills they need to succeed in the workforce."
[Program note: Chris Stirewalt returns next week with his latest version of the Fox News First's 2016 Power Index.]

EPIC, BRAH!
AP: "State police say a man escaped injury after being run over by a freight train while sleeping in the middle of railroad tracks in an upstate New York town. Troopers say 38-year-old Aaron Collins of Stillwater was highly intoxicated when he went to sleep Wednesday night on tracks in the Rensselaer…20 miles north of Albany. Police say a Pan Am freight train more than a mile long approached around 10:30 p.m. The conductor spotted Collins on the tracks and stopped the train, but not before the first two engines passed over him. Troopers say the engines were separated and the first engine was moved forward to free Collins, who was uninjured but still drunk."

Chris Stirewalt is digital politics editor for Fox News. Want FOX News First in your inbox every day? Sign up here.