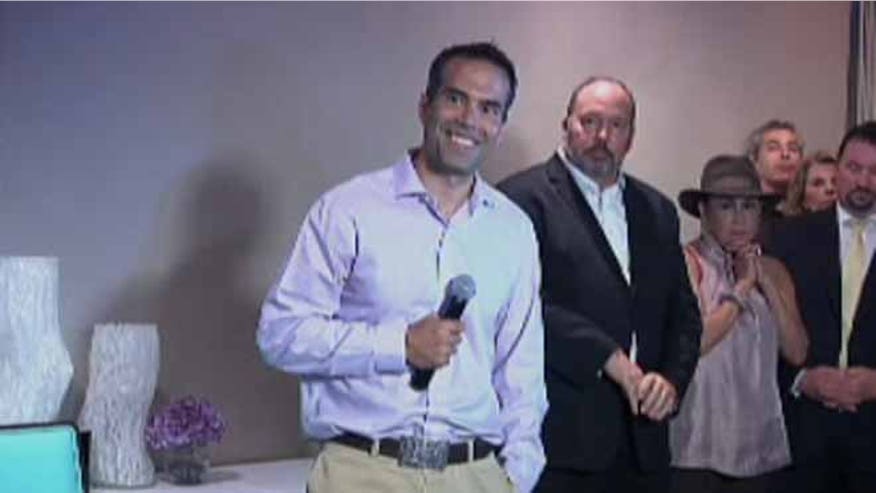 LAS VEGAS, NEVADA – Jeb Bush's son, George P. Bush, made what he called his "first appearance" on his father's behalf in Las Vegas on Wednesday night.
Bush, the Texas land commissioner, spoke to a crowd of about 40 people at the locally-owned Mexican restaurant, Mundo. He talked about the importance of the Latino vote in Nevada and across the country.
"The Hispanic agenda is the American agenda, it's an aspirational community that I happen to be a part of," Bush said to the attendees. "We want better schools, a brighter economic tomorrow, a strong national defense, it's a patriotic community."
Bush said his father – who speaks fluent Spanish and is married to Mexican-born Columba Bush – is an advocate of Latinos and thinks they need to be better integrated into the American system.
"I think my dad wants to speak to the aspirations of this growing community," Bush said. "But we can't remain the most prosperous and greatest country in the world unless we come together as a country."
Bush's appearance coincided with the National Association of Latin Elected Officials (NALEO) convention in Las Vegas, attended by thousands of Latinos from across the country and headlined by heavy-hitters like presidential hopefuls Dr. Ben Carson and Hillary Clinton.
At the conference, former Nevada Assembly Woman Lucy Flores spoke about the growing number of Latinos in elected positions at the local and national level. She said it's the result of community organizers and volunteers encouraging Latinos to realize their vote counts.
"When you make that investment, you can move mountains," Flores said.
Although Nevada is made up of a large Hispanic population, there are still very few elected Latinos in the state. Flores was one of the first ever.
"When people find out in places like California and Texas, they are shocked," Flores said.
Traditionally a swing state, in recent years Nevada has leaned Democrat. According to a University of Nevada Las Vegas poll, a majority of Hispanics say they don't favor Republicans because of their stance on immigration.
Now the battleground state will once again be up for grabs in the 2016 election.
"We have a message for all Americans and it starts right here in the great city of Las Vegas," Bush said.
Like us on Facebook
Follow us on Twitter & Instagram
Matt Finn is a Fox News correspondent based in the Chicago bureau. Follow him on Twitter: @MattFinnFNC