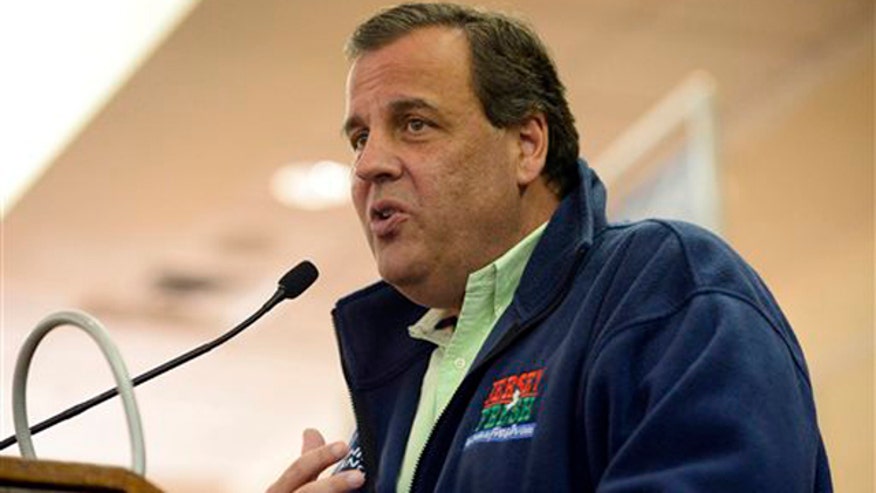 New Jersey GOP Gov. Chris Christie has forged a reputation as an imposing lawmaker who can get the job done by sheer will and force. But his confrontational style also poses a liability should he make a 2016 White House bid -- attracting hecklers, political rivals and others intent on disrupting his message to spotlight their own.
Though Christie's brash style has long been a topic for conversation, it has resurfaced amid political talk moving from the midterms to the next presidential election and Christie telling New Jersey resident Jim Keady to "sit down and shut up."
Keady, who challenged Christie at a recent public event about his Superstorm Sandy recovery efforts, is a well-known activist.
Keady got his start by raising concerns about working conditions in overseas Nike factories, which led to a 2008 ESPN story and an HBO documentary.
And he has now turned his attention to the lingering Sandy-recovery effort, particularly drawing attention to roughly $800 million of $1.1 billion earmarked to rebuild the Jersey Shore that remains in federal coffers.
Keady has acknowledged that his actions at the Oct. 30 event -- which began with him holding a sign that in part read "finish the job" -- were indeed acts of civil disobedience and that his heckling kept the cameras rolling.
He has done at least five radio or on-camera interviews since the event, held in his hometown of Belmar, N.J. However, Keady rejects the accusation that he tried to bate Christie into a shouting match.
"That was about roughly 6,000 households failed by the (federal recovery) program," Keady, an independent and former Asbury Park city council member, told FoxNews.com.
Christie's tough-talking persona and rise to national prominence started long before 2010 when he became the state's first Republican governor after four consecutive Democratic administrations.
He started attracting attention during six previous years as New Jersey's U.S. attorney general, as he tried to eradicate decades of political corruption.
And his efforts as governor to cut government waste and reel in public-employees pensions under a Democrat-controlled General Assembly have only furthered his reputation.
Christie has indeed rankled his share of reporters, teachers and others.
But opportunists along the way have come to realize that a sharp, public exchange with the governor can turn his speech into an outburst and give their message a national spotlight.
Marie Corfield, the New Jersey teacher in the much-talked, Sept. 2010 town hall exchange with Christie, has long been associated with progressive and Democratic politics, including the group Blue Jersey and making a failed 2013 bid, as a Democrat, for the state legislature.
The 52-year-old Christie seems acutely aware that people are using him and his events.
He suggested to Corfield -- who now bills herself as "that teacher in that Chris Christie YouTube video" -- that she was "putting on a show," and he accused Keady of trying to get his "15 minutes of fame."
Those exchanges and others, videotaped and posted on YouTube, have collectively attracted more than 1 million views and appear destine to become fodder for attack ads should Christie indeed run for president.
The Christie-Keady exchange was in fact videotaped by a staffer from American Bridge 21st Century, a self-described progressive group committed to "holding Republicans accountable for their words and actions" and that encourages people at town hall meetings to record them.
"Boring Republicans need not apply for the 2016 presidential race," said David Payne, a GOP strategist and vice president for Washington, D.C.-based Vox Global. "We need a fighter, a campaigner, a winner. Sometimes it's refreshing to see a politician tell a heckler in the crowd to 'sit down and shut up.' But if Christie looks mean, he won't make it through the Republican primary, let alone the general."
Michael Czin, a Democratic National Committee spokesman, anticipates that such video clips will appear in campaign ads and that Christie's political rivals will have his public events recorded by so-called campaign trackers.
However, he thinks Christie has an image problem that goes beyond potential attack ads and that he lost the support of the news media last year after rouge aides extracted political revenge by closed some bridge-access lanes without notice, causing massive gridlock.
"It's not just trackers," he said. "Christie and his team promoted and elevated his outbursts. But it crossed the Rubicon with Bridgegate. It extended from teachers and veterans … to where it was dangerous."
Ben Tulchin, a Democratic strategist and president of San Francisco-based Tulchin Research, argues that Christie's declining poll numbers after Bridgegate could hurt his ability to raise 2016 campaign money and essentially settle the debate about whether his public image is a problem.
"In the TV era, the president is in your living room all of the time," Tulchin said Wednesday. "If a voter feels uncomfortable with you, then it's really, really hard to prevail."
Some of Christie's other public exchanges appear more damaging -- including two in July 2012.
Within days, Christie referred to a reporter as an "idiot" for asking a question unrelated to the press conference. And he testily responded to a male passerby's comment while walking with his family on the Seaside Heights, N.J., boardwalk, calling the guy a "big shot" and telling him to "keep walking."
"Christie's natural spontaneity can be an asset, even if it comes with risks," Payne said. "At the presidential campaign level, every trait gets more scrutiny. So Christie will need to look strong, perhaps even tough. But not mean."