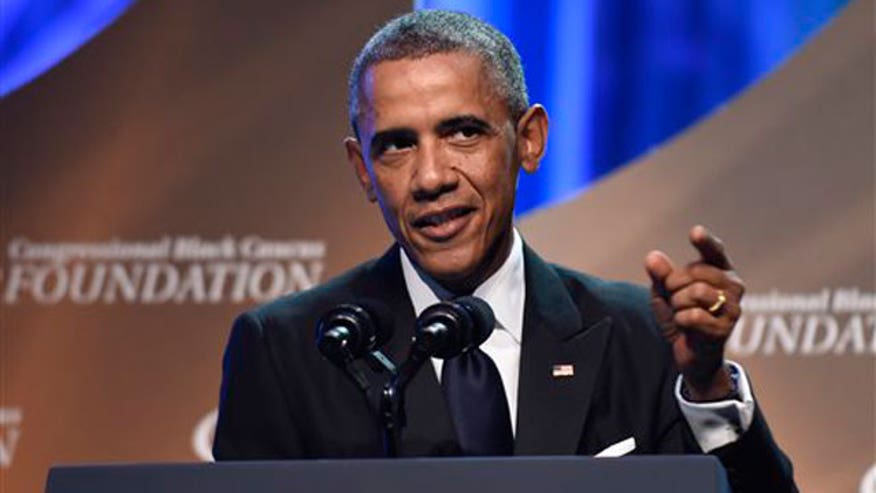 **Want FOX News First in your inbox every day? Sign up here.**
Buzz Cut:
• Obama admits they got it wrong on ISIS, Iraq
• Ernst tags Braley in Iowa debate
• Pick Six: Alaska breaks the ice
• Begich ad cozies up to Murkowski (again)
• A crime most fowl
OBAMA ADMITS THEY GOT IT WRONG ON ISIS, IRAQ
Having acknowledged that his administration underestimated the growing ISIS threat and overestimated the Iraqi army's ability to defend itself against the militant group, President Obama went on to reiterate that the U.S. is not at war. Not to worry: The American pilots flying missions over hostile territory and advisors embedded with Iraqi forces on the battlefield in the fight to destroy the Islamic State are merely "assisting." Fox News: "The president said in a wide-ranging interview on CBS' 60 Minutes that the Islamic State militants went 'underground' after being squashed in Iraq and regrouped under the cover of the Syrian civil war…[Obama] said his director of national intelligence, James Clapper, has acknowledged that the U.S. 'underestimated what had been taking place in Syria.' He also said it was 'absolutely true' that the U.S. overestimated the ability and will of the Iraqi army. However, Obama also acknowledged that the U.S. is dealing with a conundrum in Syria, as the U.S.-led military campaign against the Islamic State is helping Syrian President Bashar Assad, whom the U.N. has accused of war crimes…However, Obama called the threat from the Islamic State, also known as ISIS or ISIL, and other terror groups a more 'immediate concern that has to be dealt with.'"

"What we're not going to do is fallen to the al Qaeda trap of sending hundreds of thousands of Americans back. That's exactly what they want. They want to bog us down, tie us down, to bleed us. We're going to be smarter about this." -- Tony Blinken, White House Deputy National Security Adviser on "Fox News Sunday" Watch here.

POLL: AMERICANS DON'T BUY OBAMA'S NO TROOP ASSERTION
WSJ: "Nearly three-quarters of Americans don't believe President Barack Obama's assertion that the country won't use ground troops to fight the militant group Islamic State in Iraq or Syria, the latest Wall Street Journal/NBC News/Annenberg survey finds…Some 72% of registered voters surveyed said U.S. ground troops eventually will be deployed against Islamic State's fighters. Only 20% said they believe the U.S. won't end up using military ground forces."

"At the end of the day, I think it's gonna take more than air strikes to drive them outta there. At some point somebody's boots have to be on the ground."— House Speaker John Boehner on ABC's "This Week"

OBAMA BELIEVES DEMOCRATS CAN HOLD SENATE
The Hill: "President Obama said in an interview broadcast Sunday night that he thinks the Democrats can hold the Senate. The president told 60 Minutes that he will spend the next six weeks campaigning on his economic record. 'The country is definitely better off than we were when I came into office,' Obama said, offering to put his record 'against any leader around the world in terms of digging ourselves out of a terrible, almost unprecedented financial crisis.'…It could be a difficult case for Obama to make in the final weeks before Election Day. Despite months of jobs and stock market growth, the president's approval ratings on the economy remain stubbornly low…"

ERNST TAGS BRALEY IN IOWA DEBATE
Des Moines Register: "Democrat Bruce Braley and Republican Joni Ernst squared off in a lively U.S. Senate debate Sunday evening, marked by heated exchanges on abortion, contraceptives, climate change and environmental regulations, and by biting attacks and comebacks, especially in the final few minutes …Braley repeatedly slammed Ernst for being associated with the billionaire Koch brothers and an obstructionist tea party agenda…Ernst calmly fired back: 'Congressman, you threatened to sue a neighbor over chickens that came onto their property. You're talking about bipartisanship. How do we expect as Iowans to believe that you will work across the aisle when you can't walk across your yard?'…The debate highlighted stark differences on issue after issue. …In a lightning-round of questions at the end, the center of flattery was Republican U.S. Sen. Chuck Grassley, a farmer whom Iowa voters hold in high esteem. Although retiring Democratic U.S. Sen. Tom Harkin was sitting a few feet away in the audience, when Braley was asked who he'd telephone first if elected to the Senate, Braley answered: 'Chuck Grassley.' And Ernst, when asked which of the 2016 presidential candidates she identifies with, she too answered Grassley."

[Fact check - Despite what he said in his debate with Republican challenger Joni Ernst, PolitiFact previously rated the statement that Bruce Braley missed 79% of Veterans Affairs Committee hearings as "mostly true."]
Poll: Ernst up by six - Des Moines Register: "The ground under Bruce Braley has shifted. The Democratic U.S. Senate candidate is 6 points behind his GOP rival, Joni Ernst, according to The Des Moines Register's new Iowa Poll of likely voters. Ernst leads 44 percent to 38 percent in a race that has for months been considered deadlocked…. One potential reason: Two-thirds of likely voters who live in the country are bothered by a remark he made about Republican U.S. Sen. Chuck Grassley that's been perceived as besmirching farmers."

ORMAN UNDER SCRUTINY IN KANSAS
WaPo: "Greg Orman, the upstart Senate candidate threatening to unseat longtime Republican incumbent Pat Roberts in Kansas, says it's liberating to run as an independent… And on the biggest question of all, Would he caucus with Democrats or Republicans?, Orman insists he's not sure…Perhaps the biggest test for Orman, a multi­millionaire investor who is partially funding his campaign, is surviving the intensifying public scrutiny of his business and personal relationships with Rajat Gupta, the former Goldman Sachs board member who was convicted in 2012 of insider trading and is serving a federal prison sentence. On the campaign trail in Kansas last week, a parade of top Republicans alleged that Orman is a liberal Democrat in disguise. Orman argues that the Republicans are reading him wrong…. He said he voted for Mitt Romney (R) for president in 2012…Orman recruited his campaign team from both sides of the aisle. Pollster David Beattie, ad maker Eric Adelstein and spokesman Mike Phillips previously worked on Democratic campaigns, while campaign manager Jim Jonas and spokesman Sam Edelen have roots in Republican politics…Voters said they found Orman's message appealing, if unconvincing."

[Jeb's in town - Former Florida Gov. Jeb Bush is the latest top GOP figure to campaign in Kansas for Sen. Pat Roberts, at a rally today in Wichita.]
KANSAS CASE COULD SCRAMBLE SENATE RACE
Emporia [Kansas] Gazette: "A key contest in the fight for control of the Senate could turn on the outcome of an arcane legal argument Monday over whether Democrats must field a candidate against struggling Kansas Republican Sen. Pat Roberts. The case centers on whether a state election law requires Democrats to pick a new candidate after ex-nominee Chad Taylor withdrew earlier this month or whether the party can choose not to replace him. Some Democrats pushed Taylor out, viewing independent candidate Greg Orman as the stronger rival for Roberts and hoping to avoid a split in the anti-Roberts vote that would help the GOP incumbent stay in office…Taylor had to petition the Kansas Supreme Court to force Kansas Secretary of State Kris Kobach, a Roberts supporter, to remove the Democrat's name from the Nov. 4 ballot…Kobach has said the case must be resolved by Oct. 1 so that counties can print thousands of ballots and people can begin early voting from Oct. 15. He said his goal is enforcing state election law 'exactly as it's written'….A three-judge panel in Shawnee County District Court must decide whether the language means all vacancies must be filled, or whether the law simply spells out who fills a vacancy if a party wishes to do it."

WITH YOUR SECOND CUP OF COFFEE...
Smart and nifty headlines grab readers and make them want to read more. According to 'The Local', the local Swedish English news outlet, a group of Swedish scientists have taken that to a new level in their academic writings, adding Bob Dylan lyrics to ordinarily boring titles. The notion began 17 years ago when John Jundberg and Eddie Weitzberg of the Karolinska Institute in Stockholm titled a piece about the inane topic of passing gas, "Nitric Oxide and inflammation: The answer is blowing in the wind," after one of Dylan's most famous tracks. From there it turned into a contest with several other professors to see who could incorporate the most song titles before the group retires, with the winner getting lunch at Solna, a restaurant just north of Stockholm. Other offerings include: "Blood on the tracks: A simple twist of fate?" and "Tangled up in blue: Molecular cardiology in the postmolecular era." Weitzberg insists this is nothing new in the academic field, saying, "We really are not the only ones who try to be smart and catchy in our headlines. If you read other scientific articles you'll find people trying to be clever in different ways." And with "One More Cup of Coffee" in your hand, it's time to keep reading.

Got a TIP from the RIGHT or LEFT? Email FoxNewsFirst@FOXNEWS.COM

POLL CHECK
Real Clear Politics Averages
Obama Job Approval: Approve – 41.4 percent//Disapprove – 53.6 percent
Direction of Country: Right Direction – 27.2 percent//Wrong Track – 65.2 percent
Generic Congressional Ballot: Democrats – 42.5 percent// Republicans – 46.5 percent

--36 days until Nov. 4 --

PICK SIX: ALASKA BREAKS THE ICE
The Senate contest between Sen. Mark Begich, D-Alaska and GOP challenger Dan Sullivan has broken through to the top tier of picks by Fox News First readers on which six seats are most likely to flip from blue to red and give Republicans control of the upper chamber come November. The move comes following a week in which several Frontier State polls showed Sullivan gaining a lead. The top picks among Fox News First readers: Arkansas (13.6%), Montana (13.0%), West Virginia (12.2%), Louisiana (11.8%), South Dakota (11.8%) and Alaska (8.7%).

NC gets nudged - North Carolina (8.6%) drops out of the top six consensus picks, joining bubble states Iowa (5.7%) and Colorado (3.8%). Reader Steve Shoemaker handicapped his line-up saying, "[Republican] Joni Ernst is a great candidate in Iowa and her opponent [Bruce Braley] trying to label her as an extremist is laughable to the voters. Alaska also looks good and there are plenty of Democrats are worried about Colorado. Scott Brown in New Hampshire still has some work to do as does Thom Tillis in North Carolina. Both need a strong turnout from their base to win."

Share your top six picks. Email them – just your top six, please – to FOXNEWSFIRST@FOXNEWS.COM or tweet @cstirewalt.

BEGICH AD COZIES UP TO MURKOWSKI, AGAIN
AP: "Democratic U.S. Sen. Mark Begich is again running an ad touting his work with Republican Sen. Lisa Murkowski. It comes after Murkowski earlier in the campaign called on Begich to stop running a similar ad. And it comes days after Murkowski was featured in an ad endorsing Begich's GOP rival, Dan Sullivan. The Begich ad is narrated by Margie Brown, a former president of Cook Inlet Region, Inc., an Alaska Native regional corporation. Brown says she has voted for Murkowski and will vote for Begich. Begich has sought to cast himself as an independent voice for Alaska, not beholden to party. His critics have tried to tie Begich to President Barack Obama and to Senate Democratic leader Harry Reid. A Murkowski spokesman did not have an immediate comment."

STREISAND STUMPS FOR SHAHEEN
Award winning singer and actress Barbra Streisand stumps for Sen. Jeanne Shaheen, D-N.H., with an email campaign asking for donations. Streisand stresses the stakes over the next six weeks leading up to election-day for Shaheen and women's rights. "My friend Jeanne Shaheen, the first woman to be elected both as a governor and U.S. senator, is facing attacks from right-wing men desperate to undo 30 years of social progress. We can't let them. At stake is one of our few national women leaders and the rights for which we have fought so hard…Jeanne and our Democratic Senate will protect Medicare as well as women's rights and equality, safeguard our environment, and strengthen our education system to give our children a chance."

BROWN GETS INDY BIZ BACKING
Kicking off his "Better Jobs For All" tour today, New Hampshire Republican Senate candidate Scott Brown gains the endorsement of the National Federation of Independent Business. In this video, the NFIB cites Brown's 94 percent lifetime rating for his pro-growth policies and positions on behalf of small businesses as well as his opposition to Obamacare and the employer mandate slated to be implemented after the election. On the remainder of his "Better Jobs For All" tour, Brown will travel the state to tour businesses and join roundtable discussions about the current challenges impacting New Hampshire's economy, ranging from burdensome regulations to higher energy costs.

LOUISIANA TOO CLOSE FOR SOUTHERN COMFORT
In the latest CNN/ORC poll, Sen. Mary Landrieu, D-La., holds a slim 3 point lead over Republican challenger Rep. Bill Cassidy, R-La. 43 percent to 40 percent among likely voters which falls within the plus or minus 4 percent margin of error in the telephone poll conducted between September 22 and September 25.

TILLIS SAYS HAGAN IS MIA ON ISIS
In this latest ad set to hit the airwaves today, Republican Senate candidate Thom Tillis attacks Sen. Kay Hagan, D-N.C., on her absence from Armed Service Committee hearings amid the growing threats from ISIS, saying in part, "In January, President Obama refers to the Islamic State as a JV team. Days later, the Armed Services Committee holds a hearing on new global threats. Senator Kay Hagan [was] absent. In fact, Hagan's missed half the Armed Service Committee hearings this year…The price for their failure is danger. To change direction, we have to change our senator."

[Sen. Kay Hagan, D-N.C., maintains a small advantage over Republican challenger Thom Tillis, 43 percent to 40 percent of likely voters in the latest CNN/ORC poll. Hagan's lead however falls at the edge of the survey's 3 percentage point margin of error. Libertarian Sean Haugh has support from 7 percent of respondents and could prove to be a spoiler in this race.]

GRIMES, MCCONNELL: PAID FOR BY OUTSIDE DONORS
[Louisville, Ky] Courier-Journal digs into the big bucks from outside groups flowing into the high stakes Kentucky Senate race: "In May about 40 executives of the Wall Street investment firm Blackstone wrote checks totaling more than $170,000 for the re-election campaign of Republican U.S. Sen. Mitch McConnell. And in late June, more than 100 trial lawyers with the firm Morgan & Morgan gave at least $106,000 to the campaign of McConnell's Democratic opponent Alison Lundergan Grimes at a fundraiser near Orlando, Fla….A Courier-Journal analysis of $37 million in identified contributions supporting the two candidates so far in the race shows about 85 percent has come from out of state. McConnell, who started raising money shortly after his last re-election six years ago, is getting big money from the Washington network of PACs and lobbyists, Texas and New York. Grimes, who entered the campaign in July of last year, gets support from the California film industry, but also New York and Washington."

CHRISTIE RAMPS UP 2016 BID
Once the early GOP frontrunner in a possible 2016 presidential bid, New Jersey Gov. Chris Christie is once again revving up his engine. The Hill: "[Christie] is hitting a new gear, hoping to put miles between him and the bridge scandal that derailed his political hopes at the beginning of the year…by September, his itinerary had more than doubled… it allows Christie to stump for top GOP Senate candidates and also gives him ample opportunity to regain a position as a GOP presidential frontrunner. And it shows that Republicans in close races are not shying away from him as a surrogate and fundraiser…Christie, who would be a formidable general election candidate thanks to his ability to win over moderates and some Democrats, is also repeatedly visiting key presidential swing states like Ohio, Pennsylvania and Michigan…"

RAND PAUL'S 'REVENGE'
New Yorker's Ryan Lizza takes a deep dive exploring how potential 2016 contender Sen. Rand Paul is going mainstream with an ideology shared with his father and how far that strategy might take him. "In some respects, Paul is to Republicans in 2014 what Barack Obama was to Democrats in 2006: the Party's most prized fund-raiser and its most discussed senator, willing to express opinions unpopular within his party, and capable of energizing younger voters. The Republican National Committee, which in 2008 refused to allow his father, Ron Paul, to speak at its Convention, recently solicited donations by offering supporters a chance to have lunch with Rand Paul. The only potential obstacle to a Paul Presidential candidacy in 2016 is his wife, Kelley…Yet, also like Obama at a similar stage in his career, Paul could be hobbled by past associations and statements, especially on race and foreign policy."

A CRIME MOST FOWL
The Missoulian [Montana] reports authorities have arrested Christopher Hall on possible theft charges following a dispute with his employer over the course of several weeks and spanning multiple states. The bizarre answer to how did the chicken cross state lines began on August 20 in Springdale, Arkansas when Hall picked up his trailer loaded with over 30,000 pounds of frozen chicken. Along the way, Hall demanded more money from his employer, Dixie River Freight Inc., in exchange for making the scheduled delivery the next day. When they refused, the trailer, set to be delivered to Kent, Washington never arrived. The company reported the rig missing 7 days later as Hall abandoned his ransom of frozen chicken at a truck stop in Missoula, Montana where it remained for more than a month – with odoriferous consequences – until discovered by authorities. The $80,000 worth of now thawed and putrid chicken was towed to a nearby landfill and buried in a pit.

Chris Stirewalt is digital politics editor for Fox News. Want FOX News First in your inbox every day? Sign up here.
Chris Stirewalt joined Fox News Channel (FNC) in July of 2010 and serves as politics editor based in Washington, D.C. Additionally, he authors the daily Fox News Halftime Report political news note and co-hosts the hit podcast, Perino & Stirewalt: I'll Tell You What. He also is the host of Power Play, a feature video series on FoxNews.com. Stirewalt makes frequent appearances on network programs, including America's Newsroom, Special Report with Bret Baier and Fox News Sunday with Chris Wallace. He also provides expert political analysis for FNC's coverage of state, congressional and presidential elections.