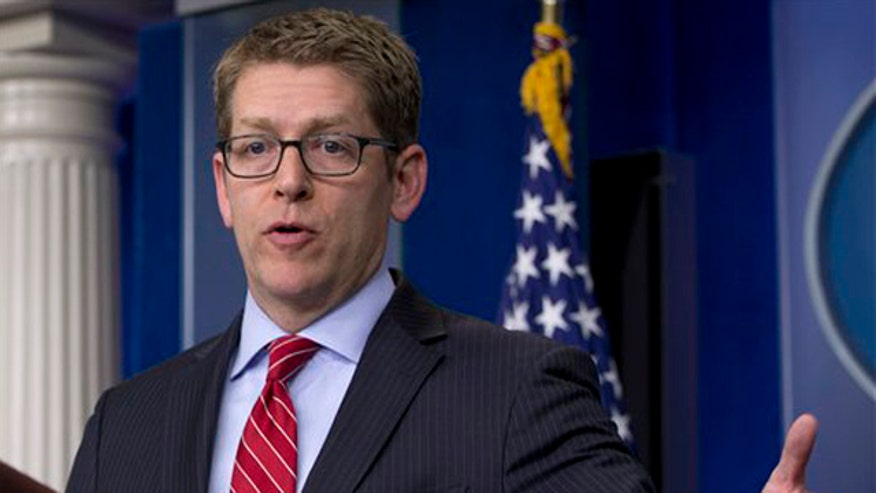 Want FOX News First in your inbox every day? Sign up here.
Buzz Cut:
• Three political takeaways from this week's Benghazi news
• Donors ditching Christie for Jeb
• Power Play: Oregon and Arkansas
• Bevin hasn't said if he'll play spoiler
• Man, this oppression is so delicious
THREE POLITICAL TAKEAWAYS FROM THIS WEEK'S BENGHAZI NEWS
Dude, there's your bumper sticker - Former White House spokesman Tommy Vietor sought to mock and dismiss the growing attention to the administration response to a deadly 2012 attack on a U.S. outpost in Benghazi, Libya. He did it wrong. Appearing on "Special Report with Bret Baier," Vietor was deriding questions about changes he helped make to talking points about the attack – changes that hid the nature of the attack and blamed nonexistent mass protests for the violence. But like the taunting performances of White House Press Secretary Jay Carney this week, it came off very poorly. The revelation this week of previously hidden emails that contradicted the second and third rounds of White House spin on the subject not only proved that the administration has not been on the level, but also infuriated reporters who had been previously defeated and shamed by Team Obama's frat-bro communication's shop. Vietor provided new leads for Benghaziologists, but from a direct political standpoint, he has provided a one sentence summation about the endless effort to spin past the incident: "Dude, this was like two years ago."
[A new round of deadly attacks by Islamist militants against the U.S.-backed government in the Libyan city of Benghazi killed six.]
Something worth covering up - The second big takeaway this week on Benghazi was about the event itself. It's true that a set of spun-up talking points to make a president look good ahead of an election is kind of a "dude…" thing in Washington. But what we learned this week was that there are credible allegations that President Obama or someone around him abrogated their duty by failing to attempt to save the doomed Americans. A senior officer in the military command that covers Libya, now retired, expressed his frustration that no rescue mission was mounted and implied that hand-wringing at Hillary Clinton's State Department was to blame. Protecting the president and his presumed successor from allegations that their foreign policy was misguided or even inadequately prepared would be quite different than covering up a decision not to try to rescue Americans under fire. It's not enough to say that it was proven true after the fact that help wouldn't have arrived in time if what the general said was true. If there was no clue how long the attack would last, failing to mount a response looks inexcusable.
[The Kelly File: Who will be held accountable for the latest Benghazi e-mails? Watch Megyn Kelly's interview with American Enterprise Institute's Marc Thiessen here]
Republicans are going to go there - Republican leaders had hoped to avoid long hearings on Benghazi in the midst of an election cycle focused on domestic issues. But it looks like the revelations are enough to head that way. House Speaker John Boehner, R-Ohio, released a statement Thursday calling for Secretary of State John Kerry to testify. "The White House needs to understand that this investigation will not end until the entire truth is revealed and justice and accountability are served," he said. Some Republicans are also asking Boehner to establish a select committee to conduct a review. In a letter to the Speaker, Rep. Frank Wolf, R-Va., wrote, "While we cannot control how this administration pursues, or fails to pursue, those terrorists responsible for the deaths of four Americans, we can ensure that the American people learn the truth about what happened and which officials should be held accountable." Meanwhile, Democrats like House Minority Leader Nancy Pelosi, D-Calif., are trying to change the subject. At her weekly news conference, Pelosi said, "Diversion, subterfuge - Benghazi, Benghazi, Benghazi. Why aren't we talking about something else?"
[Watch Fox: Rep. Mark Meadows, R-N.C., appears in the 2 p.m. ET hour]
UKRAINE COUNTEROFFENSIVE FALTERS
AP: "Ukraine launched what appeared to be its first major assault against pro-Russian forces who have seized government buildings in the country's east, with fighting breaking out in the early hours on Friday around a city that has become the focus of the insurgency. Three deaths were reported in early fighting…Two Ukrainian helicopters were shot down and two of their crewmembers killed on Friday morning, both sides said."
Merkel's message to Obama: no more sanctions
WSJ: "[German Chancellor] Angela Merkel is carrying a clear message from Germany's business lobby to the White House: No more sanctions. Several of the biggest names in German business—including chemical giant BASF, SE, engineering group Siemens, Volkswagen, Adidas and Deutsche Bank—have made their opposition to broader economic sanctions against Russia clear in recent weeks, both in public and in private. As a result, Germany's position on additional, tougher sanctions is unlikely to shift, barring a dramatic escalation of the conflict in Ukraine…
Torrents of Spring - For his Friday column, Charles Krauthammer reviews a painful spring for President Obama's foreign policy, "…most recently the inability to conclude a trade agreement with Japan and the collapse of Secretary of State John Kerry's Middle East negotiations. Add to this the collapse of not one but two Geneva conferences on Syria, American helplessness in the face of Russian aggression against Ukraine and the Saudi king's humiliating dismissal of Obama within two hours of talks — no dinner — after Obama made a special 2,300-mile diversion from Europe to see him, and you have an impressive litany of serial embarrassments."
["Fox News Sunday with Chris Wallace" welcomes Sen. Kelly Ayotte, R-N.H., and Rep. Adam Schiff, D-Calif. to discuss the latest Benghazi revelations, then Wallace will turn to the economy with FedEx CEO Fred Smith and Founder and CEO of 32 Advisers Robert Wolf. "Fox News Sunday with Chris Wallace" airs at 2 p.m. and 6 p.m. ET on Fox News. Check local listings for air times in your area.
HIRING BOOST IN APRIL
A new report from the Labor Department shows a big boost in jobs – 288,000—in April. Unemployment dropped to its lowest level since September 2008, but the drop is mainly because the labor force participation rate—those actively searching for job – fell to 62.8 percent, its lowest this year.
WITH YOUR SECOND CUP OF COFFEE...
The Atlantic's Megan Garber "Sonic Boom: How digital technology is transforming our relationship with sound": "The tagline from a recent ad for the ubiquitous Beats by Dre headphones is 'Hear What You Want.' This is quietly revolutionary. Today, for the first time in human history, we are not only able to break down the components of what makes a noise noisy; we're also able to control sonic inputs at the level of the individual human. We're able to customize our lives with music and podcasts and videos that stream to our ears alone. These playlists are often so intimately calibrated to our desires that even the errant sight of someone else's soundtrack displayed on a screen—that guy on the bus clicking on to Mumford and Sons' 'I Will Wait'—can seem like a fairly extreme violation of privacy."
Got a TIP from the RIGHT or LEFT? Email FoxNewsFirst@FOXNEWS.COM
POLL CHECK
Real Clear Politics Averages
Obama Job Approval: Approve – 43.9 percent//Disapprove – 51.4 percent
Direction of Country: Right Direction – 28.1 percent//Wrong Track – 63.1 percent
Generic Congressional Ballot: Democrats – 42.4 percent// Republicans 41.6 percent
DONORS DITCHING CHRISTIE FOR JEB
NYT: "In private conversations that are now seeping into public view, some [Republican donors] are signaling to [Gov. Chris Christie]'s, [R-N.J.] camp that, should [former Gov. Jeb Bush, R-Fla.] enter the race, their first loyalty would be to him, not to Mr. Christie, according to interviews with more than two dozen of them. Many of those who, because of geography and personal ties, were expected to line up behind Mr. Christie say they now feel torn. And it is clear that Mr. Christie's recent troubles, especially the George Washington Bridge scandal, are adding to the allure of Mr. Bush, a former Florida governor."
41, 43, 45? - The Hill: "Former President George W. Bush on Thursday said he hopes his brother Jeb runs for president in 2016, but added he has 'no clue' what's on his mind. 'I hope Jeb runs. I think he would be a great president,' Bush said in an interview on CNN…Any announcement, Bush said, might come during the spring of 2015."
AFL-CIO CELEBRATES WARREN
AP: "A month-long festival devoted to labor in the arts is set to kick off in Washington…The festival includes film, theater, poetry, art and musical performances. Highlights include a talk by Sen. Elizabeth Warren, D-Mass., about her new memoir on Friday at the AFL-CIO headquarters near the White House."
POWER PLAY: OREGON AND ARKANSAS
Republicans are hoping to expand the Senate map this year and put more Democrats on defense. A key race in that strategy is the contest in heavily-Democratic Oregon. Democratic strategist and digital guru Joe Trippi and former Romney campaign adviser Lauren Zelt join Chris Stirewalt to talk about the chances of likely GOP nominee Dr. Monica Wehby's bid to unseat Democratic incumbent Sen. Jeff Merkley at the races. Watch here. Democrats, though, think things are looking better in one of the most hotly contested races this year, Sen. Mark Pryor's re-election battle against challenger Rep. Tom Cotton in Arkansas. Watch Zelt and Trippi talk Arkansas here.
BEVIN HASN'T SAID IF HE'LL PLAY SPOLIER
The Hill: "Sen. Mitch McConnell (R-Ky.) says he will back his primary challenger, businessman Matt Bevin, if Bevin nabs the nomination this month. But that pledge likely won't be necessary come May 20, as Bevin's campaign has stalled over the past month and looks unlikely to come out on top. Bevin's campaign, however, has not yet said whether the candidate will commit the same support to McConnell. According to the Lexington Herald-Leader, the Kentucky GOP is asking the candidates to sign a pledge committing to support the eventual party nominee."
Grimes makes her bet - ABC News: "With the Kentucky Derby on Saturday, Democratic Senate candidate Alison Lundergan Grimes sees a potential political message in the upset hopes of a particular thoroughbred: Vicar's in Trouble, who'll be jockeyed by a woman who would become the first female rider to win the storied race."
BEGICH: 30 PERCENT CHANCE PALIN WILL RUN
Alaska Dispatch: "Sen. Mark Begich isn't sweating about a possible Senate run by former Alaska governor and onetime Republican vice presidential nominee Sarah Palin. In an interview with Politico, Begich gave Palin a '30 percent chance' of entering the Republican primary set for August. Begich suggests in the interview that Palin would only run for Senate in order to stay relevant on the national scale. The Alaska Democrat also a took a dig at Palin's residency, noting she did not apply for a Permanent Fund dividend in 2013. Palin has yet to endorse a candidate in the Alaska Republican primary. The registration deadline for the race is June 2."
[Ed. note: Begich is pretty clearly trying to goad Palin here since the primary seems to be setting up well for Republican hopes. A larger issue in the race is likely what Palin will have to say about her 2010 endorsee Joe Miller, who has suggested he may run a third-party candidacy and likely deliver the seat to Democrats if he is unsuccessful in his primary bid.]
TILLIS ON THE ATTACK
Greensboro News & Record: "[A]s we close in on the May 6 primary we're seeing the toughest direct-mail ad [N.C. House Speaker Thom Tillis] has yet run against his closest competitor in the primary, tea party favorite Dr. Greg Brannon. The ad, which hit mailboxes this week, calls Brannon 'the Democrats' candidate of choice'… In bullet points, the ad enumerates a number of PR problems the Brannon campaign has faced, saying: 'Brannon failed to pay his own property taxes until widely reported by the media.'…The ad concludes 'Greg Brannon doesn't share our values, shouldn't be trusted and he sure can't defeat Kay Hagan in November.'
PICK SIX: WILL MICHIGAN MOTOR ONTO THE LIST?
Republicans can capture the Senate with a net gain of six seats this cycle. Which six Democrat-held Senate seats are the most vulnerable in November? The current consensus among Fox News First readers: Arkansas, Montana, Louisiana, South Dakota, North Carolina and West Virginia. Fox News First reader Brian Herrington said, "Terri Lynn Land is going to win [Sen. Carl Levin]'s seat in Mich....take it to the bank."
Share your top six picks. Email them – just your top six, please – to FOXNEWSFIRST@FOXNEWS.COM or tweet @cstirewalt.
Land lands Chamber of Commerce support – WKOZ: "Republican U.S. Senate candidate Terri Lynn Land has grabbed the endorsement of the Michigan Chamber of Commerce. The Chamber noted in its endorsement that its members feel the state needs someone new on Capitol Hill in the Senate. Land is facing Democratic Congressman Gary Peters in the race to succeed Senator Carl Levin."
MCAULIFFE TRIES TRICK PLAY TO EXPAND OBAMACARE
WaPo: "Virginia [Democratic] Gov. Terry McAuliffe is considering expanding health coverage for the poor without the approval of the state legislature, a move that would muscle his top priority past Republican opponents but also throw his young administration into a partisan firestorm and uncertain legal territory. McAuliffe and his top advisers have consulted lawyers, health-care experts and legislators on how to bypass the GOP-dominated House of Delegates, according to three people familiar with the discussions. A fourth, who like the others spoke on the condition of anonymity because they were not authorized to reveal private strategy, said the office of Attorney General Mark R. Herring (D) has been researching the matter."
DEM TO HAND OUT KLAN HOODS
AP: "Democratic candidate for governor Brett Hulsey plans to hand out white Ku Klux Klan-style hoods to Wisconsin Republicans as they gather for their annual convention Friday to highlight what he says are their racist policies. Hulsey, a state representative from Madison who is white, came into the state Capitol press room on Thursday to show off a hood he says he made with his daughter's sewing machine using curtain material he purchased for $1…Hulsey, a two-term state representative, is running a long-shot campaign for the Democratic nomination against the better-funded and more broadly supported candidate Mary Burke."
#mediabuzz: STERLING SECOND TAKE
Host Howard Kurtz sits down with Bomani Jones, an ESPN contributor who first slammed Donald Sterling for racism eight years ago. Plus, in a wildly entertaining interview, Kurtz talks with some of the ladies of Outnumbered: Andrea Tantaros, Sandra Smith, Katie Pavlich and Harris Faulkner.
BAIER TRACKS: LIGHTEN UP…
"This weekend is what people in Washington affectionately call "the need prom" – the annual White House Correspondents' Association dinner. Not bragging here, but I have been to at least 13 of these things, and they get bigger each year. This year, some 2,600 people will jam into the Capitol Hilton dining room to hear the guest comedian, Joel McHale, and the comedian-in-chief for the night, President Obama, deliver their best punch lines on a host of targets (I am sure Fox News will again make the list). A lot of people get upset about this weekend – all the parties, all the glitz, the humor – when there are so many serious things the nation is facing. A fair point. But for a town in which the bipartisan gatherings where things got worked out are a thing of years past, a chance to all get together and laugh at ourselves is not an awful thing." – Bret Baier
MAN, THIS OPPRESSION IS SO DELICIOUS
Downtown Seattle was on high alert Thursday as hundreds of self-proclaimed anarchists and communists filled the streets on the communistic holiday of May Day. Police officers took every precaution, filling the streets on foot, bike, and trusty steed to protect business from vandalism or other property crimes. But after a long day of protesting America's capitalistic ways, the mob moseyed on over to a beloved Seattle fast food chain: burger joint Dick's Drive-In. After wiping their chins, the protesters headed back out to the streets to again show their disgust for American capitalism, if not its delicious ground beef sandwiches.
AND NOW, A WORD FROM CHARLES…
"…what I did say was the reason [the issue of Benghazi] would not go anywhere is because the lack of interest of the other media. And what's changed now, and we saw it in the briefing room, is I think the other media are somewhat embarrassed by the fact that, unlike Fox, they allowed themselves to be stoned and spun and rolled for a year and a half and now the memo appears and it's obvious that they missed this story." – Charles Krauthammer on "Special Report with Bret Baier"
Chris Stirewalt is digital politics editor for Fox News. Want FOX News First in your inbox every day? Sign up here.
Chris Stirewalt joined Fox News Channel (FNC) in July of 2010 and serves as politics editor based in Washington, D.C. Additionally, he authors the daily Fox News Halftime Report political news note and co-hosts the hit podcast, Perino & Stirewalt: I'll Tell You What. He also is the host of Power Play, a feature video series on FoxNews.com. Stirewalt makes frequent appearances on network programs, including America's Newsroom, Special Report with Bret Baier and Fox News Sunday with Chris Wallace. He also provides expert political analysis for FNC's coverage of state, congressional and presidential elections.