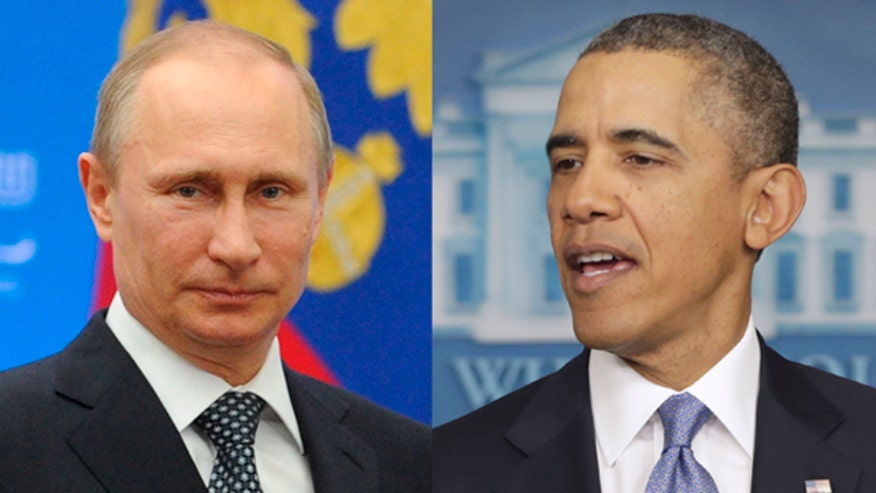 President Obama and Russian President Vladimir Putin spoke after residents of Ukraine's Crimea region on Sunday voted in favor of seceding to Russia, with the White House saying it would reject the results of the referendum held "under threats of violence and intimidation."
More than 95 percent of Crimea voters, who are largely ethnic Russians, approved splitting off and joining Russia, with more than 50 percent of the ballots being counted, the referendum committee said late Sunday.
The expected results came as Obama told Putin that a diplomatic solution can still be achieved but only if Russian military forces end their incursions into Ukrainian territory.
Obama also said the referendum would "never" be recognized by the international community and that the United States and its European partners are prepared to "impose additional costs" on Russia for its actions, according to the White House.
Hours earlier, the White House rejected the referendum results before the final tally, which was no surprise. But the message that Russia had intimidated voters was remarkable in its force and clarity, especially after weeks of criticism that Obama was being outmatched by Putin on the world stage.
"Russia's actions are dangerous and destabilizing," said the White House, in a statement from the Office of the Press Secretary.
The remarks were echoed across Washington, which is shifting its focus to deterring possible Russian military advances elsewhere in Ukraine.
Putin sent troops into the neighboring region days after Ukraine's pro-Russian President Viktor Yanukovych was ousted last month in a political uprising.
"The United States has steadfastly supported the independence, sovereignty and territorial integrity of Ukraine since it declared its independence in 1991," the White House also said Sunday. "The international community will not recognize the results of a poll administered under threats of violence and intimidation from a Russian military intervention that violates international law."
In addition, U.S. officials warned that any Russian moves on east and south Ukraine would be a grave escalation requiring additional responses.
Secretary of State John Kerry called on Moscow to return its troops in Crimea to their bases, pull back forces from the Ukraine border, halt incitement in eastern Ukraine and support the political reforms in Ukraine that would protect ethnic Russians, Russian speakers and others in the former Soviet republic that Russia says it is concerned about.
Obama had already talked twice by phone to Putin, saying his movements in Crimea are in violation of Ukraine's sovereignty, words the White House said he repeated Sunday.
Putin says he is trying to protect his country's economic and other interests in the region.
In a call with Russian Foreign Minister Sergey Lavrov, Kerry urged Russia "to support efforts by Ukrainians across the spectrum to address power sharing and decentralization through a constitutional reform process that is broadly inclusive and protects the rights of minorities," the State Department said.
It was their second call since unsuccessful talks Friday in London.
Kerry expressed "strong concerns" about Russian military activities in the southern Ukrainian region of Kherson, just north of Crimea where Russian troops appeared Saturday, and about "continuing provocations" in cities in east Ukraine, the department said.
A senior State Department official said Lavrov's willingness to discuss Ukraine political reforms was positive. But the official stressed that the Russian military escalation was of "greatest concern" and must be reversed. The official spoke on condition of anonymity to discuss the private conversation.
White House senior adviser Dan Pfeiffer told NBC's "Meet the Press" that Russia faces penalties that would hurt its economy and diminish its influence in the world if Putin didn't back down.
U.S. and European officials have said they plan to announce sanctions against Russia, including visa bans and potential asset freezes, on Monday if Putin does not shift course.
On Capitol Hill, members of Congress said they were prepared to enact tough sanctions on various Russian leaders, but $1 billion in loan guarantees to help the Ukrainian economy is on hold while Congress is on a break.
California GOP Rep. Ed Royce, chairman of the House Committee on Foreign Affairs, called the referendum "phony" and "a throwback to the Soviet era."
"No vote occurring under military occupation deserves to be treated as legitimate," he said. "This referendum is clearly unconstitutional."
Royce also called on the administration to start "working overtime to help break Putin's energy grip on Ukraine and eastern Europe."
Washington officials also said the Crimea vote was not necessary, considering the new Ukrainian government has made clear its willingness to discuss increased autonomy in that region.
Russia has so far rejected the offer and the request to allow international monitors into the region to ensure that the rights of ethnic Russians in Ukraine are being upheld.
The White House said Obama asked again Sunday.
Earlier Sunday, the top Republican on the Senate Foreign Relations Committee accused the Obama administration of showing "wishy-washiness" toward Putin.
Tennessee Sen. Bob Corker said Secretary of State John Kerry is sending the wrong message by saying Putin's military troops taking control of facilities in the Crimea peninsula was "not a threat" and "nothing personal."
"Our administration has created an air of permissiveness," Corker told "Fox News Sunday." "We have to show more resolve. It's not helpful. It shows wishy-washiness."
New Jersey Democratic Sen. Bob Menendez, the chairman of the Foreign Relations committee, told Fox News that the United States has to be more firm with Putin because he has "started a game or Russian roulette … and he will see how far he can go."
The EU is also taking steps to increase sanctions against Russia over what many believe is a planned annexation of Crimea, as Moscow has changed from a wary partner to a diplomatic adversary in the space of a few months.
EU foreign ministers will decide on Monday whether to impose asset freeze and visa sanctions and, if so, who to target.
EU diplomats were working feverishly over the weekend to set up a list of Russian and Moscow-leaning officials from Ukraine who have been involved in pushing for the southern peninsula's secession and possible annexation.
This story is based in part on Associated Press and other wire service reports.