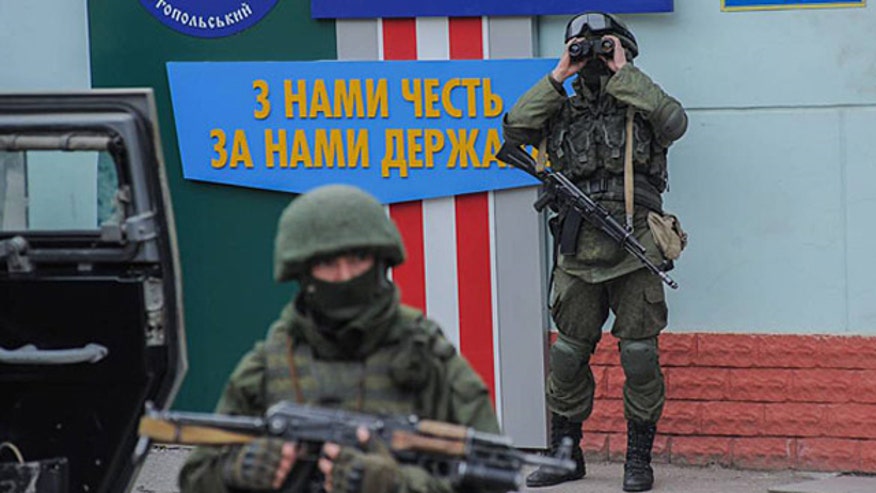 **Want FOX News First in your inbox every day? Sign up here.**
Buzz Cut:
• Organizing for Action, Ukrainian Chapter
• Feds waive rules for residents of states with crashed ObamaCare programs
• Power Play: Capito holds the high ground in W.Va.
• Charles Koch grants rare interview
• Bear-knuckled fighter turns bashful
ORGANIZING FOR ACTION, UKRAINIAN CHAPTER
Vladimir Putin, who once spared President Obama from having to launch a war he had promised to fight but had no stomach to wage in Syria, is sorely testing the boundaries of Obama's reticence to enforce international boundaries. While Obama has been quite willing to use American force in assassinating terrorists, he has gone to great lengths to avoid invoking America's superpower status to deal with aggression on the nation-state level. Russia has seized control of the strategically invaluable eastern part of Ukraine, home to warm water ports, oil infrastructure and lots of Russians. It's also right next door to the most problematic provinces of Russia, the Islamist hotbed of the Caucasus. A ruler of the "Great Russia" school that holds the country's empire rightfully spreads to include all the Slavic peoples of Eastern Europe, was not going to let European-backed rebels take this plum position just because they toppled the Russian client government in Kiev. So what's the U.S. response? The message from Obama and Secretary of State John Kerry is essentially that Putin has already lost, the Russian strongman just doesn't know it yet.
["Well I think [Russian President Vladimir Putin] is playing chess and I think we're playing marbles. And I don't think it's even close" –House Intelligence Committee Head Rep. Mike Rogers, R-Mich., on "Fox News Sunday with Chris Wallace"]
Putin plays the angles - Many in the West have been waiting for the "end of history" for two decades now, as less-enlightened leaders come to see that economic interdependence and a move toward liberal democracy has made such gambits pointless and ultimately damaging. Many Russians, however, look for history to resume with a vengeance after the post-Cold War lull and with Moscow elevated to its rightful place of primacy. Making the rounds of several administration-friendly Sunday chat shows ahead of a visit to the provisional rebel government in Kiev, Kerry deplored the idea of any military response, discussing a combination of diplomatic isolation for Russia and economic aid 'of a major sort' to the rebel government. Talk and trade will eventually describe new boundaries for Ukraine, and new spheres of influence for world powers in the region. But Putin is betting that his plays will leave Russia in much better position when the eventual deal is cut. Even the grouchiest-sounding statements from the Obama administration affirm the reasonableness of Putin's strategic aims – protection of ethnic Russians, etc. Like in Syria, the hope seems to be that aggression now will yield a more favorable accommodation when diplomats get to the business of redrawing treaties and boundaries.
[Baronial view - Washington Examiner's Michael Barone offers some suggestions about what to do about Russia in the Crimea. Some interesting "dos" and one notable "don't": "Notably absent from this list is economic support for the government of Ukraine. That may well be desirable, but we should not be under any illusion that nation-building there is likely to be very successful any time soon."]
Different yardsticks - Putin can still come out the clear winner even if Obama meets his stated goal in the conflict: a peaceful resolution that leads to Ukrainian self-determination. A split nation with the strategic east a Russian vassal state would meet both Putin and Obama's goals, leaving Putin then free to start chipping away at the European-backed government in the western Ukraine until it too falls back into Moscow's orbit. If that likely result does come to pass, the temptation for other leaders who do not ascribe to the inevitable peace and Westernization of the world may also be tempted to see what's to be gained by snatch and grab incursions.
Putting the pressure on Putin - New Today at Fox News Opinion: Military Analyst K.T. McFarland considers How Obama could stop Putin's Ukraine power grab without firing a shot: "President Obama prefers public speeches. President Putin prefers to let his actions speak for him. Obama talks. Putin takes."
[WSJ details how the standoff with Russia is fueling debate over defense spending cuts.]
Editorial boards left and right want action - WaPo: "President Obama has led a foreign policy based more on how he thinks the world should operate than on reality… As Mr. Putin ponders whether to advance further - into eastern Ukraine, say - he will measure the seriousness of U.S. and allied actions, not their statements. "//WSJ: "Mr. Obama and the West must act, rather than merely threaten, because it's clear Mr. Putin believes the American President's words can't be taken seriously."//LAT: "The direst result of Russia's overreaching would be a military conflict between Russian and Ukrainian forces. But a de facto Russian annexation of parts of Ukraine would also be a disaster. The U.S. and other nations must do their utmost to prevent either outcome."//NYT: "Mr. Putin's claim of an immediate threat to Ukrainian Russians is empty… Mr. Obama, NATO and the European Union should seriously consider what else they can do if Mr. Putin escalates his intervention in Ukraine."
OBAMA TELLS BIBI TO MAKE A DEAL WITH PALESTINIANS
Fox News: "President Obama and Israeli Prime Minister Benjamin Netanyahu will meet Monday with the major topics expected to be a potential Israeli-Palestinian peace agreement and international efforts to freeze Iran's nuclear program. The leaders will meet on the sidelines of the annual American Israel Public Affairs Committee policy conference in Washington. Ahead of the meeting, Obama had some tough words for the Israeli leader, saying that if Netanyhau 'does not believe that a peace deal with the Palestinians is the right thing to do for Israel, then he needs to articulate an alternative approach,' Bloomberg News reported."
FEDS WAIVE RULES FOR RESIDENTS OF STATES WITH CRASHED OBAMACARE PROGRAMS
If you live in one of the 14 states that have set up their own ObamaCare Web site, you now qualify for federal health insurance subsidies whether you meet the requirement for assistance or not. With states like Oregon, Maryland, Hawaii and Massachusetts still sifting through crashed Web sites, the Obama administration ordered that those who apply for federal aid from those states will get the money, regardless of whether they meet income criteria. The numbers here, though, are probably relatively small, but significant as the administration moves closer to the moment at which the president waives the penalties and requirements for individuals under the law. The deadline for ObamaCare compliance falls on March 31. Will the president, who has done so much to shield corporate and union allies from his law, really let the ax fall on the general population?
Still waiting for their windfall -The bigger numbers here, however, are the costs for the states that rushed to get aboard the ObamaCare train. Fox News: "Maryland could end up spending as much as $30.5 million as a result of a glitch in its ObamaCare website." The blue-state stampede to get as much ObamaCare money as possible looks like less of a good deal given the pain of establishing the system, to say nothing of the hikes to Medicaid costs down the road.
Jailhouse navigators find captive audience for ObamaCare - Daily Caller: "…billionaire George Soros and the Obama administration help fund the Chicago nonprofit that set up Obamacare enrollment programs for prison inmates. Chicago-based Treatment Alternatives for Safe Communities (TASC) helped establish Obamacare enrollment programs for prisoners at Chicago's Cook County Jail. Cook County is one of at least six states and counties enrolling prisoners to help shift inmate medical costs to federal taxpayers."
TEAM OBAMA TO PUMP UP GASOLINE REGULATIONS
NYT: "The Environmental Protection Agency plans to unveil a major new regulation on Monday that forces oil refiners to strip out sulfur, a smog-forming pollutant linked to respiratory disease, from American gasoline blends, according to people familiar with the agency's plans… The rule will require oil refiners to install expensive new equipment to clean sulfur out of gasoline and force automakers to install new, cleaner-burning engine technology. E.P.A. officials estimate that the new regulation will raise the cost of gasoline by about two-thirds of one cent per gallon and add about $75 to the sticker price of cars. But oil refiners say that it will cost their industry $10 billion and raise gasoline costs by up to 9 cents per gallon."
WITH YOUR SECOND CUP OF COFFEE...
American Enterprise Institute President Arthur Brooks considers The Downside of Inciting Envy for NYT: "My own data analysis confirms a strong link between economic envy and unhappiness. In 2008, Gallup asked a large sample of Americans whether they were 'angry that others have more than they deserve.' People who strongly disagreed with that statement — who were not envious, in other words — were almost five times more likely to say they were 'very happy' about their lives than people who strongly agreed… It's safe to conclude that a national shift toward envy would be toxic for American culture… People who believe that hard work brings success do not begrudge others their prosperity. But if the game looks rigged, envy and a desire for redistribution will follow… Only a shared, joyful mission of freedom, opportunity and enterprise for all will cure us of envy and remind us who we truly are."
Got a TIP from the RIGHT or LEFT? Email FoxNewsFirst@FOXNEWS.COM
POLL CHECK
Real Clear Politics Averages
Obama Job Approval: Approve – 42.5 percent//Disapprove – 53.2 percent
Direction of Country: Right Direction – 29.8 percent//Wrong Track – 63.2 percent
Generic Congressional Ballot: Democrats – 42.0 percent// Republicans 42.3 percent
POWER PLAY: CAPITO HOLDS THE HIGH GROUND IN W.VA.
In the first installment of the new video on demand series from "Power Play with Chris Stirewalt," Chris sits down with Rep. Shelley Moore Capito, R-W.Va. to talk about the Senate race there. There's scant public polling in the battle to replace retiring Democratic Sen. Jay Rockefeller, but the early indications are that Capito holds a significant advantage over presumptive Democratic nominee Secretary of State Natalie Tennant. Republicans are counting on Capito to deliver one of the six Senate gains they need to take over the upper chamber, but the contours of the race are different than in other red states. The Obama administration's crackdown on the coal industry – and the president's resulting deep unpopularity in West Virginia – is a bigger issue for Democrats than his struggling health law. But unlike with ObamaCare, Appalachian Democrats have voiced broad opposition to the president's efforts to roll back the industry in the name of fighting global warming.
Capito argues that when Tennant or Sen. Joe Manchin, hoping to bring her aboard the Democratic majority team, speak out against Obama environmental regulations, it doesn't carry much weight. "In my view, their voices are weak," Capito said, "because they're supporting a leadership team in the United States Senate that supports what the president says about coal."
Watch the interview here and keep watching this week as we roll out new Power Play features. You can see the final live episode of Power Play here (the description of our midterm election project starts at about the 12 minute mark).
[Ed. note: Of course I started with West Virginia! What did you think I was going to do?]
Pick Six - Republicans need six additional Senate seats to take control of the upper chamber. Which blue seats are the most likely to move to the red column this November? The current consensus among Fox News First readers: Arkansas, Montana, Louisiana, South Dakota, North Carolina and Alaska.
Share your top six picks. Email them – just your top six, please – to FOXNEWSFIRST@FOXNEWS.COM or tweet @cstirewalt.
OKLAHOMA SENATE RACE THICKENS
Former Oklahoma Republican state Sen. Randy Brogdon is dropping a primary challenge to Gov. Mary Fallin, R-Okla., and will likely make his bid for Senate official today according to reports. Brogdon joins Rep. James Lankford, R-Okla., and Oklahoma House Speaker T.W. Shannon (R) in the GOP primary to replace retiring Sen. Tom Coburn, R-Okla. Brogdon's best hope for success against the two well-known candidates will be to enlist out-of-state support from Jim DeMint's Senate Conservatives Fund, which has yet to back a candidate in the race. No word from the group on a preference, other than some obvious reservations about House leadership member Lankford.
DEMS RAISE STAKES FOR MISSISSIPPI GOP PRIMARY
Some bad news for Mississippi GOP primary challenger Chris McDaniel: the blue team is fielding a conservative Democrat with some name identification to seek the Senate seat currently held by Sen. Thad Cochran, R-Miss. McDaniel's candidacy is predicated on the notion that the seat is safe for the GOP, whether Cochran wins or loses. Will it's still a reach for the Dems, former Rep. Travis Childers, who was arguably the most conservative Democrat in the House during his brief tenure, could make the race more challenging if DeMint-backed McDaniel unhorses Cochran. Obama Democrats might loathe Childers' policy portfolio, but would certainly be happy to force Republicans to spend time and money defending a safe seat this cycle. More
VOTES THIS WEEK PUT VOTER ID TO TEST
AP: "In elections that begin this week, voters in 10 states will be required to present photo identification before casting ballots – the first major test of voter ID laws after years of legal challenges arguing that the measures are designed to suppress voting. The first election is Tuesday in Texas, followed by nine other primaries running through early September that will set the ballot for the midterm elections in November, when voters decide competitive races for governor and control of Congress. The primaries will be closely watched by both sides of the voter ID debate, which intensified in 2011, the year after Republicans swept to power in dozens of statehouses. For months, election workers have been preparing new voting procedures, while party activists and political groups seek ID cards for voters who do not have them… Georgia and Indiana adopted some of the first voter ID laws. This year, in addition to the Texas law, new or stricter photo-identification voting laws take effect in Alabama, Arkansas, Mississippi, New Hampshire, North Dakota, Oklahoma, Rhode Island, Tennessee and Virginia."
CHARLES KOCH GRANTS RARE INTERVIEW
Wichita Business Journal: "…To the political world, he is, by turns, the country's No. 1 bogeyman and benefactor. To Wichita, he is the Wizard of Oz — ever-present yet rarely seen, influential but invisible. To the media, and by extension the public, Charles Koch is elusive and inscrutable…. He criticizes business leaders who say they believe in a free-market system, but do their best to manipulate that system by working to impose regulations on their competitors or going for 'smash and grab, short-term profits.' Koch says he's used to being on the receiving end of criticism and name calling, but he's hoping that the country can get to a point of civil discourse. '… People should only profit to the extent they make other people's lives better. You should profit because you created a better restaurant and people enjoyed going to it… 'That's our No. 1 focus now, to change the national conversation from name calling to a real debate on what policies will best create opportunities to improve their own lives….' 'Now we [Charles and David Koch] are major contributors, but they've [Americans for Prosperity] got close to 100,000 contributors and 2 million members. So it's a big organization and a lot of people are involved. We contribute and we helped start it, so we have some influence. We try to push them on things that will help people make their own lives better and policies that move in the direction of well-being for everybody and fighting cronyism. But they do a lot of different things. Listen, if I could do everything that's attributed to me, I would be a very busy boy [Koch said.]"'
CHRISTIE HOLDS ON IN VIRGINIA
A new survey from Christopher Newport University finds: "Hillary Clinton has more than a friend in the Virginia Governor's Mansion [Gov. Terry McAuliffe, D-Va.,]: Virginia voters like her, too. In head-to-head matchups with a list of potential Republican challengers, Clinton beats them all." Clinton leads Gov. Chris Christie, R-N.J., 43 percent to 41 percent. Among Republican hopefuls, the polling shows no clear frontrunner with Christie and former Gov. Jeb Bush, R-Fla., getting the most support. In the same poll, President Obama's approval in the Old Dominion stands at 46 percent.
RGA LAUNCHES AD OFFENSIVE
The Republican Governors Association is launching two new ads today blasting Democratic gubernatorial candidates in South Carolina and Wisconsin. From the attack on South Carolina Democratic state Sen. Vincent Sheheen: "Now Vincent Sheheen wants to use ObamaCare for a $2 billion expansion of Medicaid expansion in South Carolina. Millions of families losing their health plans. Thirty-four thousand South Carolina jobs could be lost. And Vincent Sheheen's plan? Even more ObamaCare." From the ad hitting Wisconsin Democratic gubernatorial hopeful, Trek Bicycle executive Mary Burke: "Debt, mismanagement, waste. That's the Washington way: but Mary Burke did the same thing in Madison…"
DEMS PAY THE PRICE FOR TROUBLES WITH WHITE DUDES
NYT: "…Democrats are gaining support from growing numbers of female and minority voters. It is a challenge that runs throughout the nation's industrial heartland, in farm states and across the South, after a half-century of economic, demographic and cultural shifts that have reshaped the electorate. Even in places like Michigan, where it has been decades since union membership lists readily predicted Democratic votes, many in the party pay so little attention to white working-class men that it suggests they have effectively given up on converting them… No Democratic presidential candidate has won a majority of white men since Lyndon B. Johnson in 1964. Jimmy Carter, Bill Clinton and Barack Obama all prevailed with support of the so-called rising electorate of women, especially single women, and minorities. But fewer of those voters typically participate in midterm elections, making the votes of white men more potent and the struggle of Democrats for 2014 clear… And this year, Democrats, hobbled by Mr. Obama's sagging popularity, are defending many red-state Senate seats, including some in places with few members of minorities, like West Virginia. A big reason for Democrats' emphasis on raising the minimum wage is the polling proof that the issue resonates with all groups, including white men…"
BEAR-KNUCKLED FIGHTER TURNS BASHFUL
When John Hennessy, of Sorrento, Fla., first told of his battle with a bear, it sounded like something out of "The Edge." Hennessy, whose wife posted pictures of his injuries on social media, told WFTV that the bear "got a hold of my clothes – I just started punching him and he ran off. I got right in his way." But the tale of bravado didn't hold up for long. From the station: "Mr. Hennessy did see a bear walk by. He chased it up a paved road, and during this chase, he fell in the road,' said Greg Workman with the Florida Fish and Wildlife Conservation Commission." Hennessey, who could now face charges, has apparently grown a bit shy about his yarn. "Channel 9's Karla Ray tried to ask Hennessy why he told WFTV the attack story, but he didn't answer the door."
Chris Stirewalt is digital politics editor for Fox News. Want FOX News First in your inbox every day? Sign up here.
Chris Stirewalt joined Fox News Channel (FNC) in July of 2010 and serves as politics editor based in Washington, D.C. Additionally, he authors the daily Fox News Halftime Report political news note and co-hosts the hit podcast, Perino & Stirewalt: I'll Tell You What. He also is the host of Power Play, a feature video series on FoxNews.com. Stirewalt makes frequent appearances on network programs, including America's Newsroom, Special Report with Bret Baier and Fox News Sunday with Chris Wallace. He also provides expert political analysis for FNC's coverage of state, congressional and presidential elections.