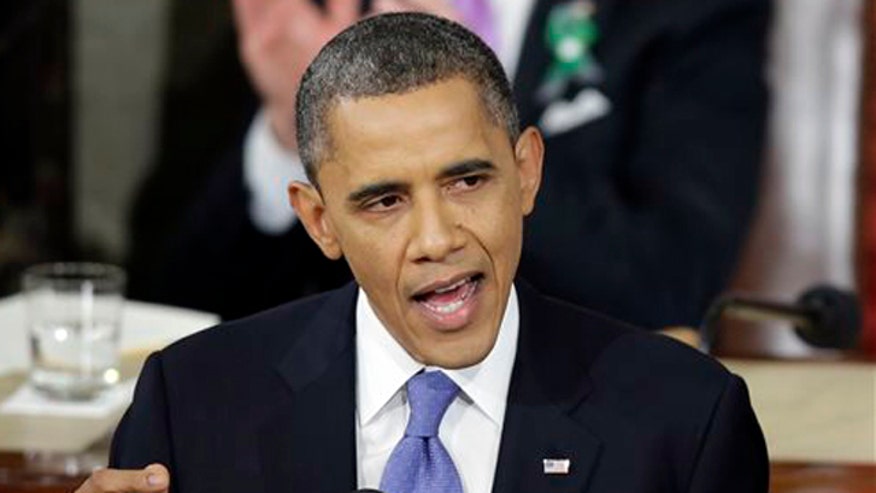 **Want FOX News First in your inbox every day? Sign up here.**
Buzz Cut:
• He's got a pen, but it ain't so mighty
• Senate trio builds consensus for ObamaCare alternative
• Pardon me, Hillary, but do you have any Grey Poupon?
• Christie's bridge battle: Heading to a state near you
• In Washington, we'd pay them not to talk

HE'S GOT A PEN, BUT IT AIN'T SO MIGHTY
Have you heard? President Obama is raising the minimum wage this morning by executive order. He's got a pen! It's a year of action! He won't wait for Congress! Well, kinda… In an effort to show executive relevancy and tout his remaining clout ahead of what promises to be a highly partisan State of the Union address, Obama will sign an order this morning directing federal agencies to give contracts only to those firms that pay workers a minimum of $10.10 per hour instead of the $7.25 minimum wage. But… The move applies only to employees of firms seeking new contracts. Existing wages for current contractors can even be extended if the other terms of the contract haven't substantially changed. So how many people are really going to get a boost from Obama's pen? Team Obama provided no estimates, but waste watchers say that relatively few of the approximately 2 million workers servicing federal contracts are earning under $10.10 per hour anyway.
[Bing Pulse is partnering with Fox News to track your opinion live, during tonight's State of the Union Address, learn how you can participate here.]
Man in the mirror - FromRon Fournier: A Pen, a Phone, and a Flailing President - "Obama is right. Polls show the public is growing weary of him, which is a shame because he's still got three years in office. There are big problems to solve, starting with the lack of social and economic mobility. But that's the point. If it's so hard to put a finger on the problem, if the White House seems to ricochet from one slogan to another, lurching from strategy to strategy and consumed by tactics and excuses, maybe the problem is … the man himself. If so, the only question that matters is, can Obama change?"
[Watch Fox: Sen. Roy Blunt, R-Mo., appears in the 1 p.m. ET hour to discuss what he hopes to hear during tonight's State of the Union address]
SOTU déjà vu - Gun control, tax and entitlement reform and a hike in the minimum wage were all cornerstones of President Obama's 2013 State if the Union address. And Obama's attacks on income inequality date back to 2012. But he has little to crow about on any of these topics. This is not, however, likely to deter Obama from revisiting them all. More.
"[President Obama] apparently is going announce that he's sidestepping Congress even more and simply going to force his agenda on the American people through executive orders -- that's not the way our constitution works, that's an abuse of power."— Sen. Ted Cruz, R-Texas on "On the Record with Greta Van Susteren"]
[The latest WSJ/NBC news poll indicates only 16 percent of respondents have an optimistic outlook for the remainder of the president's term.]
Preaching to the choir - The latest Fox News poll finds one third of respondents saying they will pay close attention to tonight's address. Forty-one percent of Democrats said they were likely to watch or view the speech carefully, compared to 29 percent of independents and 22 percent of Republicans. Further, 28 percent said they may watch at least part of the address, while 23 percent indicated they will likely read about it after the speech.
"President Obama shouldn't be surprised that most voters disapprove of how he's handled the economy. Likewise, he shouldn't be surprised that trust in the federal government has fallen to historic lows. After all, the Obama Administration has repeatedly ignored or 'waived' laws that proved inconvenient." –Sen. John Cornyn, R-Texas, in Breitbart OpEd
[Watch Fox: Sen. John Cornyn, R-Texas, discusses tonight's State of the Union address in the 10 a.m. ET hour]
YOU HAVE A SEAT ON THE PANEL: QUACK, QUACK
President Obama's State of the Union will be high on midterm campaign rhetoric that offers little hope of results. That opinion, offered by Charles Krauthammer saw heightened viewer response during Monday's "Special Report with Bret Baier" All-Star Panel. As measured by Bing Pulse, viewer votes spiked to 16,000 votes per minute when Krauthammer stated, "This is all empty rhetoric. This is the framing of issues for Election Day. They know they're not going to achieve anything. Surely not in Congress…"
Bing Pulse measured 111,000 viewer votes during the panel discussion. See the full results in a deeper data dive here. Don't miss your chance to make your voice heard by taking your seat on the panel.
BAIER TRACKS: LESSONS LEARNED…
"One of the issues not front and center in Washington in recent months – or in several years, for that matter – is education. Expect President Obama to spend some time on the topic in his State of the Union address tonight, but Republicans have their own push on education and it's in part a response to the president's focus on income inequality.
From WaPo: "Sens. Lamar Alexander (Tenn.), a former education secretary, and Tim Scott (S.C.), one of only two African Americans in the Senate, will propose far-reaching 'choice' legislation on Tuesday that would take the $24 billion in federal money spent annually to help educate 11 million students in poverty or with disabilities and convert it into block grants to the states, among other changes."
Expect some minutes in the SOTU on the issue." – Bret Baier
See for yourself - Sens. Lamar Alexander, R-Tenn., and Tim Scott, R-S.C., will promote their Scholarships for Kids Act at the American Enterprise Institute. Deets.
SENATE TRIO BUILDS CONSENSUS FOR OBAMACARE ALTERNATIVE
Sens. Orrin Hatch, R-Utah, Tom Coburn, R-Okla. and Richard Burr, R-N.C., have unveiled the Patient Choice, Affordability, Responsibility and Empowerment Act as a Republican alternative to ObamaCare. Under the plan, insurances companies would not be able to impose lifetime limits on patients and would be required to allow dependent coverage up to the age of 26, as ObamaCare currently does. The Republican proposal would address the issue of pre-existing conditions by creating a new "continuous coverage" standard that would prevent any individual moving from one insurance plan to another from being denied on the basis of a pre-existing condition so long as that individual was continuously enrolled in a health plan. More.
But do you get a tote bag? – First lady Michelle Obama emails her husband's supporters: "…chip in $10 or more and help protect Obamacare."
"The whole idea of this plan is to give affordable access care where you run your health care and your state makes decisions and it's not mandated what you'll buy, when you'll buy it, there's no employer mandate, there's no individual mandate. You get the option and if you want to take this credit you can." – Sen. Tom Coburn, R-Okla. "On the Record with Greta Van Susteren" Watch the full interview here.
Wonk impressed - American Enterprise Institute's James Capretta writing at The Weekly Standard (emphasis added): "They would leave the employer tax preference in place, and thus not displace any of the stable employer plans in force today. The only change would be to put a reasonable upper limit on the tax preference, to encourage employers and workers to select cost effective coverage. The Senators then provide a refundable tax credit to anyone who works in a small firm or who doesn't have access to employer coverage at all with incomes between 100 and 300 percent of the federal poverty line. This ensures that everyone who is uninsured and low income today will have the financial wherewithal to get insurance that, at a minimum, protects them from major medical expenses. With this credit, the Burr-Coburn-Hatch plan can rightfully be called a genuine universal coverage plan, with every American ensured of reasonable access to an insurance plan."
Ben Carson PACs up - Famed neurosurgeon Ben Carson is joining up with Save Our Health Care, a new project from the conservative American Legacy PAC. Ads featuring Carson started airing Monday.
REALLY ANGRY BIRDS: FEDS USED APPS TO SPY
Relying on data scooped up from "leaky apps" – everything from Angry Birds and Google Maps to applications with photo- and location-sharing abilities like Facebook, Flickr and Twitter – the NSA and Britain's Government Communications Headquarter have been secretly collecting personal data about users, including age, daily whereabouts, marital status, address books and much more, according to documents provided by leaker Edward Snowden. More. –Watch Fox: Chief Intelligence Correspondent Catherine Herridge is tracking the story.
Tech firms allowed to share snoop requests - "The Obama administration will allow telecommunications companies to reveal the number of national security orders they receive from the government and detail how many of their customers are being targeted, officials announced Monday." Washington Examiner reports.
[Watch Fox: Rep. Mike McCaul, R-Texas, discusses the security of the Sochi Olympics in the 10 a.m. ET hour]
Navy cyber warfare head Obama's pick to lead NSA - LAT: "Navy cryptologist Michael S. Rogers is President Obama's top choice to take over the embattled National Security Agency — which conducts electronic surveillance operations worldwide — and the Pentagon's cyber warfare command, officials say."
Senate panel approves Iraq chopper aid - AP: "A congressional panel has signed off on the sale of Apache helicopters to Iraq as it battles the growing threat from Al Qaeda militants within its borders."
[Listen to Fox: House Armed Services Committee Chairman Buck McKeon, R-Calif., previews the State of the Union Address and what he hopes to hear about the war in Afghanistan, on Kilmeade and Friends in the 9 a.m. ET hour.]
WITH YOUR SECOND CUP OF COFFEE...
Conservative economist Thomas Sowell in The Inequality Bogeyman: "One of the problems with so many discussions of income and wealth is that the intelligentsia are so obsessed with the money that people receive that they give little or no attention to what causes money to be paid to them, in the first place... goods and services are the real 'wealth of nations,' as Adam Smith titled his treatise on economics in the 18th century… Too many discussions of large fortunes attribute them to 'greed' -- as if wanting a lot of money is enough to cause other people to hand it over to you. It is a childish idea, when you stop and think about it -- but who stops and thinks these days?"
Got a TIP from the RIGHT or LEFT? Email FoxNewsFirst@FOXNEWS.COM
POLL CHECK
Real Clear Politics Averages
Obama Job Approval: Approve – 43.7 percent//Disapprove – 51.7 percent
Direction of Country: Right Direction – 29.0 percent//Wrong Track – 62.9 percent
Generic Congressional Ballot: Democrats – 41.2 percent// Republicans 41.4 percent
[The latest Fox News poll shows respondents favor Republicans for Congress, 43 percent to Democrats 41 percent.]
ON BENGHAZI, CLINTON OFFERS REGRETS, BLAME SHIFT
In another sign that the 2016 Democratic frontrunner recognizes the potential political liability of her role in failing to prevent the 2012 raid by Islamist forces that killed the U.S. ambassador to Libya and three other Americas, Hillary Clinton again spoke publicly of her regrets about the attack and sought to insulate herself from blame. Echoing remarks she made a year ago, the former secretary of State told a group of auto dealers who hired her to speak at their annual convention in New Orleans, that the Benghazi attack was her biggest "regret." Clinton was quick, though, to say that her decisions were the fault of others who provided "imperfect information" and, presumably referring to her agency's refusal of additional security for the doomed outpost, "unforeseen consequences, unpredictable twists and turns." She did not discuss her use of doctored talking points in the wake of the raid. More from Washington Examiner
["While we have learned about the Administration's failure to prevent a terrorist attack with actionable intelligence, we are again left wanting answers on the cover-up of this failure…Mr. President, I simply ask that you be forthright with the American people. Help us get beyond this tragedy."—Sen. Pat Roberts, R-Kans., in a Breitbart OpEd]
Pardon me, Hillary, but do you have any Grey Poupon? - The 2016 Democratic frontrunner also told the gathering: "The last time I actually drove a car myself was 1996, and I remember it very well, and so does the Secret Service, which is why I haven't driven since then." More.
[BuzzFeed shares the contemptuous, taunting response from Hillary Clinton spokesman Philippe Reines when asked what commonplace activities Clinton still carries out for herself.]
Bubba defender: Monica was asking for it - "President Clinton did a bad, bad thing, and Monica Lewinsky was not precisely an innocent victim, I recall some thong flashing there." – WaPo columnist Ruth Marcus on MSNBC defending the former president against the claim by Sen. Rand Paul, R-Ky, that Clinton's Oval Office sexual exploits with a 22-year-old intern were "predatory."
War on Huckabee, Day VI - From Yahoo: "In a brief to be filed with the U.S. Supreme Court on Tuesday, 19 Democratic senators are siding with the Obama administration against evangelical Christian businessmen who argue that paying for their employees' birth control, a requirement under Obamacare, violates their company's religious freedom… Sen. Patty Murray of Washington, a Democratic senator who led the amicus brief effort, is planning to criticize [former Arkansas Gov. Mike Huckabee who accused Democrats of thinking women unable to control their libidos] and other Republican opponents of the mandate in remarks on the Senate floor Tuesday announcing the brief. 'Allowing a woman's boss to call the shots about her access to birth control should be inconceivable to all Americans in this day and age, and takes us back to a place in history when women had no voice or choice,' Murray will say, according to prepared remarks provided by her staff."
CHRISTIE'S BRIDGE BATTLE: HEADING TO A STATE NEAR YOU
From WaPo's Robert Costa (emphasis added): "Embattled New Jersey [Republican] Gov. Chris Christie and his top advisers are reassuring allies that he will survive the turmoil over a bridge scandal that has badly damaged his standing in the polls, believing he will emerge as an even stronger potential presidential candidate in the end. Members of Christie's inner circle said the developing field of Republican contenders is relatively weak, lacking a presumptive front-runner after consecutive defeats in national elections. The unsettled landscape gives Christie ample time and opportunity to bounce back, they said… Christie aides announced Mon­day that the governor plans to travel to six states this spring to host events for GOP candidates and for the Republican Governors Association (RGA), which he chairs. The stops in Texas, Illinois, Georgia, Utah, Connecticut and Massachusetts underscore Christie's national ambitions, which have been fueled by encouragement from influential Republican officials and donors… Christie's team has been laying the groundwork for the six-state RGA swing for weeks, promising Republican associates in conference calls and closed-door huddles that he has not discarded his long-planned playbook for the year. The aggressive behind-the-scenes maneuvering stands in contrast to Christie's public statements about the bridge controversy, in which he has struck a humble, conciliatory tone and vowed to focus his energy on New Jersey issues."
[Hey, buddy - Fort Lee, N.J. Mayor Mark Sokolich, who was on the receiving end of a dirty traffic trick by staffers of New Jersey Republican Gov. Chris Christie, will be the guest of Rep. Bill Pascrell, D-N.J., at tonight's State of the Union.]
PORTMAN PRESIDENTIAL FUND IN THE MAKING?
From WSJ: "Ohio Sen. Rob Portman the first-term Republican ended 2013 with more than $4.4 million in the bank, according to an adviser. That includes much of the $1.3 million he raised during the last three months of 2013.That's a staggering sum for someone whose re-election is almost three years away. In fact, for the sake of comparison, it's more than twice as much as the three most recent Ohio senators had in the bank at a similar stage in their terms…"
PICK SIX: DON'T SLEEP ON OREGON
If Republicans can make a net gain of six seats in the Senate, the red team will take control of the upper chamber. Of the dozen or so competitive races for Democratic-controlled seats, which six do you think are most advantageous for the GOP? The current consensus from Fox News First readers (in order of times selected): Arkansas, Montana, Louisiana, South Dakota, North Carolina and Alaska. But reader Jim Hartman says Oregon could be a "sleeper" and a "possible" pick up for the GOP. Hartman notes, "Incumbent Senator Jeff Merkley [D-Ore.] narrowly beat [former Republican] Senator Gordon Smith in 2008 (3 points). With a much more favorable political environment in 2014, and ObamaCare a particular problem with its botched Oregon roll out, [Republican] Dr. Monica Wehby… appears well positioned to exploit Merkley's vulnerabilities."
Share your top six picks. Email them – just your top six, please – to FOXNEWSFIRST@FOXNEWS.COM or tweet @cstirewalt.
[Gallup's latest daily tracking numbers reveal President Obama's low job approval ratings could potentially hurt Democratic candidates, particularly in West Virginia, Alaska, South Dakota, and Montana.]

KEATING NOT SEAKING COBURN SEAT
Former Gov. Frank Keating, R-Okla., now head of the American Bankers Association, quelled speculation that he would run for the seat being left vacant by the retirement of Sen. Tom Coburn, R-Okla. From Keating's statement: "While I have considered and discussed this possibility with family and supporters, I have concluded that the most important way I can contribute to policy debates in Washington is by continuing my service to [the bankers' group.]" From The Oklahoman: "U.S. Rep. James Lankford, R-Oklahoma City, is running for Coburn's seat, and Oklahoma House Speaker T.W. Shannon is expected to enter the race this week." Still mulling a run is Rep. Jim Bridenstine, R-Okla.

["I don't have plans to endorse anybody." – Sen. Tom Coburn, R-Okla., to Politico]
KINGSTON LOCKS UP AIRTIME
Georgia's knock-down, drag-out GOP Senate primary is going to be very expensive, and Michelle Nunn, the Democrat hoping to replace retiring Sen. Saxby Chambliss, R-Ga., will have oodles of money to spend in the general election. The Atlanta Journal-Constitution reports that one Republican contender is trying to use an early fundraising advantage to husband his resources: "[Rep. Jack Kingston, R-Ga.,] showed he can raise money. Now he's showing how he will spend it, putting out a press release… advertising a $1.289 million television ad buy for the run-up to the May 20 primary. The Senate-seeking Congressman from Savannah is not going on the air right away, but is locking down rates well in advance — before other campaigns and Super PACs drive up the prices."
CITIZENS UNITED BACKS COCHRAN CHALLENGER
Citizens United is joining Club for Growth, Senate Conservatives Fund and the Madison Project in backing Mississippi state Sen. Chris McDaniel in his primary challenge of Sen. Thad Cochran, R-Miss. "Sadly, Senator Thad Cochran has become part of the insidious D.C. culture that has caused our nation's debt to grow to
over $17 trillion," Citizens United President David Bossie said in a statement. The group is donating $10,000 to McDaniel's campaign, Politico reports.
WARNER: I LIKE HIM, HE'S JUST LIKE ME
Richmond Times-Dispatch: "John W. Warner, a Republican who represented Virginia in the U.S. Senate for 30 years…[Monday] backed Democrat Mark R. Warner, who succeeded him in 2009. 'He has proven himself to be very much like I was, reaching across the aisle' to work on policies that he believes are in the best interests of the state and the nation, Warner said in a telephone interview …'It takes a measure of courage these days,' to do so, Warner said. Mark Warner said on conference call …[Monday] that he is grateful for the former senator's support and friendship. 'To me, John Warner is the gold standard in Virginia,' he said."
WALKER IN THE LEAD
A poll from Marquette University Law School shows Gov. Scott Walker, R-Wis., leading likely Democratic challenger Mary Burke 47 percent to 41 percent in his re-election bid. Fifty-four percent of respondents said the Badger State is heading in the right direction, with 40 percent saying it is not.

CROWDED FIELD TO REPLACE RADEL
Following news that Trey Radel was resigning his House seat Monday after attempting to hang on in the wake of his cocaine-possession plea, Roll Call reports: "Several Sunshine State Republicans have already lined up to run in the solidly GOP Fort Myers-based district, including state Rep. Paige Kreegel and businessman Curt Clawson. The pool of potential candidates includes former Rep. Connie Mack, state Senate Majority Leader Lizbeth Benacquisto, and Chauncey Goss, a former House Budget Committee aide and the son of a Republican congressman from that region."
HAVANA ON THE CHESAPEAKE
Madison Project backs Maryland transplant for GOP House primary in West Virginia: "Just as [Alex Mooney's] mother was a refugee of Castro's Cuba; Alex became a conservative refugee from Maryland."
ONE MORE TIME
Harlem insiders tell NY Post's Page Six: "' [Rep. Charlie Rangel, D-N.Y.] is hoping that he will get more support for re-election by promising this will be his last term — and that party leaders will allow him to step down in dignity then, rather than backing a challenger now,' said one source."
NRA REVIVES LARGEST OUTDOOR GUN SHOW
Washington Examiner: "The nation's biggest outdoors show, cancelled last year after vendors and sponsors protested a ban on AR-15 rifles following the Sandy Hook Elementary School shooting, is being revived by the NRA, which is promising to give the popular rifle its place at the event opening Saturday in Harrisburg, Pa."
KELLY FILE: CONSERVATIVE TARGETING CONTINUES?
The producer who worked with conservative filmmaker Dinesh D'Souza on "2016: Obama's America" hopes that the federal government will back down from its prosecution of D'Souza for campaign finance violations. Producer Gerald Molen told Megyn Kelly: "The worst thing I think someone could think [is that] they can be put in a position to be intimidated by their own government. I just find that very offensive, I just can't believe that would happen. And I really believe this case with Dinesh that somebody's gonna wake up and it's gonna be dismissed," Molen told Kelly. Watch the full interview from "The Kelly File."
CHECK YOUR SPAM FOLDER
A former police officer turned Oklahoma state senator is proposing a bill that would allow officers to issue electronic citations for traffic violations and misdemeanors without leaving the comfort of their cruisers. From Insurance Journal: "If they don't have to approach vehicles during traffic stops to give people tickets but can simply email traffic violation citations directly to the district court clerk then they're less likely to get into a dangerous altercation," said [Bill sponsor State Sen. Al McAffrey, D-Oklahoma City.]
IN WASHINGTON, WE'D PAY THEM NOT TO TALK…
Super Bowl media day is mother of all scrums, as members of the national and international press descend on players and coaches from the teams vying for the championship. Today's media day near the Super Bowl site in New Jersey will give reporters a shot at the stars from the Seattle Seahawks and Denver Broncos. The Seahawks' Marchawn Lynch wants to avoid all that hubbub, but it may be costly. The NY Daily News reports that Lynch, who was fined $50,000 by the NFL for refusing to talk to reporters during the regular season, could have a very expensive day. The league has promised another $50,000 fine if Lynch skips today's super scrum. He's thinking about it, but if he does show, he promises to do a bad job of it: "When you're forced to do something and you know it, it kind of just takes away from the whole experience of what it could be if (it were) natural," Lynch said, "So, I'll probably give forced answers."

AND NOW, A WORD FROM CHARLES…
"[President Obama] doesn't have a lot he can do. And the idea that you would tweet out a picture of the pen, I mean… how low can you go? All he can do is wave a pen?" Charles Krauthammer on "Special Report with Bret Baier"

Chris Stirewalt is digital politics editor for Fox News. Want FOX News First in your inbox every day? Sign up here. To catch Chris live online daily at 11:30 a.m. ET, click here.
Chris Stirewalt joined Fox News Channel (FNC) in July of 2010 and serves as politics editor based in Washington, D.C. Additionally, he authors the daily Fox News Halftime Report political news note and co-hosts the hit podcast, Perino & Stirewalt: I'll Tell You What. He also is the host of Power Play, a feature video series on FoxNews.com. Stirewalt makes frequent appearances on network programs, including America's Newsroom, Special Report with Bret Baier and Fox News Sunday with Chris Wallace. He also provides expert political analysis for FNC's coverage of state, congressional and presidential elections.