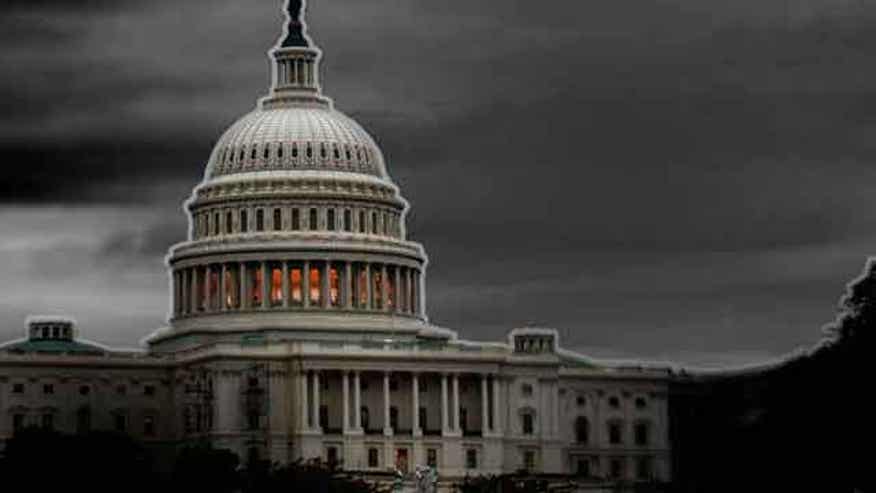 **Want FOX News First in your inbox every day? Sign up here.**
Buzz Cut:
• Obama forced to the table over shutdown
• Rand Paul hosts coffee klatch
• Russians repel raid on embassy in Libya
• Will's prescription for 2016
• Good pay for dirty job
OBAMA FORCED TO THE TABLE OVER SHUTDOWN - Republicans found a way to force President Obama and Senate Democrats to the negotiating table: Start talking about funding parts of the government rather than shutting it down. Obama, who Wednesday was still reiterating his vow to not negotiate with Republicans, did so anyway, inviting Speaker John Boehner, Senate Minority Leader Mitch McConnell and their Democratic counterparts to the White House for a huddle. The president's team tried to make it clear that the meeting was pointless, but the fact that talks have begun at all suggests that Republicans are starting to make some progress.
[Polling alert - The latest Fox News polls on ObamaCare, the government shutdown and more will be released tonight at 6 p.m. ET during "Special Report with Bret Baier." Check out the full inventory of Fox News polls here.]
But can it last? - Democrats are starting to feel the burn as Republicans keep passing bills to reopen popular parts of the government. But House leaders know that time is short for them. Moderate Republicans are anxious to end the stalemate and are increasingly talking about giving in to the president's demand for Republicans to capitulate on the emergency spending bill before discussing the looming debt-ceiling breach in two weeks. To keep them on board, Boehner has deployed House Budget Committee Chairman Paul Ryan and Ways and Means Committee Chairman Dave Camp to encourage their fellow moderates to hold the line in hopes of striking a bigger deal that might include entitlement reform, changes to the president's troubled health insurance program and an overhaul of the federal tax code. National Review has details.
The takeaway - As long as the discussion is about how Obama is administering the shutdown and the decisions his administration is making about what to close and what to leave open, the president will feel pressure to negotiate. And as long as Senate Democrats are forced to refuse to fund programs Americans love, they will be applying pressure to Obama and Senate Majority Leader Harry Reid to do a deal.
DC mayor decries Dems - Washington's Democratic Mayor Vincent Gray is calling House Democrats' apparent flip-flop on funding the District of Columbia's government, "hugely disappointing." On Monday, top Democratic House leaders, along with 100 other Democrats pledged to hold the District harmless in the event of a shutdown. On Thursday, only 34 Democrats supported a measure to do just that. Gray told the WaPo,"I absolutely fell like a pawn… and it doesn't even feel like a chess game. A chess game has a certain intellectual quality about it."
Camp and Ryan drumming up support for a 'Grand deal?'- NRO:Reps. Dave Camp, R-Mich., and Paul Ryan, R-Wis., "… are privately reassuring nervous Republicans that the federal shutdown may be painful in the short term, but a budget deal is in the works … entitlement reforms, such as chained CPI, an elimination of the medical-device tax, and delays to parts of Obamacare are all on the table as trades for delaying aspects of sequestration and extending the debt limit."
REID FUMES OVER CANCER KIDS QUESTION - Senate Majority Leader Harry Reid blamed Republicans for the National Institutes of Health turning away cancer patients. But when asked by CNN's Dana Bash why Senate Democrats wouldn't pass a House bill restoring funding for the agency if it would help "one child who has cancer," Reid shot back: "Why would we want to do that?" Reid then talked about the plight of furloughed federal workers in his home state of Nevada. He also told Bash that asking the question "maybe means you're irresponsible and reckless."
Coffee klatch - Sen. Rand Paul, R-Ky., announced "On the Record with Greta Van Susteren" that he was inviting his fellow senators of both parties for coffee on the steps of the Capitol this morning at 11 a.m. ET. "My understanding is the American people are frustrated with both paries not talking," Paul told Van Susteren. "And I think there's some symbolism to it. But I think we could also have coffee and talk about, what is the final position that both sides would accept in order to get there?" Read Paul's invitation here.
[Rep. George Miller, D-Calif., gave a floor speech Wednesday in which he repeatedly and loudly accused his GOP colleagues of waging "jihad" on Americans.]
Shutdown casual - Aides to lawmakers told WaPo that members attending a gala for the all-Democrat Congressional Hispanic Caucus on Wednesday avoided being photographed wearing tuxedos, instead opting to wear business attire. President Obama cancelled his appearance at the event.
"In all the years I have worked with the National Park Service … I have never worked with a more arrogant, arbitrary and vindictive group representing the [NPS]." – Anna Eberly, managing director of Virginia's Claude Moore Colonial Farm, talking to the Washington Free Beacon about the order for the reenactment site to be closed during the partial government shutdown, despite the facility not receiving any federal funds.
Game On! - Despite the government shutdown, the gridiron matchup between the Air Force Academy and the Naval Academy as wel as the Army-Boston College game will take place this weekend. After threatening cancellation, Pentagon officials will allow the games to go on. Saturday's showdown between the Air Force and Navy is a sellout, and Navy athletic director Chet Gladchuk told AP the cancellation of the game would have cost the academy roughly $4 million. United Airlines offered their support via Twitter saying, "We hate cancellations, so we're offering to fly @AF_Academy [Air Force Academy] to this year's Air Force-Navy game."
[Proto-twerker Britney Spears is using the shutdown to promote her new single "Work BxxCH" by calling out Congress on Twitter: "Go call the po-lice, Go Call The Gu-vunah! Someone tell Congress to get to #WorkBxxCH"]
YOU HAVE A SEAT ON THE PANEL - As measured by Bing Pulse, Republicans, Democrats and independents strongly agreed when Charles Krauthammer said President Obama was trying to "scare the markets." Bing measured responses from 158,000 voters from viewers, who sounded off during the All-Star Panel on "Special Report with Bret Baier" Wednesday night. What would you have said? Make your voice heard here.
Krauthammer's comments that the president "enjoys the shutdown" because it hurts Republicans saw the highest intensity of votes, at 22,000 per minute. Viewers from all parties disagreed, with the strongest disagreement coming from Democrats, when AP's Julie Pace said Democrats are concerned about "overreach" on shutdown politics. Democrats also voiced disagreement with Majority Leader Harry Reid's animosity towards CNN's Dana Bash when she asked why the Senate wouldn't try to help "one child who has cancer" by approving a mini-spending bill to fund the National Institutes of Health. You can join the panel as George Will makes his debut as a Fox News contributor on Friday.
CELEBS GO GAGA OVER OBAMACARE - President Obama is bringing some Hollywood help to his social-media pitch for ObamaCare. Pop-star Lady GaGa, Scandal actress Kerry Washington, and rapper Pharell will be taking to Twitter at the White House's behest to promote the new health exchanges.
[The Washington Examiner is tracking ObamaCare Web scams]
Delays still hobble health insurance website - WSJ: "The Department of Health and Human Services said its site, which operates the online marketplaces for 36 states, continued to run slowly. Consumers still were seeing messages requiring them to wait before getting to a login page." Blue Cross and Blue Shield of North Carolina were only able to enroll one person in a subsidized plan under the law. London's Daily Mail finds, only 1 percent of visitors are signing up for ObamaCare on state health exchange websites.
Sign up for ObamaCare, get a free phone - Community Health Alliance, the Tennessee branch of ObamaCare, is luring potential customers with the prospect of a free smart phone, theNashville Business Journal reports.
NSA HEAD ADMITS TO CELL PHONE TRACKING - National Security Agency boss Gen. Keith Alexander revealed to the Senate Judiciary Committee Wednesday that the spy agency once tested whether it could track Americans' cell phone locations but denied reports the NSA trolls the social networks of citizens.
[The Judge's Ruling - Judge Andrew Napolitano at Fox News Opinion: "While the nation's political class has been fixated on a potential government shutdown in Washington this week, the NSA has continued to spy on all Americans and by its ambiguity and shrewd silence seems to be acknowledging slowly that the scope of its spying is truly breathtaking."]
RUSSIANS REPEL RAID ON EMBASSY IN LIBYA - Russian security forces repelled an attack by on the country's embassy in Tripoli, according to an AP report. One Libyan attacker was killed and four more were wounded. No Russians were injured. Four Americans were killed during an attack on a U.S. diplomatic outpost in Libya last year.
State Department Data Dangers - "The State Department's communications system is operating without basic technical security measures in place, despite warnings about its vulnerabilities, according to documents obtained by BuzzFeed and [anonymous] sources who have worked on the project…"

IRAN NUKE ENRICHMENT 'NOT NEGOTIABLE'- NYT: In public remarks following a Wednesday cabinet meeting, Iranian President Hassan Rouhani continued to express his willingness to discuss the "details" of the country's nuclear activities but added, "Iran's enrichment right is not negotiable …"
WITH YOUR SECOND CUP OF COFFEE...Peggy Noonan remembers her good friend, thrill writer Tom Clancy, who passed away yesterday at 66 on her WSJ blog: "Tom Clancy, patriot. Oh how he loved the America he inherited and came from, wanted so badly to preserve and did help preserve, by creating, among others, the brave and good Jack Ryan, a late-20th-century icon of the USA."
Got a TIP from the RIGHT or LEFT? Email FoxNewsFirst@FOXNEWS.COM
POLL CHECK - Real Clear Politics Averages
Obama Job Approval: Approve – 44.3 percent//Disapprove – 50.6 percent
Direction of Country: Right Direction – 26.7 percent//Wrong Track – 64.1 percent
VIRGINIA DEMS SUE TO HAVE PURGED VOTERS RESTORED - The Democratic Party of Virginia is accusing Virginia Republican gubernatorial candidate Attorney General Ken Cuccinelli and Gov. Bob McDonnell, R-Va., of wrongdoing for purging 57,000 names from Virginia voter rolls because an inter-state database shows them registered in multiple states. Virginia Democrats are asking a federal court to restore the purged voters ahead of the Novemeber gubernatorial election that pits Cuccinelli against Democrat Terry McAuliffe. More from AP.
CALIFORNIA REFERENDA CHANGES WOULD FAVOR DEMS - California's Democrat-controlled legislature has passed a bill that would require at least 10 percent of signatures for ballot initiatives to be collected by volunteers, rather than those paid to circulate petitions. But the law exempts unions for the requirement. Gov. Jerry Brown, D-Calif., has about a week and a half to decide whether or not he will veto the bill. More from WaPo.
WILL'S PRESCRIPTION FOR 2016 - The newest Fox News contributor, George Will, offers his take on proposed rule changes for the 2016 GOP nominating process in his column For GOP in 2016, some medicine: "[ GOP chairman Reince Priebus'] Madisonian revisions of the incentive structure of the nominating process could protect the party, and presidential candidates, from its current penchant for self-destructive behavior."
THIS TOO SHALL PASS - Wayne Klinkel has recovered his losses following his golden retriever's expensive dinner. Klinkel's dog, Sundance, ate five $100 bills when his owner left him in a vehicle last Christmas. Klinkel followed the dog around, hands in gloves, waiting for the bills to re-emerge. He later pieced the fragments together and mailed them to the Treasury, which mailed him a $500 check this week. Klinkel jokingly told the Helena (Mont.) Independent Record, "It all comes out in the end."
AND NOW, A WORD FROM CHARLES…"The president is the one who carries the burden and the blame for the overall economy which is why he enjoys the shutdown, politically. He enjoys it politically because it hurts the Republicans, and everything he has done is to play to it and show himself as the one who rides above these crazies on the other side. But he is scared to death about the debt ceiling, so that's the leverage that the Republicans have on this issue…" – Charles Krauthammer on "Special Report with Bret Baier" Watch more from the panel here.
Chris Stirewalt is digital politics editor for Fox News. Want FOX News First in your inbox every day? Sign up here. To catch Chris live online daily at 11:30 a.m. ET, click here.
Chris Stirewalt joined Fox News Channel (FNC) in July of 2010 and serves as politics editor based in Washington, D.C. Additionally, he authors the daily Fox News Halftime Report political news note and co-hosts the hit podcast, Perino & Stirewalt: I'll Tell You What. He also is the host of Power Play, a feature video series on FoxNews.com. Stirewalt makes frequent appearances on network programs, including America's Newsroom, Special Report with Bret Baier and Fox News Sunday with Chris Wallace. He also provides expert political analysis for FNC's coverage of state, congressional and presidential elections.