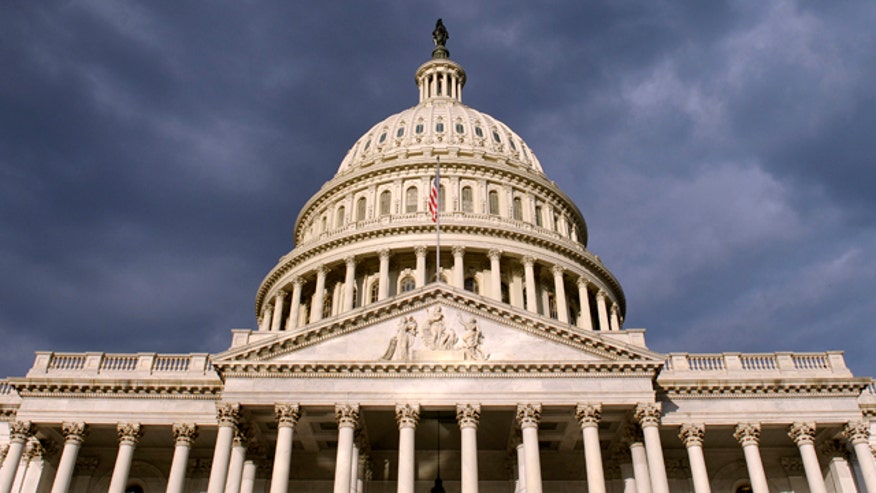 The battle over the budget impasse got intensely personal Thursday on Capitol Hill, though a chaotic car chase which ended in gunfire temporarily sidelined the debate later in the day.
Police described the car chase as an "isolated incident." The chase started at the White House and ended near the Capitol building, putting Capitol Hill on lockdown just as debate over a pair of small spending bills was getting underway.
But by late afternoon, lawmakers returned. The tone more somber than before, they approved a bill to fund the Veterans Affairs Department, after voting to fund the National Guard and Reserve earlier in the day.
The late-day political truce is unlikely to last. House Republicans plan to push a series of mini-spending bills in the coming days, to fund everything from FEMA to intelligence officers, in a bid to pressure Democrats. And before the car chase, Democrats had been sharpening their rhetoric and applying pressure directly to House Speaker John Boehner, blaming him for the impasse and claiming he's caved to the "anarchists" in his party.
After congressional leaders tried, unsuccessfully, to talk out their differences a day earlier during a private White House meeting, lawmakers appeared to be bracing for a protracted fight. Republicans stood by demands that Democrats negotiate with them over anti-ObamaCare riders to a budget bill. Democrats stood by the position that they will not -- under any circumstances -- meet that demand.
"There will be no negotiations over this," President Obama vowed, during a rally in Rockville, Md.
But Democrats' approach took a turn Thursday, as leaders shifted from blaming Tea Party Republicans to blaming Boehner. Their argument is that Boehner could allow for the government to re-open by bringing a "clean" budget bill to the floor and letting it pass with majority Democratic support. Obama said Boehner won't do that "because he doesn't want to anger the extremists in his party."
Senate Majority Leader Harry Reid reserved caustic words for the speaker during a briefing with reporters.
"We can't perform the most basic functions of government because (Boehner) doesn't have the courage to stand up to that small band of anarchists," Reid said.
Reid taunted Boehner during the same press conference. "Some recent stories have even suggested that the speaker is keeping the government shut down because I hurt his feelings. If that's true, I'm sorry that I hurt your feelings," Reid said.
Perhaps it was no coincidence that while Obama and Reid were implicating the speaker, the hashtag #BoehnerShutdown began trending on Twitter.
Republicans, though, have their own approach. They are casting Democrats as stubborn and uncompromising, and have proceeded to pass a series of small spending bills, effectively daring Democrats to oppose them.
"Republicans have sent bill after bill after bill to the Senate to keep the government open, and Democrats have rejected every one of them - refusing to even talk about our differences," Boehner said in a statement. "We want to resolve this dispute as soon as possible, but that will require Washington Democrats to realize neither side gets everything it wants."
House Republican Leader Eric Cantor, in a memo to Republicans, argued that Obama and Reid are to blame for the impasse.
"This shutdown is a result of President Obama and Majority Leader Reid refusing to reach across the aisle in a divided government, a problem that has sadly been a hallmark of this Administration," Cantor wrote. "One can only speculate as to why President Obama and Congressional Democrats are not only refusing to negotiate but now refusing to support or provide the American people with relief from the government shutdown. But I firmly believe their position is untenable."
But Democrats were trying to get under Boehner's skin, suggesting that he's not truly in control, but catering to Sen. Ted Cruz, R-Texas, and his Tea Party allies.
"Senator Cruz is now joint speaker," Reid said. A day earlier, Rep. Mark Takano, D-Calif., on the floor of the House, asked whether John Boehner or Ted Cruz was speaker of the House.
Rep. George Miller, D-Calif., also went on a tirade from the floor accusing Republicans of having waged "jihad" on Americans with opposition to the health care bill.
Moments later, Rep. Mike Simpson, R-Idaho, said he was "disgusted" by Miller's comments.
Republicans, though, offered Democrats some low-hanging fruit after Rep. Marlin Stutzman, R-Ind., told the Washington Examiner in an interview that: "We have to get something out of this. And I don't know what that even is."
Democrats, including Obama, ridiculed the remark. Stutzman later issued a statement saying "I carelessly misrepresented the ongoing budget debate."
"Despite my remarks it's clear that the American people want both parties to come to the table to reopen the government, tackle this nation's debt crisis, and stop ObamaCare's pain," he said.