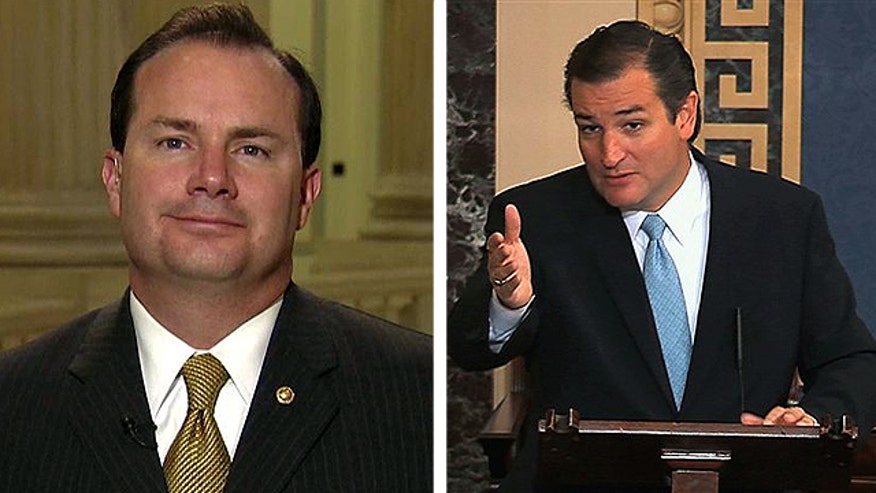 **Want FOX News First in your inbox every day? Sign up here.**
Buzz Cut:
• Ted Cruz: All night long
• Kerry to sign UN arms treaty, gun rights backers up in arms
• Fight night in Virginia
• Ah, bobbleheads
NIGHT AND DAY: CRUZ CRIMPS MCCONNELL - Sen. Ted Cruz, R-Texas, couldn't break the record for holding the floor of the Senate and he couldn't have prevented a Senate vote, set for 1 p.m. today, which sets the stage for Senate Democrats to take apart a House bill that would defund President Obama's 2010 health law. Cruz has, however, managed to put many of his fellow Republicans in a terrible bind.
[Watch Fox: Sen. Marco Rubio, R-Fla., discusses defunding ObamaCare in the 8 a.m. ET hour]
I will not fund it, Sam-I-Am - Cruz, who vowed to speak until he was not "able to stand," has held the floor for more than 17 hours. It can't be called a filibuster because Cruz's speech only delayed, but cannot block, the vote on the legislation. But it sure has been a river of words. Reading tweets from supporters, reading his young daughters "Green Eggs and Ham" in the first-ever bedtime story delivered via C-SPAN and extolling the virtues of White Castle burgers, Cruz started at 2:42 p.m. ET on Tuesday and was still talking well into this morning. Cruz has been assisted along the way by Sens. Marco Rubio, R-Fla., David Vitter, R-La., Mike Lee, R-Utah, Jeff Sessions, R-Ala., and Pat Roberts, R- Kan. Cruz has yielded to his colleagues for lengthy questions, allowing him to take a bite of food and rest his voice.
[Watch Fox: Sen. Mike Lee, R-Utah, discusses defunding ObamaCare in the 10 a.m. ET hour]
Six pack - Minority Leader Mitch McConnell and others on his leadership team, including Cruz's fellow Texan, Sen. John Cornyn, opposed Cruz's stall tactic, saying they would not vote to block legislation they supported for the sake of preventing it from being changed. The shorter take: Team McConnell is not willing to risk a government shutdown on Tuesday to try to defund ObamaCare. Team Cruz is. But Cruz's dramatic stand makes things harder for moderate Republicans. While many murmur that they resent Cruz's grandstanding, McConnell still faces a tougher task in building a coalition in opposition. Democrats need six Republicans on board to move forward. McConnell, facing a tough primary fight in Kentucky, would no doubt like many more than that to join him, particularly some with strong conservative credentials. But with conservatives cheering Cruz on, McConnell's invitation looks less appealing.
[Watch Fox: Sen. Mark Begich, D-Alaska, discusses today's cloture vote in the 11 a.m. ET hour]
MCCONNELL WARNS: CRUZ WEAKENED HOUSE HAND - Senate Minority Leader Mitch McConnell warned colleagues that Sen. Ted Cruz's marathon speech would not prevent the inevitable vote but would rob House Republicans of time to make a counter offer once the Senate passes a Democratic version of the emergency spending measure. The shutdown clock expires at the end of the day Monday and Senate rules wouldn't allow a vote in the upper chamber until the end of this week. "I do know that if the House doesn't get what we send over there until Monday, they're in a pretty tough spot," McConnell told reporters.
Poll Check: Government is too powerful - A new Gallup poll shows a record number of respondents, 60 percent, feel the federal government is too powerful.
House ready to return fire - Several House leadership sources told Fox News that they are looking to counter the stripped-out Senate bill with one that delays all or part of ObamaCare. But they also say that the short schedule likely means that fight will most likely be a part of debt ceiling negotiations in the next two weeks. The top priority for the red team in the House: contending with expected Senate changes to the emergency spending bill that would eliminate caps on federal outlays, called "sequestration," that were part of the 2011 debt-ceiling package. "We'll deal with whatever the Senate passes when they pass it," Michael Steel, spokesman for House Speaker John Boehner, said in a statement. "There's no point in speculating before that."
[Charles Hurt: "Look, take to the barricades and demand that Obamacare be repealed as House Republicans have done dozens of times. Raise tons of money for the effort to undo Obamacare. Even bask in the klieg lights with defiant dissent. We will leap to our feet and cheer every time you punch Obamacare in the nose. But don't grandstand and peddle false promises that somehow this insane nonstrategy is going to somehow stop Obamacare."]
OBAMA BLAMES GOP FOR UNPOPULARITY OF HEALTH LAW -As polls continue to show public opposition to ObamaCare, President Obama turned to former President Bill Clinton to help promote the health care overhaul. At an event hosted by the Clinton Global Initiative, Obama blamed Republicans for public dissatisfaction with his signature legislation, saying his rivals were "trying to scare and discourage people from getting a good deal," adding "the devil you know is always better than the devil you don't know."
Hillary dares GOP on shutdown - Earlier in the day, former Secretary of State Hillary Clinton told a panel, "It wouldn't be the worst thing for Democrats if [Republicans] tried to shut the government down. We've seen that movie before. It didn't work out too well."
["The one story that people are not talking about is that Bill and Hillary Clinton… embraced ObamaCare today. They're selling this bill as hard as they can sell it. I will never call it ObamaCare anymore. I'm going to call it ClintonCare." –Sen. Lindsey Graham, R-S.C., "On the Record with Greta Van Susteren"]
KERRY TO INK CONTROVERSIAL ARMS TREATY -Fox News: Secretary of State John Kerry will sign a controversial U.N. treaty today that critics say opens the U.S. to international meddling and could serve as a basis to threaten Second Amendment rights. The treaty requires countries that ratify it to establish national regulations to control the transfer of conventional arms and components and to regulate arms brokers, a senior State Department official told Fox News.
Sends gun control fight back to Senate - Kerry can sign, but it's up to the Senate to ratify any treaty. Senate Democrats have bottled up liberal members' efforts for gun control since earlier this year when a bipartisan coalition voted down new regulations. The treaty brings the issue back. Sen. Jim Inhofe, R-Okla., one of the most vocal opponents of the treaty, sent a letter to Kerry, a longtime gun-control proponent during his Senate career, saying the treaty was "dead in the water." A majority of senators have gone on record against ratification.
DON'T SHAKE ON IT: IRAN SNUBS OBAMA OUTREACH - Iran nixed any possible meeting between President Obama and President Hassan Rouhani Tuesday. According to a senior administration official, "The Iranians got back to us; it was clear that it was too complicated for them to do that at this time given their own dynamic back home." In his speech at the U.N. Tuesday morning, Obama directed Secretary of State John Kerry to engage Iran in talks, saying he believed the "diplomatic path must be tested." Kerry is slated to meet with his Iranian counterpart tomorrow.
"The United States has a hard-earned humility when it comes to our ability to determine events inside other countries" – President Obama in an address to the U.N. General Assembly, Tuesday.
ROUHANI: IRAN WILL TALK, BUT WON'T STOP NUKE PROGRAM - Iran's new president Hassan Rouhani held open the possibility of negotiations on his country's nuclear program, telling the U.N. General Assembly that Iran's "national interests make it imperative that we remove any and all reasonable concerns." Rouhani maintained Iran's right to enrich uranium, a process that can be used to produce fuel for both weapons and energy.
Netanyahu not buying it - "[Rouhani's] speech gave no practical plan to stop the Iranian military nuclear program and there was no commitment in it to follow UN Security Council resolutions. This is exactly the Iranian plan – to talk and stall so they can advance Iranian capability to get [a] Nuclear weapon." – Statement from Israeli Prime Minister Benjamin Netanyahu in reaction to Rouhani's U.N. address.
[Fox News Contributor and Iranian journalist Lisa Daftari provides further analysis: "Rouhani's speech, albeit delivered with a smile, was more of what we have been hearing for over three decades from a regime whose ideological objectives have been clear from day one
TERRORISTS WEAPONS HAUL WORSE THAN ESTIMATED - Militia groups aligned with terrorist organizations and the Muslim Brotherhood made off with more advanced weaponry than previously thought as a result of an August raid on a U.S. military post in Benghazi, Libya. The equipment includes dozens of armored vehicles, hundreds of weapons, M4 rifles and advanced night-vision technology intended for training in Libya by U.S. Special Forces. The training team has now been pulled from the country. Correspondent Adam Housely has the story.
State Department pulls visa for Afghan linguist who saved U.S. officer - Mohammad Janis Shinwari was cleared by State Department officials for a visa to immigrate to the U.S., but was later told his visa had been revoked for unspecified reasons. Read more from WaPo here.
CONGRESS SEEKS TO CURTAIL NSA SPYING -Sens. Ron Wyden, D-Ore., Mark Udall, D-Colo., Rand Paul, R-Ky. and Richard Blumenthal, D-Conn., are set to unveil principles for comprehensive surveillance reform today. The senators will call for an end of the bulk collection of civilian phone records and new restrictions on warrantless searches.
WITH YOUR SECOND CUP OF COFFEE...John Stossel considers how politicians could impede technological innovation for Fox News Opinion in What do we want, America -- innovation or stagnation?: "Invent something and the first thing that goes through some people's minds -- especially politicians' minds -- is what might go wrong."
Got a TIP from the RIGHT or LEFT? Email FoxNewsFirst@FOXNEWS.COM
POLL CHECK - Real Clear Politics Averages
Obama Job Approval: Approve – 44.3 percent//Disapprove – 50.5 percent
Direction of Country: Right Direction – 27.3 percent//Wrong Track – 62.0 percent
CUCCINELLI, MCAULIFFE FACE OFF - Virginia Democratic gubernatorial candidate Terry McAuliffe and Republican Ken Cuccinelli square off in their third debate tonight. The showdown, hosted by the Fairfax Chamber of Commerce, in vote-rich Northern Virginia comes as polls show both candidates under 50 percent and a disengaged electorate. The debate, moderated by NBC News' Chuck Todd, will exclude Libertarian Robert Sarvis, who came in with 7 percent in the latest Quinnipiac University poll.
[Campaign Carl Cameron is tracking the outside donations flooding Virginia's gubernatorial race and the implications it has for 2014 and beyond.]
Runoff in Alabama - Republicans Bradley Byrne and Dean Young advance to a Nov. 5 primary runoff in a special House election in Alabama's first district, which covers Mobile and the state's Gulf Coast. The runoff pits Byrne, a former state senator who lost a bid for the GOP gubernatorial nomination in 2010, against Young, a former aide to state Supreme Court Chief Justice Roy Moore who unsuccessfully ran for the seat last year. The winner is expected to cruise to an easy victory against Democrat and real estate mogul, Burton LeFlore,in a Dec. 17 general election to replace retired Republican Rep. Jo Bonner.
City Hall and State House clash in Boston - Beantown voters narrowed the field down to two contenders to replace outgoing Mayor Tom Menino, who is retiring after nearly 20 years in office.State Rep. Martin Walsh will face Boston City Councilor John Connolly Nov. 5. The election is officially non-partisan, but both men are Democrats.
ISRAELIS MOCK ROUHANI RESUME - The Israeli Embassy took to Twitter to lampoon Iran's new President Hassan Rouhani through a LinkedIn spoof. The embassy created a mock profile for the Iranian leader listing his credentials as "expert salesman" and "nuclear proliferation expert."
WELL, AS LONG AS IT WAS OVER SOMETHING IMPORTANT…A shipping delay made for mayhem at Yankee Stadium Tuesday. To mark the retirement of Mariano Rivera, the first 18,000 fans were promised a bobblehead in his likeness. However, fans were forced to wait until the third inning to retrieve the toys, with long lines and arguments erupting. As the lines formed, the figurines were already fetching over $200 on eBay. WNYW has the details.
AND NOW, A WORD FROM CHARLES…"I mean, talk about the ham-handed diplomacy Obama has conducted in Syria and over [nuclear talks with Iran]. It's not a big issue, but it's a symbol of how unplanned and sort of desperate is Obama's attempt to appear to be the statesman. So a handshake is offered. A handshake is refused" – Charles Krauthammer on "Special Report with Bret Baier"
Chris Stirewalt is digital politics editor for Fox News. Want FOX News First in your inbox every day? Sign up here. To catch Chris live online daily at 11:30 a.m. ET, click here.
Chris Stirewalt joined Fox News Channel (FNC) in July of 2010 and serves as politics editor based in Washington, D.C. Additionally, he authors the daily Fox News Halftime Report political news note and co-hosts the hit podcast, Perino & Stirewalt: I'll Tell You What. He also is the host of Power Play, a feature video series on FoxNews.com. Stirewalt makes frequent appearances on network programs, including America's Newsroom, Special Report with Bret Baier and Fox News Sunday with Chris Wallace. He also provides expert political analysis for FNC's coverage of state, congressional and presidential elections.