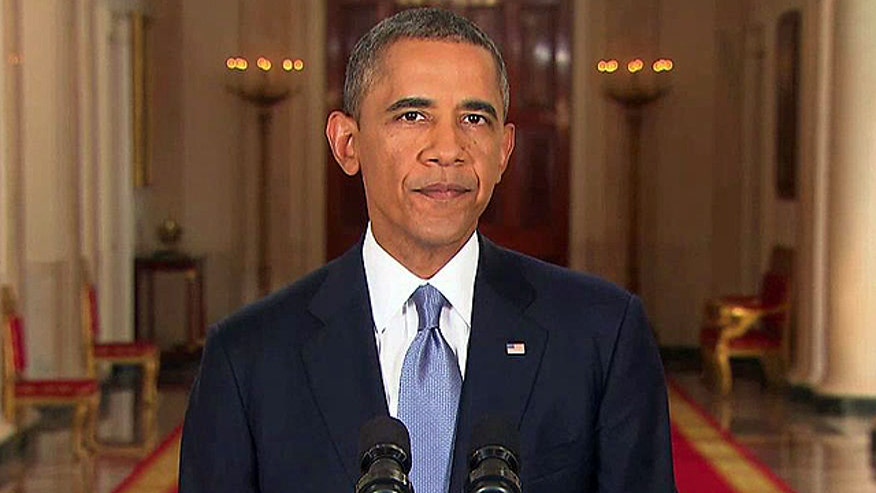 **Want FOX News First in your inbox every day? Sign up here. **
Buzz Cut:
• Obama backs off
• Big break in Benghazi probe
• Gun rights win in Colorado
• Bret Baier remembers 9/11
• Watching through tear-filled eyes
OBAMA BACKS OFF - President Obama originally intended to rally the country behind a strike on Syria, but instead announced Tuesday he was hitting pause on his call for Congress to endorse his plan for air strikes in Syria. Obama said he now wants to let negotiations over a Russian plan proceed. Russian President Vladimir Putin has said he will withdraw his offer to help secure Syrian chemical weapons stockpiles unless Obama withdraws his threat of military action. The president urged congressional leaders to postpone a vote to authorize the use of force against Syria while diplomatic options are pursued. Watch Obama's speech here.
Next steps - Secretary of State John Kerry will meet Russian Foreign Minister Sergey Lavrov in Geneva on Thursday to attempt to hammer out a deal. Russia nixed a scheduled meeting of the U.N. Security Council Tuesday, but diplomats hope to win Kremlin backing for a session soon.
The takeaway - Congress was already obviously unwilling to act. Obama's move may help him save face and buy time to build an international coalition. But now, with the U.S. at the mercy of Russia for a diplomatic solution, Obama is nearly out of running room.
Syrian official admits government has chemical weapons - NYT: "Nearly buried in the diplomatic din over Syria, the country's foreign minister [Walid Moallem] acknowledged for the first time on Tuesday that the Syrian government possessed chemical arms, something it had never admitted before, and declared that the country aimed to become a signatory to the international convention banning the weapons."
[Click here to watch the timeline of the administration's response to the crisis in Syria from "Special Report with Bret Baier"']
Ed Henry wants to know - "The post-speech silence from House Democrats was deafening. After that poignant appeal to the Left on humanitarian grounds, will any move into the 'yes' camp by the end of the week?"
Congress still not sold - Fox News: Sen. John McCain, R-Ariz., and Sen. Lindsey Graham, R-S.C., said in a statement that Obama should have proposed a "clearer plan to test the seriousness" of the new Russia proposal. House Intelligence Committee Chairman Mike Rogers, R-Mich., said that he remains skeptical of Russia brokering an agreement with Syria over chemical weapons. Sen. Rand Paul, R-Ky., delivered a speech saying he was unconvinced of the need for any military response.
[Listen to Fox: House Armed Services Committee Chairman Buck McKeon, R-Calif., will appear on Kilmeade and Friends in the 10 a.m. ET hour.]
MORE REAX -"Diplomacy is always a mixture of trust, distrust, and watchfulness. We should not be naïve, and we should have a solid plan and safeguards in place as part of any solution."—Sen. Rand Paul, R-Ky., in a response to President Obama's speech Tuesday night.
"The president using the credible threat of American military action to bring diplomatic solutions back to the table demonstrates the strength of his leadership and his willingness to exhaust every remedy before the use of force"—House Minority Leader Nancy Pelosi, D-Calif. in a statement Tuesday.
"If you think military might and money will change the outcome in that part of the world, then we'd have done it by now"—Sen. Joe Manchin, D-W.Va, in an interview following President Obama's speech
[Watch Fox: Sen. Joe Manchin, D-W.Va., member of the Senate Armed Services Committee discusses President Obama's speech in the 11 a.m. ET hour]
PAGE ONE TREATMENT - NYT: "Obama Delays Syria Strike to Focus on a Russian Plan"// WSJ: "Obama Holds Fire on Syria" // USA Today: "Timeout: Obama makes his case" // WaPo: "Obama takes Syria case to people" // Houston Chronicle: "Obama blends threat of attack, hope of diplomacy" // Des Moines Register: "Obama delays Syria vote, says diplomacy may work"// Boston Herald: "Prez backs off strike threat" // LAT: "Obama: U.S. can't 'look the other way'"
Editorialists unimpressed - WaPo: "Stumbling toward a solution on Syria"// WSJ: "Obama Rescues Assad"
[#MediaBuzz - Howard Kurtz: "Media underwhelmed by Obama's double message"]
Carter argues against military action - Former President Jimmy Carter in a WaPo OpEd: "The only way to be assured that Syrian chemical weapons will not be used in the future is not through a military strike but through a successful international effort."
AN EARLY WORD FROM CHARLES…"There's no way the chemicals are going to be dismantled in the middle of a war. Libya took eight years when there was no war. The Russians today demanded a meeting of the Security Council, and they wanted what, a presidential statement from the council. Which is absolutely useless and carries no import, and they don't want a resolution like the French are introducing, which would be article seven, which would mean the use of force. So their strategy is clear. Obama has walked completely into it, and he's got nowhere to go now." – Charles Krauthammer on "Special Report with Bret Baier"
CIA YIELDS ON BEGHAZI WITNESSES - The Weekly Standard's Steve Hayes has the big scoop on the anniversary of the Benghazi terror attacks: "In a three-page letter to the chairman of the House Permanent Select Committee on Intelligence, Mike Rogers, CIA director John Brennan says that his agency will provide the 'relevant information' to Rogers in order to facilitate meetings between CIA-affiliated personnel in Benghazi and congressional oversight committees. The offer of cooperation, dated September 3, 2013, comes as four committees of jurisdiction in the House of Representatives prepare to reinvigorate separate inquiries into the events of September 11, 2012, and their aftermath."
Blast marks anniversary - Fox News: A powerful blast caused serious damage to a Libyan foreign ministry building in Benghazi on Wednesday. It was not immediately known if the blast, which the witnesses said appeared to have been caused by a car bomb, had resulted in casualties.
Military on alert - Fox News has confirmed that 250 Marines have moved closer to Libya in advance of today's anniversary. Officials say Marines could move from Italy to Benghazi in under three hours if needed.
[New Today on Fox News Opinion - Sen. Marco Rubio, R-Fla.: Many questions, scant justice from Obama White House one year after Benghazi attacks ]
QUESTIONS MOUNT ON HILLARY'S BENGHAZI ROLE - The decision to operate a consulate or special mission in Benghazi, with substandard security, was made at the highest levels of the State Department and would have required the agreement of former Secretary of State Hillary Clinton. Chief Intelligence Correspondent Catherine Herridge reports on her review of congressional testimony and documents.
Hillary silent - WaPo: Former Secretary of State Hillary Clinton did not mention the one-year anniversary of the Benghazi attacks during her acceptance of the National Constitution Center's Liberty Medal Tuesday, but did honor the anniversary of the 9/11 terrorist attacks.
Escaping blame? - Fox News has obtained a letter written by the uncle of Sean Smith, one of the Americans killed in Benghazi. Michael Ingmire – who is asking Rep. Frank Wolf, R-Va., to circulate it as a "Dear Colleague" letter – calls out Congress for its lack of progress on Benghazi and the Obama administration for failing to show "leadership." Ingmire writes, "Ladies and Gentlemen of the 2013 Congress, you have failed to obtain justice for Ambassador Chris Stevens, Sean Smith, Glen Doherty and Tyrone Woods. The souls of these four brave Americans are not [c]ongressional currency in a turf war."
Still no arrests - The team tasked with tracking and finding the terrorists responsible for the Benghazi attacks has been yanked out of the country, leaving only two Special Forces members behind. State Department sources tell Fox News' Adam Housely that shortly before the team was pulled, a U.S. training camp for Libyan security forces was raided twice by terrorists. They stole dozens of pieces of military hardware, including night vision technology.
[Watch Fox: Michael Chertoff, former Homeland Security secretary, discusses the one-year anniversary of the Benghazi consulate attack 10 a.m. ET hour.]
GUN RIGHTS WIN IN COLORADO RECALL - Fox News: Two pro-gun control Democratic Colorado state senators got yanked out of office on Tuesday by voters in recall elections spearheaded by gun-rights activists. Senate President John Morse went down by a 2-point margin, according to unofficial results. State Sen. Angela Giron lost 56 percent to 44 percent. Morse will be replaced by Republican Bernie Herpin. Giron will be replaced by Republican George Rivera, former Pueblo police officer. New York Mayor Michael Bloomberg's group, Mayors Against Illegal Guns, poured cash into the races in a bid to defend Colorado's stringent new gun-control law, spending more than $300,000.
HIZZONER?: DE BLASIO LIKELY AVOIDS RUNOFF IN NYC - New York City Public Advocate Bill de Blasio looks like he has a lock on being Gotham's next mayor. In an unofficial count in the city's Democratic primary, De Blasio has about 40.2 percent of the vote over a field that includes Internet enthusiast and former Congressman Anthony Weiner. If the final tally in the re-count leaves De Blasio over 40 percent, he will avoid a runoff election and face Republican Joe Lhota, a deputy to former Mayor Rudy Giuliani, on Nov. 5. Polls show a lopsided advantage for the Democrat in the general election.
No comeback for Client #9 - AP: Manhattan Borough President Scott Stringer won the Democratic primary for New York City comptroller. His win ends former Gov. Eliot Spitzer's bid to reclaim his political career after his 2008 resignation following his admission that he used prostitutes. Stringer held a 4-point lead over Spitzer in incomplete and unofficial returns Tuesday night.
WHITE HOUSE: OBAMACARE 'DATA HUB' READY - Despite a series of damning reports from an inspector general about the security and preparedness of the ObamaCare "Data Hub," a new, expansive federal database of Americans' financial and health records, the Obama administration has given the green light to begin merging the data harvested by ObamaCare "navigators" and entered online by ObamaCare applicants. The system is set to go online Oct.1. From the WaPo: "[the 'data hub' is] a complex system that will verify people's Social Security numbers, immigration status and other information when they log on to government web sites to buy health plans and apply for government subsidies."
Not so fast - A special House committee led by Rep. Patrick Meehan, R-Pa., is holding a hearing today to examine the security and readiness of the hub. Chief National Correspondent Jim Angle considers how secure personal data will be and how participants will be protected from fraud and abuse.
Shamu smacked by ObamaCare - TheDaily Caller reports SeaWorld, home to the world's most famous orca, plans to cut its employees' hours because of new ObamaCare regulations.
NSA EVADES COURT-ORDERED PRIVACY RULES - Washington Examiner: "The Obama administration on Tuesday released previously classified documents showing that National Security Agency employees routinely accessed a phone-records database without legal approval and misled a secret court about their actions."
THURSDAY BUDGET SHOWDOWN - Roll Call reports that Speaker John Boehner, R-Ohio, Senate Majority Leader Harry Reid, D-Nev., Senate Minority Leader Mitch McConnell, R-Ky., and House Minority Leader Nancy Pelosi, D-Calif., will meet Thursday to discuss ways to avoid a government shutdown as a mid-October deadline for a debt-limit hike approaches.
GOP's new ObamaCare defunding strategy - Washington Examiner's David Drucker reports, "Republicans emerged from a closed-door meeting [Tuesday] mulling a proposed temporary budget bill that would keep the government open after Sept. 30 and protect the spending cuts achieved through the sequester — a major goal of GOP leadership. This legislation also would include a measure that defunds Obamacare."
[Ed. note: The howls of laughter and derision from Tea Party groups over this move would suggest the leadership plan has not gotten much traction.]
POLL CHECK
Real Clear Politics Averages
Obama Job Approval: Approve – 43.5 percent//Disapprove – 51.1 percent
Direction of Country: Right Direction – 28.0 percent//Wrong Track – 60.8 percent
BAIER TRACKS: UNSTOPPABLE…"Twelve years ago today America was hit hard by terrorists – a day no one can forget, a day that changed the world forever. Victims' families are now one year farther away from the pain and shock of that day. But having talked to several of them about it, every year hearing the bell tolling or the names read at various ceremonies, it all comes back. They never forget.
This also happens to be the day that changed my career. Twelve years ago this morning, I drove up to Washington with a producer from the Fox News Atlanta bureau to cover the burning Pentagon. I never went back. After more than five years covering the Pentagon and more than three years covering the White House, I am now the anchor of a show where we always take time to mark this day and remember those lost and their families still dealing with that pain.
Now, we have to mark another terrorist attack on America on this date: one year ago at the U.S. mission in Benghazi. Another wakeup call that terrorists are not stopping. Neither is America." – Bret Baier.
A DOZEN YEARS LATER, A NATION STILL MOURNS - Fox News: At today's ceremony on the 9/11 Memorial Plaza, relatives will recite the names of the nearly 3,000 people killed when terrorists crashed hijacked jets into the World Trade Center and the Pentagon, as well as those killed when passengers aboard a hijacked plane forced the aircraft down in a field near Shanksville, Pa. The anniversary is expected to be the last before the 9/11 Museum opens at Ground Zero in New York. President Obama, Defense Secretary Chuck Hagel, and Gen. Martin Dempsey, chairman of the Joint Chiefs of Staff, will deliver remarks at a ceremony at the Pentagon.
Poll Check: are we safer?- A new Fox News poll finds 38 percent of respondents feel the U.S. is less safe today than before the terrorist attacks 12 years ago – a 5-point increase in insecurity from last year, and the worst score on the topic since the attack. Just 23 percent felt less safe in 2004, the first time this question was asked.
[Watch Fox: Former Gov. George Pataki, R-N.Y., appears in the 10 a.m. ET hour]
With your second cup of coffee... David Hawkins explores the speculation that surrounds the intended target of United Flight 93 in his Roll Call piece, Were They Aiming for the Dome on Sept. 11? A Capitol Myth That's Hard to Shake: "… [I]t remains strangely important for the collective congressional psyche to believe the terrorists had decided the Capitol was a symbol of American democracy and capitalism just as important as the Pentagon and the World Trade Center — an icon of evil meriting even quicker destruction than the White House."
Baseball a salve for grieving dad - The NY Daily News reports how the New York Mets have provided comfort to Lee Lelpi, who lost his son, firefighter Jonathan Lelpi, on 9/11. Lee Lelpi will be throwing out the first pitch during tonight's Mets game.
Through tear-filled eyes - "The Five" honored those lost on Sept. 11, 2001. Please watch and remember.
Chris Stirewalt is digital politics editor for Fox News. Want FOX News First in your inbox every day? Sign up here. To catch Chris live online daily at 11:30 a.m. ET, click here.
Chris Stirewalt joined Fox News Channel (FNC) in July of 2010 and serves as politics editor based in Washington, D.C. Additionally, he authors the daily Fox News Halftime Report political news note and co-hosts the hit podcast, Perino & Stirewalt: I'll Tell You What. He also is the host of Power Play, a feature video series on FoxNews.com. Stirewalt makes frequent appearances on network programs, including America's Newsroom, Special Report with Bret Baier and Fox News Sunday with Chris Wallace. He also provides expert political analysis for FNC's coverage of state, congressional and presidential elections.