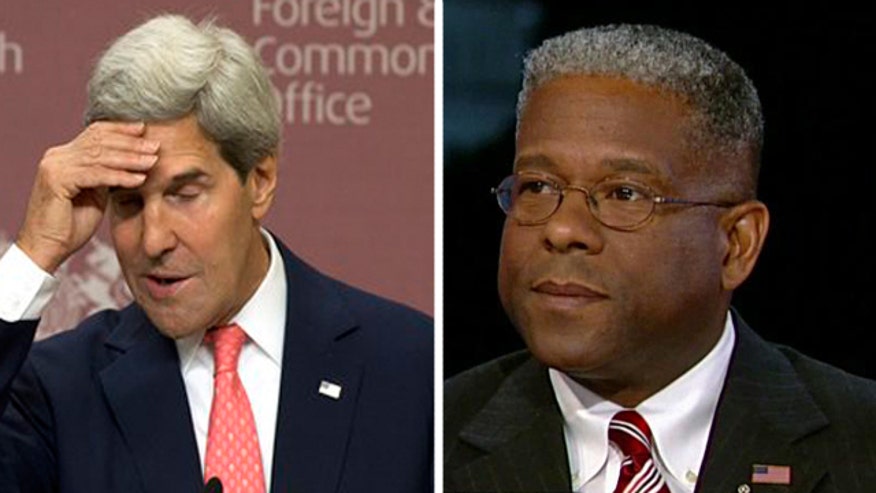 A seemingly off-hand comment from President Obama's secretary of State has touched off a rapid-fire chain of events that threatens to undermine the president's call for a military strike on the Assad regime.
Secretary of State John Kerry, during an early morning press conference in London on Monday, was asked whether the Assad regime could do anything to avert an attack. "Sure," Kerry responded. "(Bashar Assad) could turn over every single bit of his chemical weapons to the international community in the next week."
He added quickly: "But he isn't about to do it, and it can't be done."
But within hours, the Russian government was in fact sending such a proposal to the Syrian government, which Syria's foreign minister reportedly welcomed "out of concern for the lives of the Syrian people" and "the security of our country."
U.N. Secretary-General Bank Ki-moon also said he's considering urging the U.N. Security Council to demand the "immediate transfer" of chemical weapons.
And even a top congressional supporter of military action in Syria -- Sen. Dianne Feinstein, D-Calif., chairwoman of the Senate Intelligence Committee -- said Monday afternoon she would "welcome such a move."
The sudden shift in the debate over what to do about Syria came as Obama gave a series of TV interviews on Monday and prepared to address the nation on Tuesday night. The Senate is also preparing to vote, as early as Wednesday, on whether to authorize the use of force with Syria.
But while the Russian government was floating its plan as an alternative to military action -- and winning over supporters in the process -- the Obama administration argued that it's critical for Washington to continue to threaten military force.
Kerry called Lavrov on Monday, making clear that his initial comments were meant to be rhetorical, an official said, according to the pool report.
White House Press Secretary Jay Carney said Congress should still vote to authorize a military strike on Syria, claiming the only reason this proposal is on the table is because of the threat of military action.
"We cannot let up in applying that pressure," Carney said, adding that the U.S. would discuss the alternative plans with the Russians - and approach it "with a certain amount of skepticism."
Former Secretary of State Hillary Clinton said getting Syria to turn over its chemical weapons would be an "important step." But she cautioned, "This cannot be another excuse for delay and obstruction."
Clinton, too, said such an agreement could only be struck with the credible threat of military action hanging over the Assad regime.
The Obama administration found itself caught Monday between advocating for military action and opening the door to the possibility of a peaceful resolution.
Just days ago, the administration said there were no talks occurring with the Syrian government, after concluding that the Assad regime used chemical weapons against its people on Aug. 21.
Asked by Fox News on Aug. 29 if any ultimatum had been presented to the Assad regime, State Department spokeswoman Marie Harf said at the time: "Not to my knowledge, no."
The president continued to lose congressional support over the weekend and into Monday.
Rep. Tulsi Gabbard, D-Hawaii, an Iraq war veteran, was among the latest to peel off from the president. She said in a statement on Monday that while she is "sickened and outraged" by the chemical weapons attack, a U.S. response would "be a serious mistake."
Polls persistently show that while a majority of Americans believe the Assad regime was responsible for a chemical attack that killed hundreds last month, they do not think it is in the United States' interest to get involved.
A new survey from the Pew Research Center and USA Today on Monday showed opposition has only grown in the past week. The poll, conducted Sept. 4-8, showed 63 percent oppose a strike on Syria - up from 48 percent a week earlier. Just 28 percent want to see the U.S. military take action.
Kerry and other administration officials argue that the risk of inaction outweighs the risk of a military strike. They say that failing to respond to this use of chemical weapons will embolden the Assad and other rogue regimes -- as well as terror groups like Hezbollah -- to use such weapons in the future.
The president will make that case directly to Senate Democrats in a meeting ahead of a likely Senate vote on Wednesday. White House Chief of Staff Denis McDonough also plans to meet with House Democrats on Monday.
A series of briefings are also being held on Capitol Hill as Congress returns from recess, including a joint closed briefing on Syria with the House Armed Services and Intelligence committees.