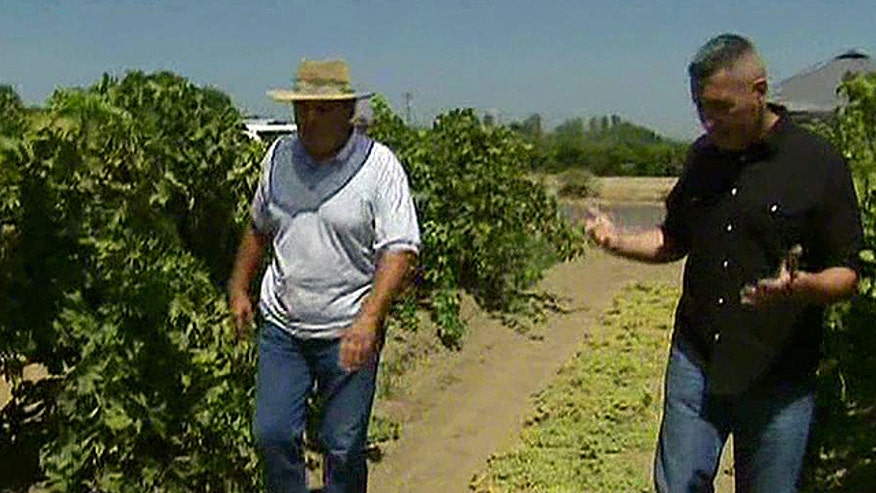 KERMAN, CALIF. – Marvin Horne had been praying for what drought-struck central California's famous farmlands need little of -- a good dry spell.
His acres of raisin vines require two weeks of uninterrupted scorching sun to shrivel the grapes here in this gentle valley of sleepy fruit groves and yawning blue skies.
Unfortunately, an unseasonal inch and a half of rain earlier in the week has partially rehydrated his crop, laid out to dry on reams of paper running the length of the vines.
As raisin grapes produce only a single crop per season, Horne could lose a hefty slice of his harvest. But, like all raisin growers in the United States, he is used to having part of his crop taken from him.
Since 1949, the government has been taking its share of their harvests under a Department of Agriculture protectionist order - Marketing Order 989 – originally designed to keep prices high and growers in business.
"It began as 25 percent and then it went to 35 percent and then the year in question, they told us, we're going to take 47% of your crop. I said you're not taking any of it," Horne told me as we trod softly through the avenues of sugary sweet Thompson grapes, waiting to be trimmed by seasonal Hispanic harvesters.
Reserves for agricultural products had existed before World War II. Today, apart from diamonds and oil, no other commodity is required to be placed in special stockpiles.
In a business where margins can be as thin as the vines the grapes grow on, Horne described it as "highway robbery and government thievery," claiming it goes against the Fifth Amendment which says private property cannot be taken for public use without just compensation.
His 11-year-long refusal to contribute became a case that reached the Supreme Court this spring. During arguments, Justice Elena Kagan said the case should be returned to California's Ninth Circuit court – which had earlier ruled against Horne – to "figure out whether this marketing order is a taking or it's just the world's most outdated law."
The Fresno-based Raisin Administrative Committee, established by the Department of Agriculture to run the reserve – what it refers to as volume regulation – declined to comment on Horne's pending case against the government.
But when asked in an interview with Fox News why in an era of free markets such a protectionist measure like volume regulation for raisins continues to exist, the RAC's president Gary Schultz said that the reserve hasn't been needed since 2009. He added that $200 million had been reimbursed to growers since 1997. The last payout was five years ago when around 3,000 growers shared $10 million.
"I think it's smart for the committee to have volume regulation as an option," Shultz said. "After long deliberation and a lot of hearings and testimony, we've chosen not to eliminate it because we've needed to use it on many occasions since 1949 […] Now, fortunately, global supply and demand has taken us away from that day and we're hoping that that continues for a long, long time."
That does not explain why raisins are an exception to other crops whose government-appointed reserves had long since been retired.
Shultz said that the reserve would be a useful tool if surplus volumes of raisins returned. While there is zero tonnage in the reserve, as of this July Fresno packers are currently holding a "carry over" of 132,400 tons from last year's crop.
Shultz added that he believed this is the "beginning of the hay day in raisins, at least in recent history" for growers.
Back on his vineyard, 68-year-old Horne contends that thousands of producers have been forced out of business or driven to farm other crops because of Marketing Order 989.
"It has decimated our industry," he said "We're down to less than 2,000 growers [from 6,000 at their peak]. We've lost almost 180,000 acres of grapes that's been pulled out."
He owes the government over a million pounds in raisins and $1.2 million in fines and legal fees.
The Ninth Circuit is expected to rule on the order by November. If it gets overturned, it is likely to open the floodgates to compensation claims by raisin growers against the Department of Agriculture.