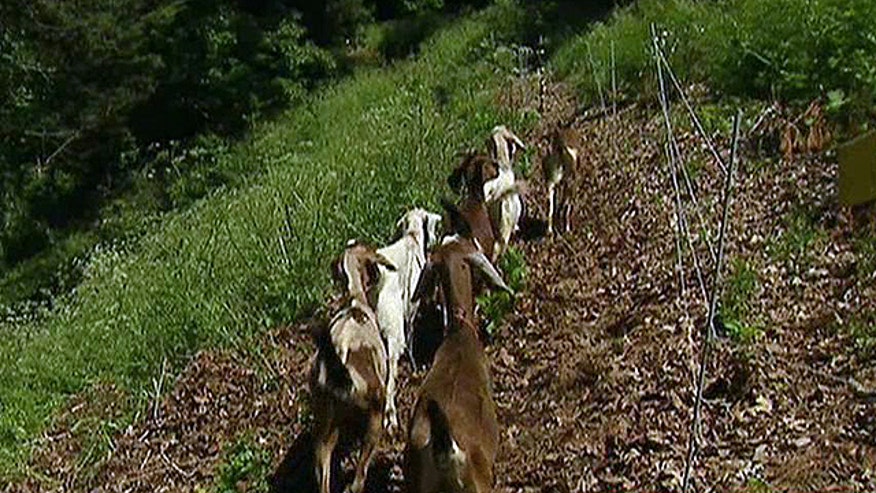 WASHINGTON, D.C. – The Congressional Cemetery -- the final resting place for a vice president and dozens of members of Congress – is getting a four-legged face lift.
A small herd of goats arrived Wednesday at the 35-acre site, in the shadows of Capitol Hill, to gnaw away at Kudzu and other underbrush so dense it is strangling trees that threaten to topple onto headstones.
Paul Williams, president of the Association for the Preservation of Historic Congressional Cemetery, said the goats are being used as an eco-friendly and cost-efficient alternative to machines or pesticide, considering the cemetery rests on the banks of the Anacostia River.
"This is their job," Williams said. "They go from site to site and eat."
Though the cemetery is privately owned, the federal government owns 806 burial plots. It has been the final home to such notable historical figures as former FBI Director J. Edgar Hoover, Supreme Court Associate Justice Philip Barbour and Vice President Elbridge Gerry, who signed the Declaration of Independence.
Daily politics news delivered to your inbox: sign up for our newsletter
Nineteen senators and 71 House members have been buried in the cemetery since it opened its gates in 1807.
Williams makes clear the goats won't be grazing on hallowed ground, just a roughly 1.6-acre wooded stretch along the burial grounds.
He said that in all, roughly 200 members of Congress and their families are either interned or memorialized in the cemetery, now run by the nonprofit association, but plots are still available.
"Despite the name, we're open to presidents and residents alike," he said, on a cool, overcast day in the District.
The goats are from a company called Eco-Goats in nearby Annapolis, Md., and are scheduled to work for seven days at a cost of $4,000.
Though once called the "national burying ground," the cemetery, founded and owned by the nearby Christ Church, was seldom used or supported by Congress by the early 1900s, causing it to fall into disrepair. However, conditions improved after the nonprofit began managing the property in 1976.
While the cemetery is noted for being home to some of the country's most important early leaders, its most prominent feature is perhaps the Public Vault.
By the 1820s, the cemetery, then known as the Washington Parish Burial Ground, was part of so many funeral processes from Capitol Hill and the White House that Congress built the vault in 1835 to store the bodies of members who died, usually while in session, until funeral arrangements could be made at home or elsewhere.
Among those who stayed in the early classical revival structure were three presidents: William Henry Harrison (1841), John Quincy Adams (1848), and Zachery Taylor (1850).
However, the most well-known stay was that of widowed first lady Dolly Madison. She arrived in 1848 but wound up staying for five years because her son had bankrupted the family.