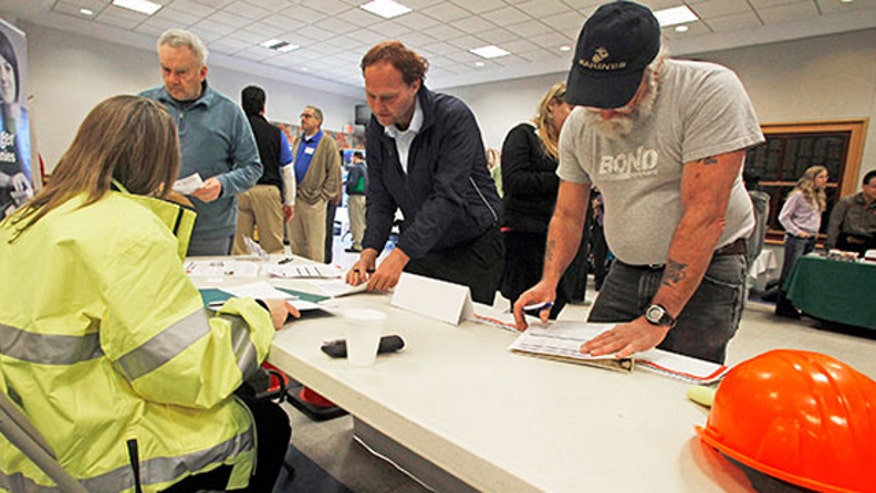 Hiring picked up in April after a slow couple months, as employers added 165,000 jobs and the unemployment rate dipped to a four-year low of 7.5 percent.
The Labor Department report showed positive signs though the economic recovery remains shaky. A mix of government spending cuts and tax hikes has threatened to curb economic growth, which is already slow in a post-recession environment.
The jobless rate dipped only slightly, from 7.6 percent to 7.5 percent. The government also revised up its estimate of job gains in February and March by a combined 114,000. It now says employers added 332,000 jobs in February and 138,000 in March.
Stock prices soared on the heels of the report, with the Dow surging past 15,000 for the first time ever an hour after trading began.
The economy has created an average of 208,000 jobs a month from November through April. That's above the 138,000 added in the previous six months.
The only sectors of the economy that cut jobs last month were construction and government
Economic figures in recent days have been mixed. The government said Thursday that the number of Americans applying for unemployment aid fell last week to a seasonally adjusted 324,000 -- the fewest since January 2008.
At the same time, surveys have shown that hiring by private companies was weak and that manufacturing activity declined in April. And exports fell in March.
The economy grew in the January-March quarter at an annual pace of 2.5 percent, much better than in the previous quarter. Economists worry, though, that federal spending cuts and higher Social Security taxes could hurt the economy. And new requirements under the federal health care law may be causing some small and midsize companies to hold back on hiring.
The Associated Press contributed to this report.