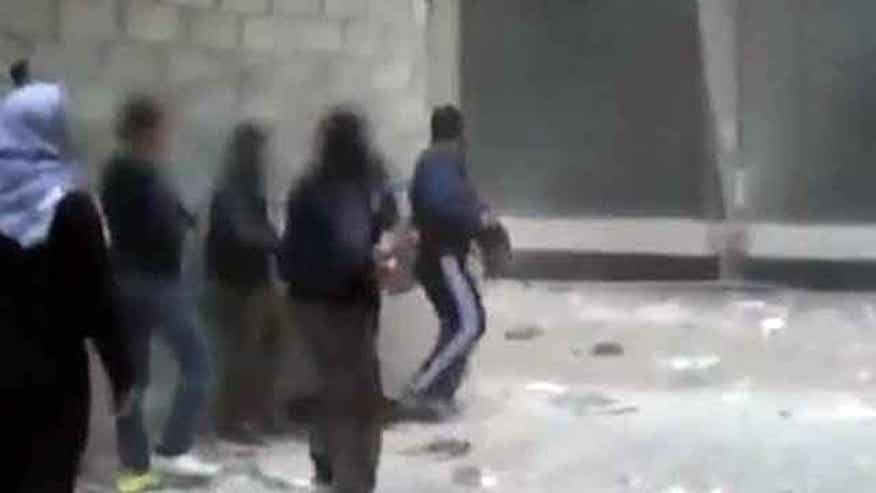 The Pentagon warned Thursday that "there will be consequences" if Bashar Assad unleashes chemical weapons against the Syrian people, amid evidence that the regime is mixing and moving the components for a deadly nerve gas.
"The whole world is watching," Defense Secretary Leon Panetta said. "There will be consequences if the Assad regime makes a terrible mistake by using these chemical weapons on their own people."
Panetta addressed the Syrian crisis during a press conference at the Department of Veterans Affairs. Without getting into specific detail, Panetta said the intelligence "raises serious concerns" that the regime is contemplating using chemical weapons.
"I think there is no question that we remain very concerned that as the opposition advances particularly on Damascus that the regime might very well consider the use of chemical weapons," Panetta said.
Sources confirmed to Fox News a day earlier that Syria's military has mixed chemical weapons and loaded them into bombs in preparation for possible use on the Syrian people.
A senior U.S. official told Fox News Wednesday that Syrian forces had loaded bombs with components of sarin gas, a deadly nerve gas. They have 60 days to use these bombs until the chemical mixture expires and has to be destroyed.
To the backdrop of this threat, the Obama administration has stressed that this would cross a clearly defined "red line" -- while exploring a new effort aimed at potentially resolving the crisis.
On Thursday, Secretary of State Hillary Clinton held a meeting with her Russian counterpart and the United Nations' peace envoy for Syria. Clinton, Russian Foreign Minister Sergey Lavrov and mediator Lakhdar Brahimi met in Dublin on the sidelines of a human rights conference.
Afterward, Brahimi said Russia and the U.S. will seek a "creative" solution to the crisis, according to Reuters.
"We haven't taken any sensational decisions," Brahimi said.
Ahead of the three-way meeting, Clinton and Lavrov met separately Thursday for about 25 minutes.
The former Cold War foes have fought bitterly over how to address Syria's conflict, with Washington harshly accusing Moscow of shielding its Arab ally. The Russians respond by accusing the U.S. of meddling by demanding the downfall of Assad's regime.
But the gathering of the three key international figures suggests possible compromise in the offing.
Further, Fox News has learned the U.S. military is making contingency plans should Assad leave suddenly. Various Middle Eastern countries are trying to find a place to give Assad asylum, according to Middle Eastern diplomatic sources.
In Ireland's capital, one idea that Brahimi could seek to resuscitate with U.S. and Russian support would be the political agreement strategy both countries agreed on in Geneva in June.
That plan demanded several steps by the Assad regime to de-escalate tensions and end the violence that activists say has killed more than 40,000 people since March 2011. It would then have required Syria's opposition and the regime to put forward candidates for a transitional government, with each side having the right to veto nominees proposed by the other.
If employed, the strategy would surely mean the end of more than four decades of an Assad family member at Syria's helm.
The opposition has demanded Assad's departure and has rejected any talk of him staying in power. Yet it also would grant regime representatives the opportunity to block Sunni extremists and others in the opposition that they reject.
The transition plan never got off the ground this summer, partly because no pressure was applied to see it succeed by a deeply divided international community. Brahimi's predecessor, former U.N. Secretary-General Kofi Annan, who drafted the plan, then resigned his post in frustration.
The Associated Press contributed to this report.