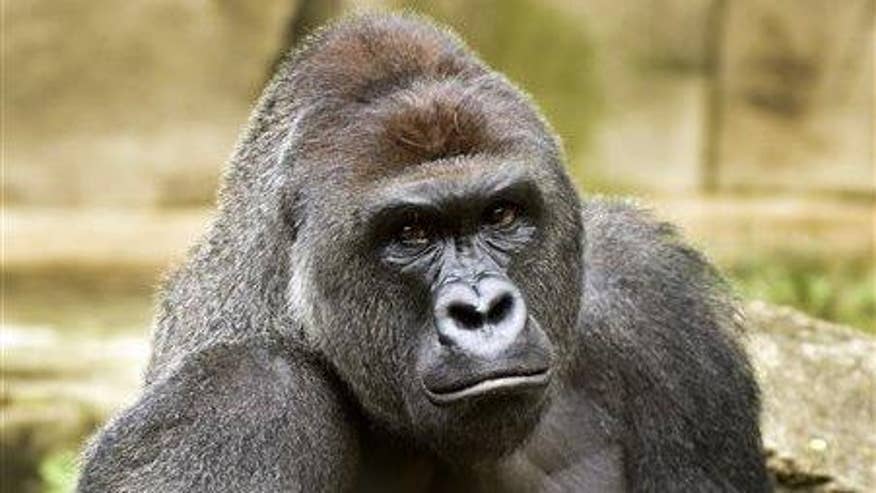 This weekend a hulking 450-pound gorilla almost killed a child that fell into its enclosure at the Cincinnati zoo. Haunting video shows the gorilla tossing and dragging the 4-year-old child like a rag doll. The animal was necessarily killed to save the child.

The reaction was more disturbing than the incident.
Instead of praising the heroic act of the security team that saved the boy in what was described as a life-threatening situation, the child's parents were lambasted, the zoo officials demonized, and western lowland gorilla mourned. Zoo visitors even left flowers for Harambe the gorilla and thousands on social media called it 'murder', with a 'Justice for Harambe' Facebook group quickly garnering over 90,000 likes.
Instead of criticizing the zoo for constructing a barrier that wasn't child proof, the mother was accused of neglectful parenting and could face criminal charges. An online petition blaming the mother and calling for her prosecution has already accumulated over 250,000 supporters. The mother was watching several children at the time. She was heard telling the child not to go into the enclosure. The child didn't listen. This could have happened to any parent. It was an accident. One eyewitness described it all as happening in an instant.

It is disheartening that an endangered gorilla species was killed. But a child almost died. In that context concern for the gorilla needs to take a backseat.
This could have happened to any parent. It was an accident. One eyewitness described it all as happening in an instant
There was nothing needless about the shooting. It was absolutely necessary. According to an incident report, the gorilla was 'violently dragging and throwing the child.' A tranquilizer may not have acted fast enough to save the boy, and may have even enraged the gorilla further.
These types of incidences have ended in tragedy. In 2012, a 2-year-old boy was horrifically mauled to death dead by a pack of wild African dogs at a Pittsburgh zoo. Gorillas are not docile creatures. They are the largest of all primates, and are many times stronger than humans. There is even research and evidence that this particular species of gorilla sometimes kills other gorilla infants.
In a ridiculous attempt at attributing human qualities to animals The Gorilla Organization suggested that the zoo should have negotiated with the Gorilla offering it "food," "treats," "pineapple" or "some kind of fruit." Animal lover and expert Jack Hanna even defended the zoos actions, describing how he's seen gorillas "take a green coconut, which you can't bust open with a sledgehammer and squish it…" with ease. "You're dealing with either human life or animal life here," Hanna explained.
Showing compassion and empathy toward animals is certainly noble especially when it comes to a majestic and endangered gorilla.
But the mentality that ascribes Disney-like human qualities to animals by prioritizing a gorilla over the saving of a child has consequences. Gorillas are wild animals. Children are humans. Humans can wreak terrible devastation but they are also responsible for the greatest advancements in medicine and technology well beyond what the animal kingdom can accomplish.
It is this delusional anthropomorphizing of animals that leads people to help dog charities over dying children, and according to reports give twice as many donations to animals than the homeless. It is the reason people seemed more outraged over Cecil the lion's death, than the savage rape and murder committed by the likes of Boka Haram.
As a parent of two toddlers my heart goes out to the family that not only had to witness a traumatic near-death encounter of a child where the mother was heard telling the sobbing boy "Mommy loves you!" but also had to endure the vicious attacks following the incident.
Eliyahu Federman writes frequently on religion, culture, business and law. Follow him on Twitter @EliFederman and find him on Facebook.com/eli.federman. He is also an executive at the e-commerce company 1Sale.com. The opinions expressed here represent his personal views.