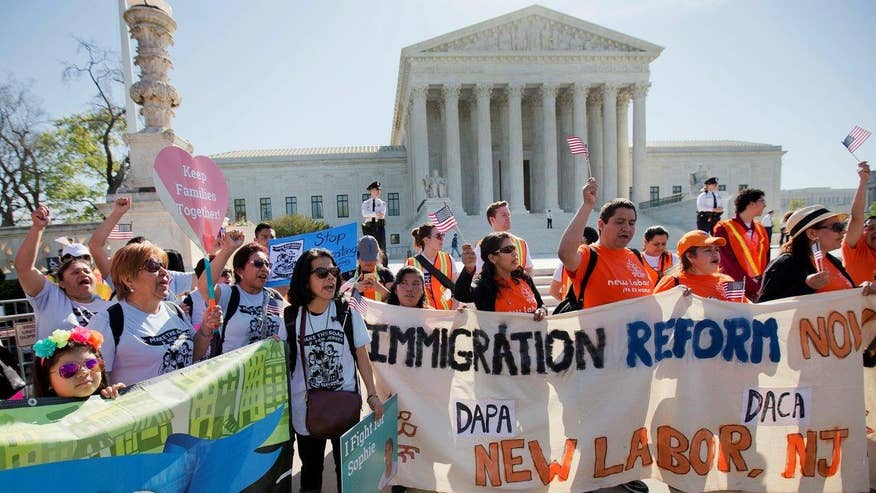 The Supreme Court appeared divided during oral arguments Monday in a legal challenge to President Obama's executive action that would protect millions of illegal immigrants from deportation and permit them to work indefinitely in the country legally. With only eight Justices currently sitting on the High Court, a 4-4 deadlock in U.S. v. Texas is a real possibility when the decision is expected in June. Here are four things you need to know:

1. WHAT SPECIFICALLY IS THE SUPREME COURT CONSIDERING?
Two very broad issues. First, whether President Obama exceeded his constitutional authority, usurping the power of Congress on matters of immigration. (In the past, the Supreme Court has said that Congress has "plenary power" --meaning full and complete-- to regulate immigration.) So in this case, did the President violate the separation of powers?
Second, whether Mr. Obama violated the "take care" clause in the Constitution which says he "shall take care that the laws be faithfully executed." (Note the mandatory language of the word "shall".) Congress passed a law in 1996, requiring federal agents to deport illegal immigrants. Did the President breach his sworn duty by failing to execute that law and by ordering agents, in effect, to break the law? When it accepted the case, the Supreme Court took the unusual step of asking both sides to address this specific issue.
Importantly, a deadlocked Supreme Court might decide to circumvent any broad ruling and opt, instead, to resolve the case narrowly. For example, it could declare that the President did not follow certain federal regulations requiring public comment. Or, it could dodge the case entirely by ruling that Texas and 25 other states did not have legal "standing" to sue. That is, they are not measurably impacted by the Mr. Obama's action and cannot, therefore, bring the case. (The states argue the President's order imposes on them millions of dollars in administrative and other costs.)
2. DIDN'T THE PRESIDENT, HIMSELF, SAY HE DID NOT HAVE THE AUTHORITY TO DO WHAT HE EVENTUALLY DID?
Yes. He is, arguably, the best witness against himself. It is one of the principal arguments Texas has been making. On 22 occasions, President Obama insisted publicly he did not have the authority to act on his own. Famously, he remarked, "I'm President, I'm not King. I can't do these things just by myself." He repeated it three more times. He was even more precise when he commented, "With respect to the notion that I can just suspend deportations through executive order, that's just not the case, because there are laws on the books that Congress has passed." (3-28-11)
What changed? Nothing. The law and the Constitution are still the same. Of course, the media confronted him with his statements when he signed his executive action. His response? "Actually, my position has not changed." That remark earned him an upside-down Pinocchio from the Washington Post for denial of a blatant flip-flop.
3. PRESIDENT OBAMA HAS SAID THAT HE ACTED, BECAUSE CONGRESS FAILED TO ACT. IS THAT A LEGITMATE ARGUMENT?
It is an appealing political argument. But it is misleading. Congress did act, as mentioned, in 1996. It passed a law on immigration which remains in effect today. Did Congress more recently consider overhauling immigration? Yes, and lawmakers chose not to act. As I pointed out in a previous column, a determination not to act is, by itself, a deliberate act. This is how the framers constructed our system of government. Congress considers and debates a great many bills. Not all of them pass. This is not a "failure" in the conventional sense, but a decision by declination. It constitutes a prudent and calculated process.
4. WITH THE DEATH OF JUSTICE SCALIA, THERE ARE ONLY EIGHT JUSTICES. WHAT IF THERE IS A TIE VOTE?
There may well be a tie. Which means the last lower court decision against President Obama stands. Normally, that decision would only be binding on the three states in the Fifth Circuit Court of Appeals: Texas, Louisiana and Mississippi. However, the original Federal District Judge issued a nationwide injunction against Mr. Obama's executive action which was also upheld by the Fifth Circuit. So, if there is a 4-4 tie at the Supreme Court, the injunction would be binding on all fifty states. In the future, the Supreme Court could decide to revisit the issue when there is a full slate of nine Justices.
Gregg Jarrett joined FOX News Channel (FNC) in 2002 and is based in New York. He currently serves as legal analyst and offers commentary across both FNC and FOX Business Network (FBN).