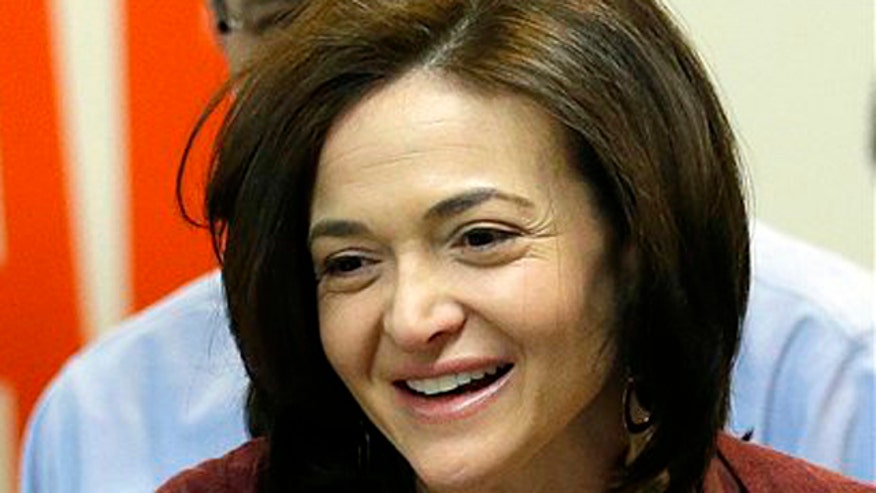 Facebook COO Sheryl Sandberg gets around. She runs a multi-billion dollar company; she gives high profile speaking engagements; and now she's a first-time author. Her new book, "Lean In: Women, Work and the Will to Lead" is a spin-off of Sandberg's infamous TED talk, where she encouraged women to put their careers front and center and let the rest of life fall into place.
For her own accomplishments, Sandberg has been ranked one of the 50 "Most Powerful Women in Business" by Fortune magazine, one of the "Women to Watch" by The Wall Street Journal, one of "the world's 100 most powerful women" by Forbes, one of the 50 "Most Influential Jews" by the Jerusalem Post, and one of the "25 Most Influential People on the Web" by Business Week.
But Ms. Sandberg is best known for something else altogether: her crusade against gender imbalance at work and at home. Sandberg believes women are penalized at work due to gender stereotypes and are unduly burdened at home. This is the reason there are so few women at the top, she says. The only way to achieve equality is for men and women to live identical lives.
[pullquote]
And Sandberg's going to show us how. As the mother of two young children, Sandberg prides herself on having a "50-50" marriage: one in which both parents share equally in all breadwinning and all childcare. But what does this mean in real life? It means both parents leave their homes each morning and return each evening—and pay other people (i.e. less educated women) to do the bulk of the parenting work for them.
That's fine if you're the Sandbergs and can afford Mary Poppins. Most cannot.
But the greater problem with Sandberg's proposal is that it dismisses maternal desire. That women can run companies and outwork the hardest working of men is not in question. What is in question is this: Do they want to?
Increasingly, the answer is no. According to the most recent data from the Pew Research Center, the opinions of mothers who've chosen to stay home—a highly educated group, I might add—have changed dramatically. Today, a mere 16 percent say they'd like to work full-time outside the home, down from 24 percent who felt that way in 1997.
Moreover, nearly half of all full-time moms say not working at all outside the home is the ideal situation. In 1997, 39 percent felt this way. Even mothers who do work full-time and year-round wish they didn't! Only twenty-one percent of employed mothers say full-time work is "ideal."
There's simply no question that part-time work has become the number one choice of most women with children—both here and abroad. Part-time is defined as anything under 35 hours (though it includes mothers who work as little as one day a week), and people who work fewer than 35 hours a week do not become CEOs.
Given that most women want a balanced life, shouldn't they benefit from advice that will allow them to achieve their goal? That's not what Sheryl Sandberg offers.
Sandberg encourages women to pattern their lives after hers. But the only way to *be* Sheryl Sandberg is not only to be fabulously wealthy but to be comfortable being away from one's home and children all day, every day. And that's not what most women want.
It's not what kids want either.
Anne-Marie Slaughter, former director of policy planning for the U.S. State Department and dean of Princeton's Woodrow Wilson School of Public and International Affairs, hit that nerve last summer in The Atlantic. In her article, "Why Women Still Can't Have It All," Slaughter said she could no longer deny that her sons need her. She conceded that the "feminist beliefs" by which she'd built her entire career "were shifting under my feet." So she quit her big Washington job, where she worked with powerhouses such as Hillary Clinton, and went back to being a professor so she could be more available to her children.
Sheryl Sandberg is not this candid. The closest she's come to discussing her personal life is when she admitted it's difficult to leave a toddler who's pulling on your leg, begging you to stay with him, as you walk out the door each morning. But for Sandberg, that's where the conversation ends. For most women, that's where the conversation begins.
Sheryl Sandberg's message—that women should not "lean back" in their careers to accommodate their desire for motherhood—is a terrible one. A woman's life has seasons, and mapping it out by incorporating everything women want—work and family—is both prudent and smart.
Sandberg is right about one thing. Women who do "lean back" at work in order to make room for the rest of life probably won't get the corner office. What she doesn't appreciate is that they just don't care.
Suzanne Venker is the author of five books on marriage, feminism and gender politics. Her latest book is "The Alpha Female's Guide to Men & Marriage: HOW LOVE WORKS." Find her on Twitter@SuzanneVenker.