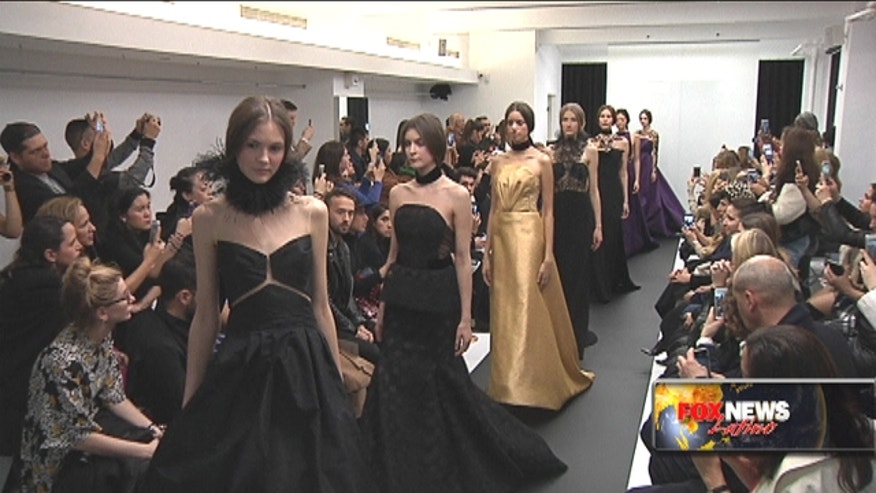 New York – Venezuelan couture designer Angel Sanchez took time out from the New York Fashion Week festivities to talk about his new 2016 Fall/Winter collection, titled "Fetish," and what he calls the "faces of desire."
The show took place in Sanchez's Fashion District studio, and the models floated down the runway, their necks embellished with feathers and bows, lace and even a large crucifix.
All lights and windows, the tone was a nod to the sublimated sexuality of Victorian era repression that was punctuated by eerie music.
As always, the drama of Sanchez's gowns did not disappoint. A master of fitting a dress to woman's body, and an artist at adding just the right dimension and depth, for inspiration drawing on his education in architecture.
"It's all about the kind of obsession one has – well, me personally – about the different parts of women's bodies," Sanchez told Fox News Latino. "I love the neck. I love to explore the skin ... It's about the different faces of desire."
For 25 years, Sanchez has been a top name in the business – dressing celebrities like Salma Hayek, Sandra Bullock, Beyoncé and Eva Longoria.
This year he is collaborating with his sister on the neck pieces – many of which are the signature element of the looks.
His fabrics are nothing more than lush dresses in melted butter-golds, deep plum and his stand-by jet black – all monochromatic – with nothing to distract from the elegance.
As the designer noted of his latest work, "It's dark. It's very dark."
Rebekah Sager is a writer and editor for FoxNews.com. She can be reached at rebekah.sager@foxnews.com. Follow her on Twitter @rebekah_sager.