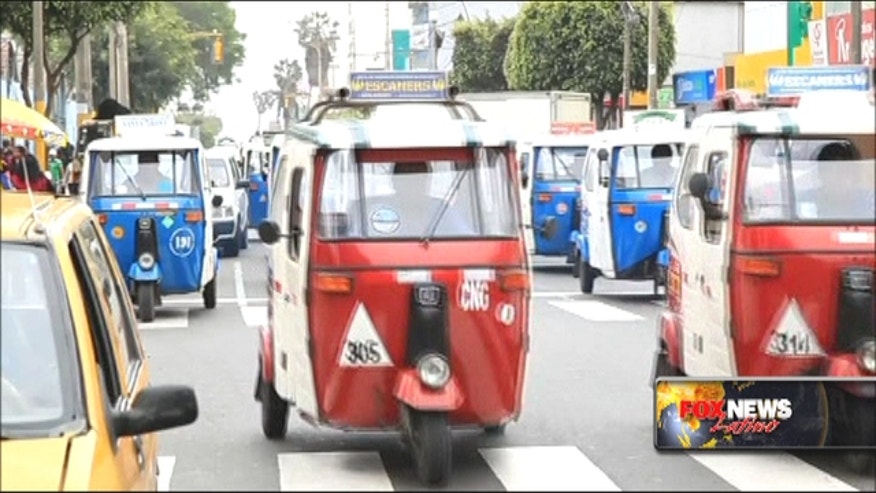 LIMA, PERU (AP) – With their cheap fares and ability to drive up into hillside settlements, the three-wheeled vehicles known as mototaxis are an increasingly popular way to get around Peru's capital.
Lima is afflicted by a chaotic transit system blighted by chronic mismanagement and corruption dating back two decades.
The transit bus system launched in 2010 and only handles 3-4 percent of Lima's commuters.
Lima has about 250-thousand taxis, half of them unregistered, all of them unregulated.
Just about anyone can get into the public transport business, which means lots of privately-run passenger buses and passenger cars flood the roads and are blamed for the city's traffic jams.
The city has a modest subway known locally by residents as 'Tren Electrico' (Electric Train) that opened a few years ago.
The government is trying to expand the system by adding more lines.
At the most, a ride on a mototaxi in Lima costs about 0.33 US dollars and unlike other transport, including taxis, the mototaxi can travel up through rugged terrain into hillside settlements.
The tiny and colourful contraptions are popping up more frequently in Lima's traffic alongside taxis, buses and other vehicles.
No one knows how many mototaxis exist in Peru.
The National Association of Peru mototaxi drivers believes that just in Lima they exceed more than 100-thousand.
The Association estimates half of these are unregistered, meaning the owners assembled them and started driving them around charging fares.
A study conducted in 2012 found mototaxis are used in Peru as an additional means for families to increase their income.
Like us on Facebook
Follow us on Twitter & Instagram