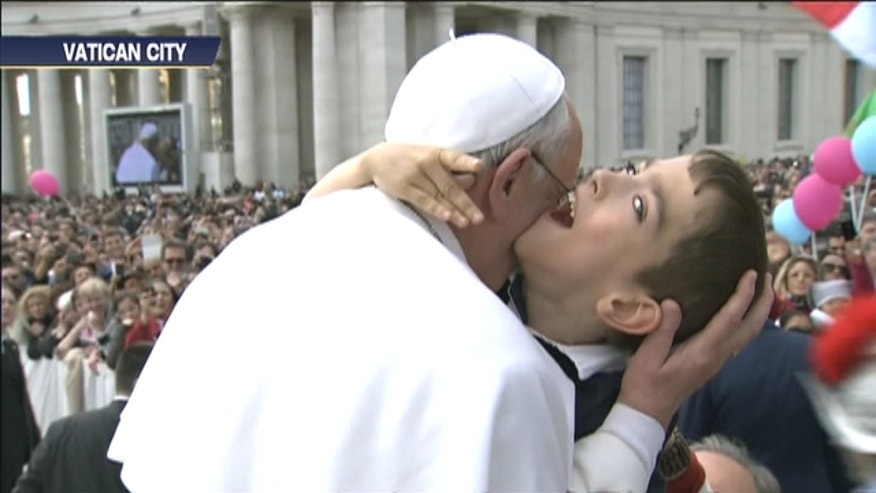 As he waved to thousands gathered at St. Peter's Square on Easter morning, Pope Francis could have easily looked over Dominic, an 8- year-old boy with cerebral palsy.
But he didn't.
Instead, the pope lifted up the boy, hugged, kissed and whispered in his ear in a heartfelt moment that is still reverberating around the world.
"My son Lucas said, 'The pope is holding Dominic.' That's when I looked up at the jumbotron and beheld this grand moment and was immediately moved to tears," said Dominic's father, Dr. Paul Gondreau, in an emotional interview on America Live with Megyn Kelly.
"It wasn't just a brief momentarily touch or blessing which he normally does....but for Dominic he held him and kissed him and then gave him a hug and embraced him."
Gondreau, a theology teacher in Rhode Island, his five children, and wife had tickets to the seating area for the Easter ceremony last Sunday, but arrived a little late. Luckily, with the help of a Swiss guard, Dominic and his mother were able to move through the crowd just in time to see the pope embrace his son.
"That infectious grin that breaks out on his face, and the arm around the neck of the pope to embrace him, just wrenched all of our hearts," Gondreau said.
At the moment, a woman with tears in her eyes told Gondreau that his son was there to show people how to love.
"You never plan to have a special needs child....my wife and I didn't expect to have that. And when you do you do the best you can to embrace the child, and see the child as a blessing."
Follow us on twitter.com/foxnewslatino
Like us at facebook.com/foxnewslatino