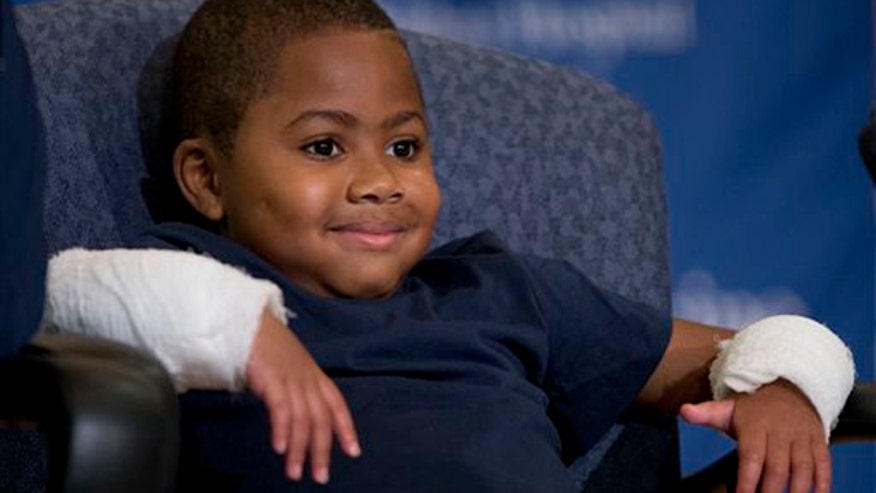 A Maryland boy who lost both his hands to an infection while a toddler became the youngest patient to receive a successful double hand transplant, surgeons announced Tuesday.
Surgeons at The Children's Hospital of Philadelphia told a news conference they operated on Zion Harvey for nearly 11 hours earlier this month. A 40-person team used steel plates and screws to attach the old and new bones. Surgeons then painstakingly reconnected Zion's arteries, veins, muscles, tendons and nerves.
Zion appeared at the hospital's news conference with his forearms bandaged, but his hands visible. He demonstrated his still-delicate grip and described waking up with new hands as "weird at first, but then good."
"He woke up smiling," said Dr. L. Scott Levin, who heads the hand transplant program. "There hasn't been one whimper, one tear, one complaint."
Zion, of Owings Mills, Md., outside Baltimore, contracted sepsis at age 2. The resulting multiple organ failure forced the amputation of his hands and feet; by age 4, he needed a kidney transplant, receiving the organ from his mother.
Leg prosthetics have allowed Zion to be very active, including walking, running and jumping. He learned to use his forearms to write, eat and play video games and has been attending school. Physicians hope he'll now be able to achieve more milestones, including his goals of throwing a football and playing on the monkey bars.
"It was no more of a risk than a kidney transplant," his mother, Pattie Ray, said. "So I felt like I was willing to take that risk for him, if he wanted it — to be able to play monkey bars and football."
Several adults in the U.S. have received double-hand or double-arm transplants in the past few years. Hospital officials in Philadelphia believe Zion is the youngest person to have the surgery, which requires a lifetime of immune-suppressing drugs to ensure the body doesn't reject the new hands.
Zion already had been taking anti-rejection drugs because of his donated kidney, which made him a good candidate for the hand transplant, doctors said.
Doctors say Zion will spend several weeks in physical rehab at the hospital before returning home. Two rows of relatives attended the news conference, and they stood to be recognized at Zion's request.
"I want to say to you guys, thank you for helping me through this bumpy road," he said.
The donor's family chose to remain anonymous.
Children's Hospital said it would not hold Zion's family liable for any costs beyond that which may be covered by medical insurance.
The Associated Press contributed to this report.
Click for more from Philly.com.