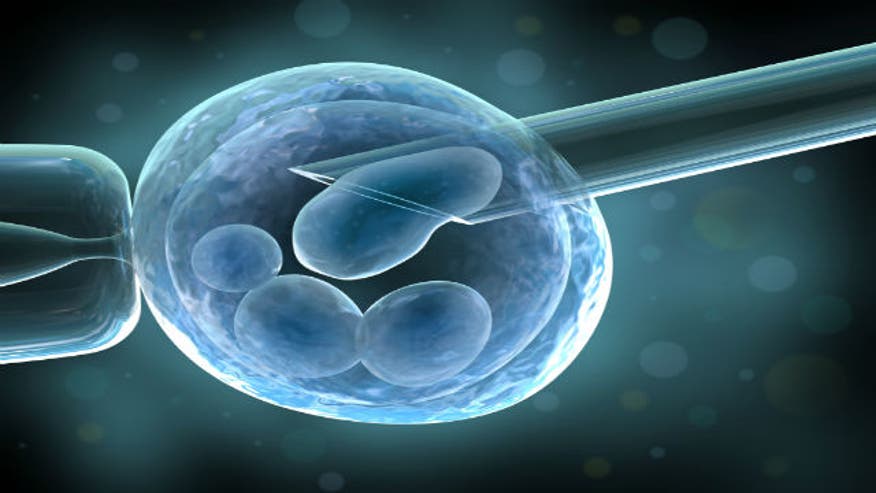 Daniela Nucci, 36, didn't realize she wanted a family until she thought it was too late.
"At 33 I said to myself, 'Wow I think I forgot to have a family along the way because I was concentrating on so many other things,'" the New Jersey native told FoxNews.com.
Dr. Sheeva Talebian, a reproductive endocrinologist and fertility specialist at Reproductive Medicine Associates of New York says the issue is that women are born with a finite number of eggs.
"So over time the number of eggs we have actually goes down, and as we get older we lose more and more eggs with each egg that we ovulate," Talebian told FoxNews.com.
According to the American Society for Reproductive Medicine (ASRM), the number and quality of eggs decreases from the time a woman is born until the time she reaches menopause- declining gradually until her early 30s and accelerating after her mid-30s.
Concerned about her biological clock, Nucci researched a modern fertility option- egg freezing. Egg freezing can potentially preserve a woman's fertility until she's ready to have a child later in life. The two-week process starts with a consultation with a fertility specialist, followed by 10 straight days of hormone injections before egg retrieval is performed under light sedation. One cycle can cost between $10,000 and $15,000.
"It's a big investment," Nucci said. "As a single woman in my situation, there are a lot of things I want to do and that I want to acquire- like I want to eventually buy a home, so I just had to figure out how to make it work."
Despite tech companies like Apple and Facebook adding egg freezing to their employee benefits, the process is seen as an elective procedure and most insurance companies do not cover it.
But now, a new start-up company called EggBanxx claims they can help patients foot the bill with discounted rates and financing packages.
"Often women will need more than one cycle so costs could go up to $20,000 to $30,000 pretty easily," Gina Bartasi the founder and CEO of EggBanxx told FoxNews.com. "We make it much more digestible by offering financing to our patients so those payments can actually go down to $200 to $250 dollars a month."
EggBanxx provides doctors and clinics with a certain volume of patients in exchange for attractive rates- sometimes offering as high as a 15-20 percent discount.
The company hosts informational 'egg-freezing parties' to promote their services and educate potential clients. But some critics say marketing egg freezing can give women false hope because success rates are not yet well documented.
ASRM does not endorse elective egg freezing, but Bartasi believes their stance will change overtime.
"They really just need more data and as more data comes to the industry and they have more live births as the result of social preservation, I do anticipate that they will endorse fertility preservation for professional women who want their options," Bartasi said.
Whether using fresh or frozen eggs, both fertility procedures use in vitro fertilization (IVF). Because egg freezing technology is so new, many fertility specialists use existing IVF success rates— with fresh eggs— to predict what egg freezing rates would likely be.
According to New York University Langone Medical Center, the success rates of producing a baby from one round of IVF is about 60 percent at age 30 and 27 percent at age 40.
"As a general guideline, it's based upon the age of the woman [and] based upon the age of the egg. So the younger you are when you freeze your egg the higher the chances that they result in a healthy pregnancy," Talebian said.
This year Nucci completed one egg freezing cycle and is now confident about her fertility future.
"A lot of women think it's kind of them giving up at finding 'the one,'" Nucci said. "I don't necessarily think it's giving up— I think it's allowing yourself more time to find the right person you're supposed to be with. It's kind of an insurance that your taking out on your future. It's the best money that I've spent."
For more information on EggBanxx visit EggBanxx.com.