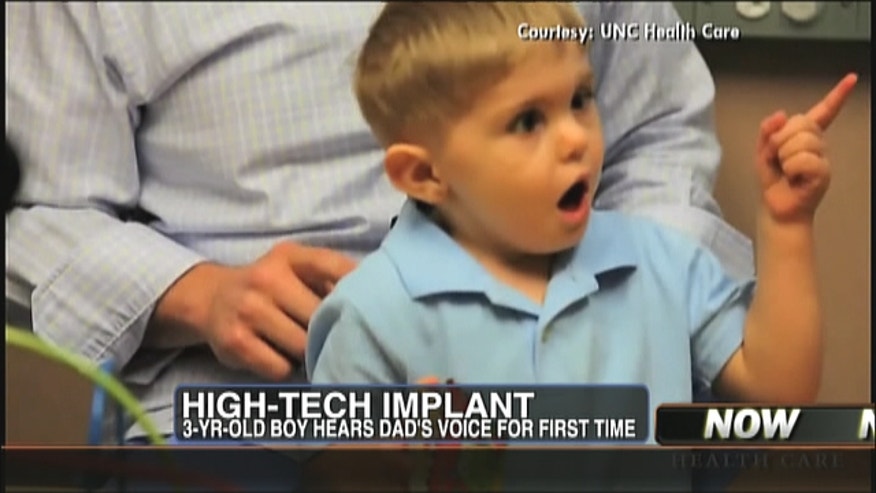 CHAPEL HILL, NC – A 3 year-old boy experienced something for the first time that most of us take for granted: the ability to hear.
Little Grayson Clamp was born deaf and last month became the first child in the United States to receive an auditory brain stem implant. The device allows his brain to process sound.
The procedure was performed at University of North Carolina Hospitals and cameras were rolling the day Grayson heard his father's voice for the first time. Grayson's jaw dropped and eyes were wide open as he heard his dad say, "Daddy loves you. Daddy loves you."
His parents say Grayson is finally able to experience the world like everyone else. "He likes sound. He enjoys the stimulus, the input. he's curious and he definitely enjoys it", said Nicole Clamp, Grayson's mother.
"We don't really know exactly what it's like for him. We don't know exactly what he hears, if he hears everything we hear, some of what we hear. His brain is still trying to organize itself to use sound."
Adults have received auditory brain stem implants before, but when the Clamps heard about a Food and Drug Administration-approved trial for children at the UNC Hospitals, they asked to be included.
Grayson's speech is delayed and his device will need some work, but the procedure is considered groundbreaking.
For more stories go to myfoxphoenix.com
Follow us on twitter.com/foxnewslatino
Like us at facebook.com/foxnewslatino