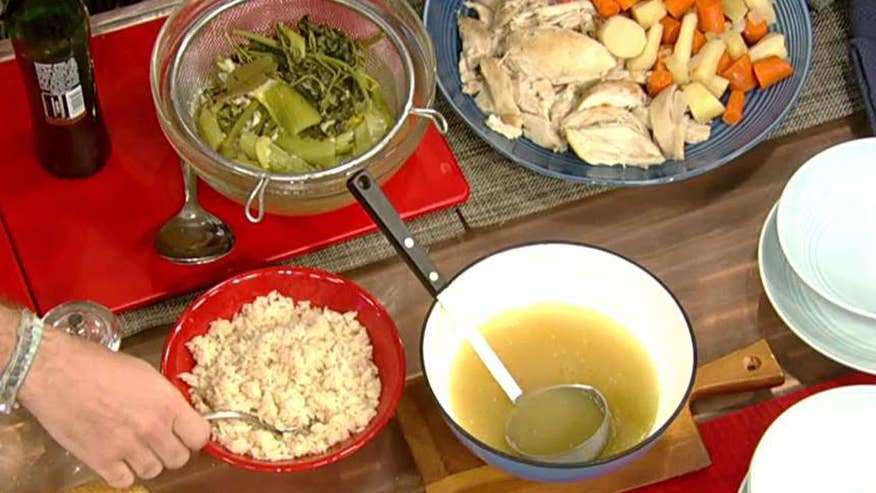 You might be more familiar with Steve Hilton's political career, but it turns out David Cameron's former director of strategy has a few culinary tricks up his sleeve, too.
Hilton, who can soon be seen on his own Fox News Channel series "The Next Revolution With Steve Hilton," stopped by the set of "Fox & Friends" Thursday morning to demonstrate his family's recipe for Hungarian chicken soup — and it couldn't be easier.
"Forget about the politics, I really want a cooking show," joked Hilton before sharing his secret recipe during "Cooking With 'Friends'."
The entire meal can be prepped in less than 10 minutes, says Hilton. Just place a chicken, some garlic oil, a bit of vermouth, and some herbs and vegetables into a large pot, and then throw the whole thing in the oven for a few hours at 400 degrees.
FOLLOW US ON FACEBOOK FOR MORE FOX LIFESTYLE NEWS
But don't let the soup's simplicity fool you — this meal is fit for a world leader. As Hilton said, he's served this very meal to his former boss-- the prime minister.
"I did, I literally did!" said Hilton. "Anyone who comes for Sunday lunch, this is what they get."
Hilton's one-hour political talk show debuts in May. "The Next Revolution With Steve Hilton" will focus on the populist movement and its impact around the world, and feature a rotating panel of guests and experts — but probably not too many soup recipes.
Watch the video above for Hilton's tips, then check out the step-by-step instructions here.