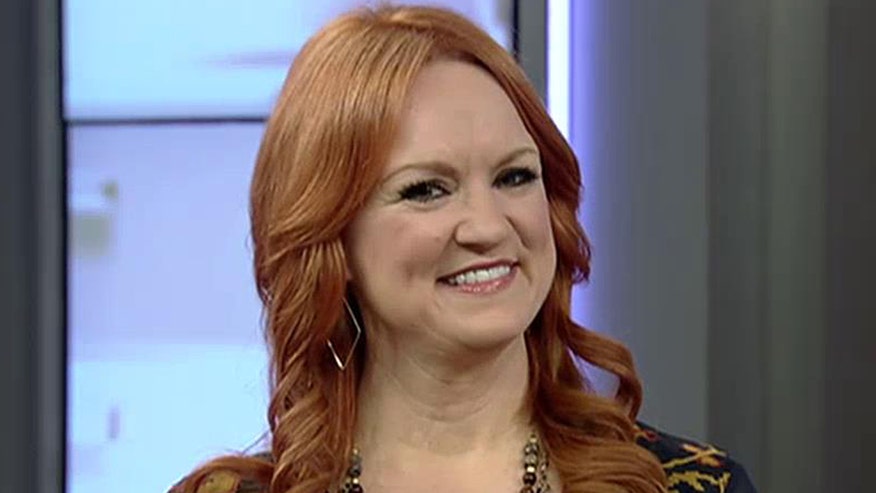 An old episode of Ree Drummond's cooking series "The Pioneer Woman" is now facing biting critcism online.
The Twitter account for Thick Dumpling Skin, a podcast and online community fostering issues affecting the Asian American community, has recently accused Drummond and the Food Network of being "anti-Asian" for remarks her family and show crew members made during a 2012 segment of "The Pioneer Woman."
The segment, which aired during a second-season episode titled "The Big Game," saw Drummond cooking up game-day snacks for her family and friends. But when Drummond pulled a tray of "spicy Asian hot wings" out of the oven, the hungry crowd appears less than enthused.
"No … Where's the real wings?" her husband Ladd Drummond remarked.
Hey @FoodNetwork - this anti-Asian sentiment being promoted on @thepioneerwoman's show really isn't cool. pic.twitter.com/dM1cbXcHKc

— Thick Dumpling Skin (@dumplingskin) March 6, 2017
"I don't trust 'em," added another guest.
Another of Ladd's friends, meanwhile, did concede that "they smell good."
Drummond then let out a laugh before revealing that she also baked a tray of buffalo wings, much to the delight of her guests.
"I'm just kidding, guys. I wouldn't do that to you," she told them.
Thick Dumpling Skin later posted the short video clip on their website, and admonished Food Network for airing an episode of "The Pioneer Woman" in which "the entire family mocks" an Asian-American dish.
They also called for the network to add more Asian chefs to their roster of TV personalities.
After posting the clip online, Thick Dumpling Skin's sentiments have been echoed by many on social media who also took offense:
I was already bummed by the lack of diversity on @foodnetwork Now @thepioneerwoman & co. are on there saying they don't trust "asian" food?? https://t.co/faWbgC6rBV

— rebecca tran (@beckietran) March 7, 2017
"Asian wings!" "I DON'T TRUST THEM" "J/K I wouldn't do that to you guys"??? Being Anti-Asian is not a joke. @FoodNetwork @thepioneerwoman https://t.co/fUe8dz9zqd

— Jenny Yang 👲👲👲 (@jennyyangtv) March 6, 2017
. @thepioneerwoman we watched your segment on "Asian wings" and found it disrespectful. Will you come on our podcast to explain your words?

— Racist Sandwich 🍔 (@raceandfood) March 7, 2017
Come on, @FoodNetwork / @pioneerwomanree -- #racist much? Surely you're better citizens of the world than this:... https://t.co/JZQfD0tB2L

— Cheryl Lu-Lien Tan (@cheryltan88) March 8, 2017
@jennyyangtv @thepioneerwoman @FoodNetwork Submitted. I'm really an XFINITY customer too. Why should I pay for this insult? pic.twitter.com/hZM4BvHUj9

— Chin Lu 呂錦華 (@ChinHuaLu) March 7, 2017
the "JUST KIDDING GUYS HERE'S THE WHITE PEOPLE CHICKEN WINGS" at the end is really something https://t.co/ZD9jOQBFSK

— Alison Mah (@alisonmah) March 7, 2017
However, Drummond and the Food Network also have their supporters:
@dumplingskin @Eater @FoodNetwork @thepioneerwoman not anywhere even close to racist... Simple bit of fun not at all anti-asian

— Josh Bunch (@TheMrBunch) March 8, 2017
@Eater Could it be because they are anything but buffalo? And why does a food site have to have an SJW agenda? I cannot escape this crap.

— Tim Kuiper (@timpac) March 8, 2017
Drummond's fans also continue to come out to her Mercantile restaurant in droves. People magazine reported in February that despite being located in Pawhuska, Okla., a town of only 3,500 people, Drummond's eatery/retail outlet serves nearly 6,000 customers per day.
FOLLOW US ON FACEBOOK FOR MORE FOX LIFESTYLE NEWS
Drummond's former Food Network co-worker, Paula Deen, faced similar backlash in 2013 after admitting to using a racist term toward an African-American man years before, leading Food Network to announce that they would not be renewing her contract.
Neither Drummond nor a representative from Food Network was immediately available for comment.