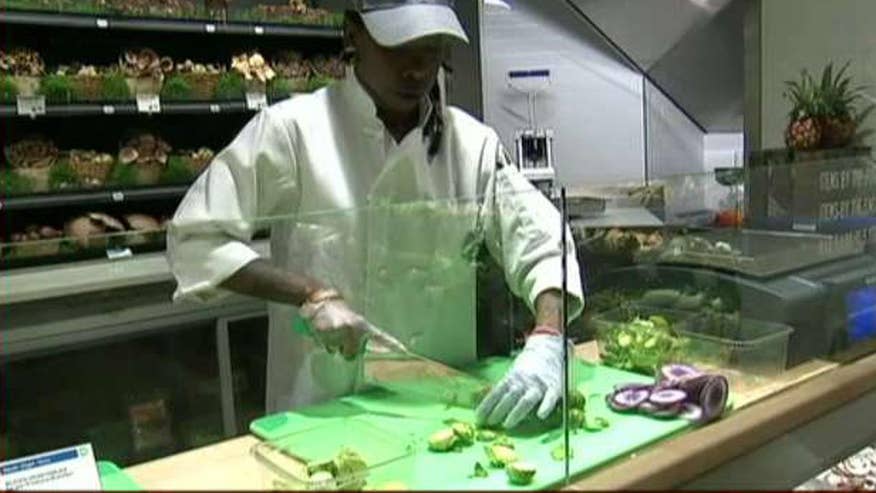 Whole Foods Market-- often referred to as "whole paycheck" due to its pricier produce and unusual pre-prepped fare-- has a brand new way to get customers to shell out even more dough for its food.
At its newest Midtown Manhattan location, strategically placed across tourist hotspot Bryant Park, the Whole Foods offers a "produce butcher." That's right. A person to chop, slice and dice your veggies and fruit for you-- no meats or fish will be found on this chopping block.
But is this wholly unnecessary or has the "hole-in-your-pocket" grocer taken things too far with its new station?
The service is not free. It costs $1 per pound on bulk items, or an extra $1 for fruits and veg priced individually.
$200 MILLION LAWSUIT ACCUSES WHOLE FOODS OF CHEATING EMPLOYEES OUT OF BONUSES
To shoppers living outside Gotham City, the idea of an employee solely dedicated to chopping up veggies may sound insane, but in the Big Apple, it's not a first.
Seven years ago, food-performance artist Jennifer Rubell was placed at a station peeling carrots and trimming artichokes inside Mario Batali's Italian marketplace Eataly in New York City. She later wrote a book about it.
Not everyone thinks this is such a crazy idea. At least one customer appears pretty excited.
I love Whole Foods new "produce butcher" service. They offer 8 different ways to slice carrots 🥕👍https://t.co/hRE0T6fiDy

— Larry Abrams (@larrywabrams) February 4, 2017
Way #COOL👍💯💖⚡ #wholeFoods introduces a '#Produce #Butcher' for your #veggie needshttps://t.co/lnhmBlkSqi

— #SAXXX #SaXXXJUST4U (@SAXXXJUST4U) February 5, 2017
6 WAYS TO SAVE MONEY AT WHOLE FOODS
But quite a few folks took to to social media to take a few jabs at the high-end food purveyor.
I CAN'T...
OH THE PRIVILEGE....
Whole Foods now has a produce butcher... pic.twitter.com/LcBP59yhGR

— Newt (@NK_Newt) February 5, 2017
If you go to the Whole Foods "produce butcher," you'll probably be charged at least $2 for them to cut an onion for you. #dafuq

— Rena (@XGirlNYC) February 5, 2017
For when too lazy to spiralize
⚡ Whole Foods introduces a 'Produce Butcher' for your veggie needshttps://t.co/nVvD5PhdUh

— Macha Rose (@bayareavenus) February 4, 2017
This new service doesn't veer too far from what customers get with meal kits like Blue Apron-- delivery services with packaged ingredients ready to put together for a homecooked meal. It's become a multibillion-dollar industry-- all built on the idea that chopping ingredients and measuring out spices is just too time consuming for the busy home cook.
Whole Foods has not confirmed whether its produce butcher stand will become a national staple at other stores.