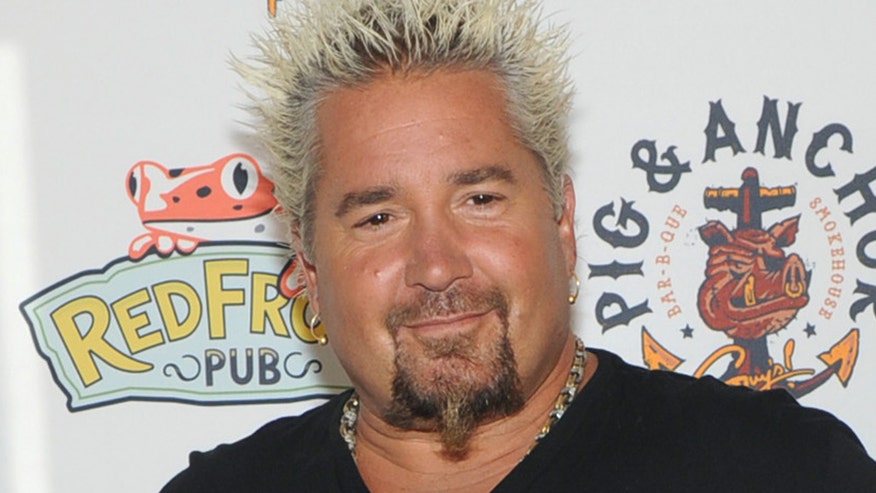 Guy Fieri, Bobby Flay and Rachael Ray may be fun to watch but a new study claims cooking programs are making Americans less safe in their own kitchens.
After analyzing several episodes of popular cooking shows, a panel of Massachusetts state regulators and food safety experts found that most chefs cooking on screen were not demonstrating basic government food safety regulations, according to a new study published in the Journal of Nutrition Education and Behavior says.
Researchers from the University of Massachusetts Amherst created a 19-question survey measuring hygienic food practices, utilization of utensils and gloves, time and temperature control and protection from contamination. The food safety panelists were asked to watch 39 episodes of 10 different cooking shows that air in the U.S. and were then prompted to rate the programs on various food safety practices.
DID GUY FIERI DITCH HIS SIGNATURE SPIKY HAIR?
Lead study author Nancy L. Cohen noted that survey respondents found "the majority of practices rated were out of compliance or conformance with recommendations" in 70 percent of the episodes reviewed, while food safety overall was only mentioned in three episodes watched.
"Only four practices were observed to be in compliance or conformance with recommendations in more than 50 percent of the episodes. For most behaviors observed, the percentage of shows in conformance with recommended practices was much lower than that seen in restaurant employees and consumers in general," said Cohen.
But it wasn't all gloom and doom in the famous kitchens.
Researchers found that chefs in 72 percent of the episodes watched demonstrated the proper use and keeping of utensils while 82 percent of the shows demonstrated good fingernail care.
THE TRUTH ABOUT MAYONNAISE AND FOOD SAFETY
Still, the study put an onus on opportunities for improvement, including requiring food safety training for chefs and guests on the show, changing the structural environment to support safe food handling and including food safety elements in the shows' scripts.
"There are many opportunities on cooking shows to educate the public regarding safe food handling practices and help reduce the incidence of foodborne illness," Cohen said. "Similarly, nutrition and food safety educators could work with the media to produce shows that demonstrate positive food safety behaviors and educate consumers about food safety practices as they adopt recipes."