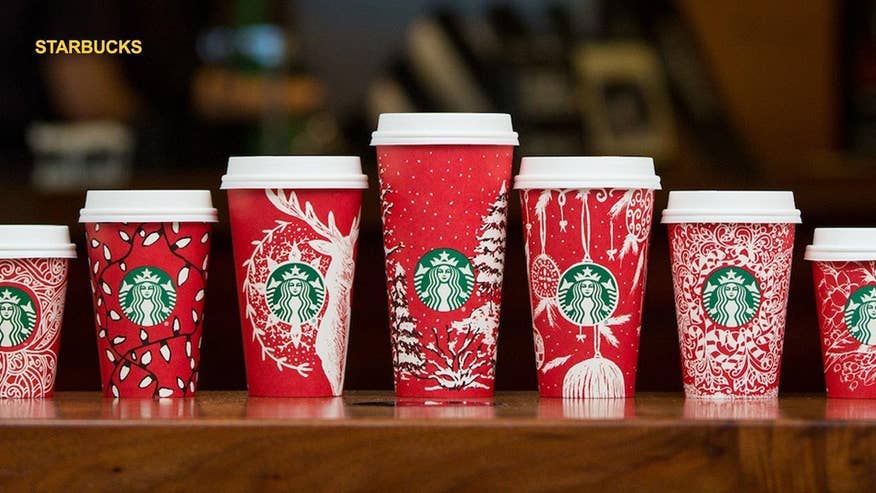 In 2015, Starbucks plain red ombre cups caused an uproar from critics who accused the chain of being anti-Christmas. This year, the coffee chain is forgoing subtlety in celebration of the holiday season with not just one but 13 unique drinking vessels with wintry-themed designs.

On Thursday, the coffee chain debuted 10 different cups featuring unique designs from customers around the world. There are holiday lights, Santas flying through the sky with reindeer, snowflakes, candy canes and other iconic holiday symbols.
Starbucks has released holiday cups every year since 1997. The outcry over 2015's plainer red cup grew after now President-elect Donald Trump suggested boycotting the chain.
Starbucks green cups draw mixed reactions

And instead of looking to its creative team, Starbucks turned to its latte-sipping customers to design the latest round of red cups. Last December, the company asked people to post their designs on Instagram, and Starbucks says 1,200 ideas came in from customers who made it clear on social media they really, really cared about the holiday cups.
Over the next several months, company executives narrowed down the options to their favorites, Starbucks said Wednesday. They settled on 13 overall, which focus on traditional holiday themes like snow covered trees, Christmas lights, and reindeer. Eleven will be available at U.S. locations.
All of the cups for hot drinks are red with white designs. There's also a clear cup for iced drinks featuring a wreath wrapped around the Starbucks mermaid logo. The company declined to say if the customers were compensated for their design submissions.
Last week, the Seattle-based company also unveiled a green cup ahead of Election Day that it said was "a symbol of unity." It features a mosaic of more than 100 people, including a coffee farmer and barista.
Once again, though, people took to social media to make it known-- they wanted red cups with holiday-themed designs. Now they have plenty to choose from.
The Associated Press contributed to this report.