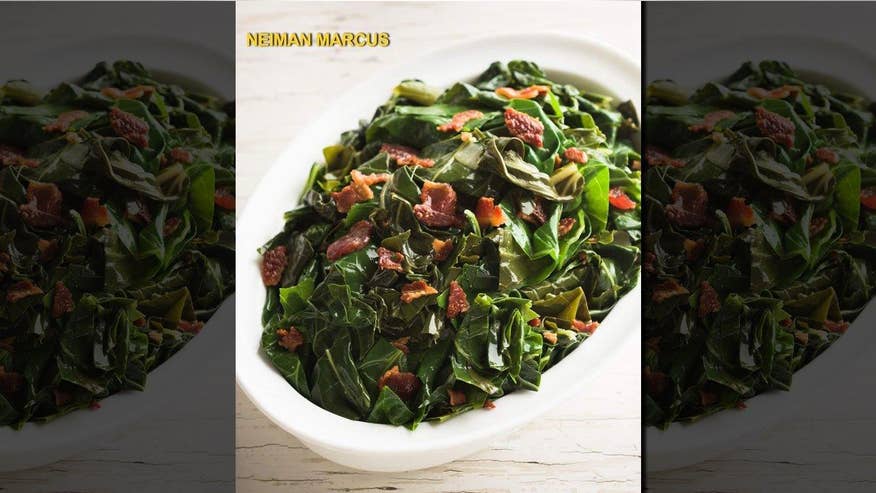 Neiman Marcus' annual "Christmas Book" has become well known for its extravagant, over-the-top gift items that are largely unattainable for most holiday shoppers.
There are plenty of fancy food items—usually caviar tins and plenty of gold-leaf-encrusted sweets—but this year, one food item went viral for all the wrong reasons.
The luxury retailer is serving up a side dish of collard greens, a cheap leafy vegetable that's a staple of Southern cuisine and soul food restaurants-- for $66. With a shipping fee of $15.50, the grand total of four 12-ounce trays comes to a whopping $81.50. To its credit, the upscale department store says the dish will serve up to 10 people, so that comes out to about $8 a serving. (A pound of collard greens that can serve about four people retails for less than $3.)
So what makes Neiman Marcus' greens so special? According to the website's description they're "seasoned with just the right amount of spices and bacon."
Many Southern food chefs were shocked by the dish.
"The food that was considered poor people's food, or Southern food, or black food, is now being advertised and sold by a luxury brand," Nicole Taylor, author of "The Up South Cookbook," told the Washington Post. "I've heard people from the South say that they were ashamed that their family cooked collard greens."
As word of the pricey greens hit the Internet, the social media sphere had a field day with the "overpriced" side.
Neiman Marcus will now be selling collard greens for $66 plus $15 dollars extra for shipping! There must be GOLD flakes in those greens!

— Radio 103.9 NY (@Radio1039NY) November 2, 2016
Also...yes I saw the $66 collard greens. My recipe costs less than $15 to make & won't get you cursed out. https://t.co/cZrxqE4BBn

— The Kitchenista (@MissAngelaDavis) November 4, 2016
They "better taste like unicorn tears and Prince's bath water," #gentrifiedgreens https://t.co/tnuYIag5Yt

— Don Willis (@dew_socio_logic) November 3, 2016
Some even accused the retailer of appropriating African American culture, employing the hashtag #gentrifiedgreens.
I hope every one of my ancestors haunts the mess out of the person at Neiman Marcus who thought of the #gentrifiedgreens

— Ephesia Snow (@UNCLUVA) November 2, 2016
I heard the yankee that developed the recipe for #gentrifiedgreens used 2 cups of #tonedeaf and a heaping tablespoon of #justno. https://t.co/u1OFSBS6xE

— Christie Meller (@CaneHuskerCat) November 3, 2016
Them #gentrifiedgreens aren't dark enough. I don't want no Emerald Green Greens. Hunter Green or darker. And where's the vinegar!?

— Petty Mayonaise (@NotSoEasyBreezy) November 2, 2016
Despite dozens of surprised commenters, someone out there—well a lot of people actually—think Neiman Marcus' take on the classic Southern dish is worth the high price tag. On Thursday night, the dish had sold out online.
But there are still plenty of pricey comfort foods left. Why not try an $80 "Baked Bean Medley"? This $65 "Broccoli Cheese Casserole" would be a steal...if it served more than six people. And it wouldn't be Thanksgiving without stuffing. Neiman Marcus' version with cornbread is $85.
A representative for Neiman Marcus was not immediately available for comment. No word yet on whether the retailer plans cooking up more of these costly collards.