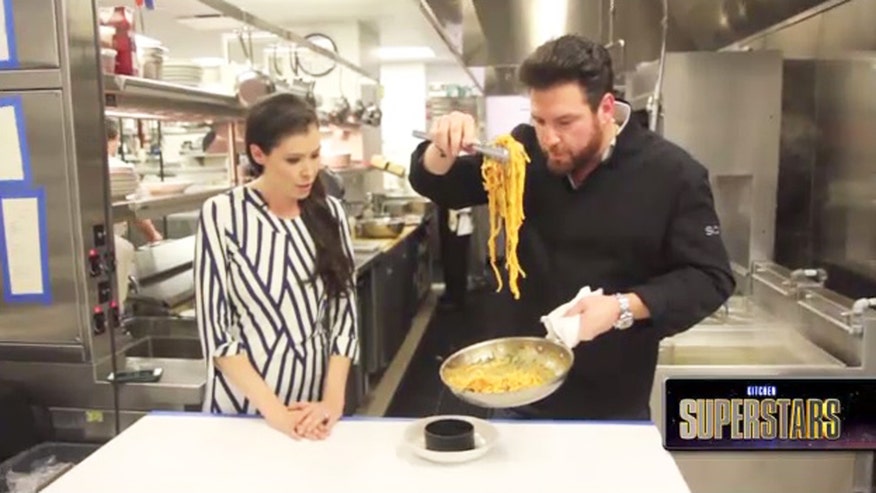 You might know Scott Conant as a frequent judge on Food Network's hit show "Chopped," but that larger-than-life personality you see grilling contestants translated into a sincere passion for cooking behind the scenes and in the kitchen.
In 2004, Conant was named as one of Food & Wine's Best New Chefs in America. He's also a James Beard Award winner-- no small feat in the culinary world. But he's working at this for a very long time. He started young with a Culinary Arts vocational school at the age of 15.
"The moment I walked into a professional kitchen for the first time," Conant tells Kitchen Superstars, "the moment that I walked in and experienced that camaraderie, I was hooked."
That passion for food led him to the Culinary Institute of America which he followed with several training positions throughout Europe before coming back to New York. He trained in a variety of different cuisines, but was always most drawn to his Italian mother's roots that led him to a focus on Italian cooking.
He opened his restaurant, L'Impero in 2002. He followed it with Alto, Scarpetta and his latest, Impero Caffè in May of this year.
Though he's tried, tested and served hundreds of dishes at his many eateries, Conant has become known as the master of one of the most beloved Italian dishes around: pasta pomodoro, a spaghetti with a tomato sauce. It may seem surprisingly simple with just a few ingredients, but take it from us, Conant's version is unlike any spaghetti you've ever had.
With such a basic dish every element has to be perfect, says the chef, so we got him to share a few secrets for making this classic at home.
His first tip is to start with salted water that tastes almost like broth, because you want to be able to use the water to add to the sauce as you go and be able to adjust the consistency.
The second step is to use a sauce with all fresh (but very ripe) tomatoes. Think you need all day to simmer? No way, says Conant. His version takes only for 45 minutes on a medium high heat because the tomatoes are at their peak. He also adds in an olive oil that is infused with crushed red pepper flakes, basil and garlic to round out the flavor.

The other secret is to end with butter-- but only add it right at the end once you take the pan off the heat. The butter pulls everything together, elevates the simple sauce to decadent levels and won't continue to cook the pasta when added at the right time.
With tips from the master you can't possibly go wrong making the best version of everyone's favorite Italian classic.