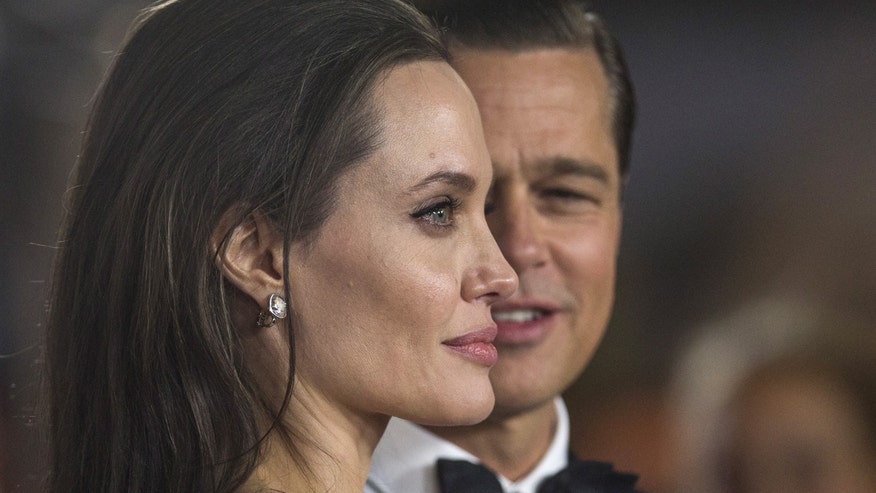 When a bottle of wine goes bad, sommeliers say it's "corked." Now, divorce lawyers can borrow some terminology from the wine world to describe the marriage between Hollywood's hottest power couple, Brad Pitt and Angelina Jolie.
Now it's time for the couple to decide who gets the houses, the cars, and the children. But unlike the average divorcing Joes of the world, the Jolie-Pitts also have a staggering $400 million in assets, including a prize-winning vineyard, to split up.
Jolie and Pitt purchased Chateau Miraval-- a 1,200 acre estate located in the South of France-- in 2012 for $60 million dollars. The grounds feature sprawling hills, lush gardens and even a moat, along with several buildings dating back to the 17th century. The main house includes 35 rooms with a recording studio where The Cranberries, Sting and Pink Floyd have all laid down tracks.
Miraval also has 70 acres of organic vineyards and has been producing award-winning wines since 2013. In 2014, the company released just 200,000 bottles of its vintage rosé. Though it was rumored that Jolie was searching for an estate buyer this summer, Pitt was reportedly adamant that the family keep the French estate. Though the actor is not involved in the day to day winery operations, industry insiders aren't surprised Pitt wants to hold on to the property.
"It's not like Brad Pitt is stomping his own grapes," says Matthew Conway, a wine expert and Beverage Director at Marc Forgione restaurant. "He was smart and brought on veteran vintner Marc Perrin of the Perrin wine making family to make and distribute his wine and it's actually very good."
So good that Wine Spectator ranked their Côtes de Provence Rosé Miraval 84 on its Best 100 wines in 2013. Since it was the only rosé listed that year, they basically named the A-listers' $23 bottle of wine as "The Best Rose`" in the world.
But divorce makes everything complicated.
"Real estate assets are like any other asset that can be turned into cash or have a cash value. The properties can be traded between the couple or the properties can be liquidated and the proceeds split between the couple or the couple may choose to hold onto the properties as investments or one member may purchase the other member's interest in a property," Seth Kaplowitz, law professor at San Diego State University, says.
RELATED: Why big celebrities are getting into the wine and spirits business
The vineyard is likely worth much more than $60 million today, according to Katherine Salyi, an associate broker with Prime Manahattan Residential.
"When a celeb is connected to a property it definitely increases the attention and interest driving the price up. The fact that they own it will for sure increase its value," says Salyi. And as a working, prize-winning wine operation, Miraval will likely command "top dollar" at sale.
So if Brangelina can't decide who gets the vineyard, its value could be split up. But is Miraval good enough to survive without its famous owners?
Certified Sommelier Elizabeth Schneider, who hosts the podcast Wine For Normal People, says it is.
"I think the wine has its own reputation now and a lot of people don't know or even care that it's Brangelina's wine anymore," says Schneider. "The scores, ratings, and the stuff in the bottle is always what it comes down to with sales. Wine drinkers are smart and not easily fooled. Celebrity can get an initial sale but if a wine is bad, they aren't going to buy it again."
Pitt may have touted his prowess among the vines in a 2014 Wine Spectator interview, but both parties have a vested interested in Chateau Mirazal says Pop Goes The Week's Editor Brian Balthazar.
"Their wedding ceremony was held in the chapel on the grounds, Angelina's mother was of French Canadian dissent and don't forget their twins were born in Naples, France in 2008."
Balthazar speculates that Pitt might strike a similar deal as his last divorce. "In his previous marriage to Jennifer Aniston, it was reported that in addition to a sizable financial payoff, Jennifer got the house, and Brad got control of their jointly owned production company. One has to wonder if a similar arrangement will be made with Angelina."
The only thing that matters now is what's on paper says New York City based divorce lawyer Linda Mellevold. "I'm guessing both of their names are on the deed but remember, it's not marital property because it was purchased before the marriage. Essentially they possibly don't even need to make a decision about it at all in order to be divorced."
If Schneider were to place a bet, her money would be on the sale of the estate, "My guess is that they are going to sell the estate because it's very expensive to run a winery. You can only make the wine once a year so if mother nature is good to you then you have a good vintage if it's not then you take a big loss."
Carey Reilly is a lifestyle blogger, TV host, comedian and lover of cocktails. She is the editor of www.notsoskinnymom.com. Follow her on Twitter @careycomic and Instagram @careyreilly.