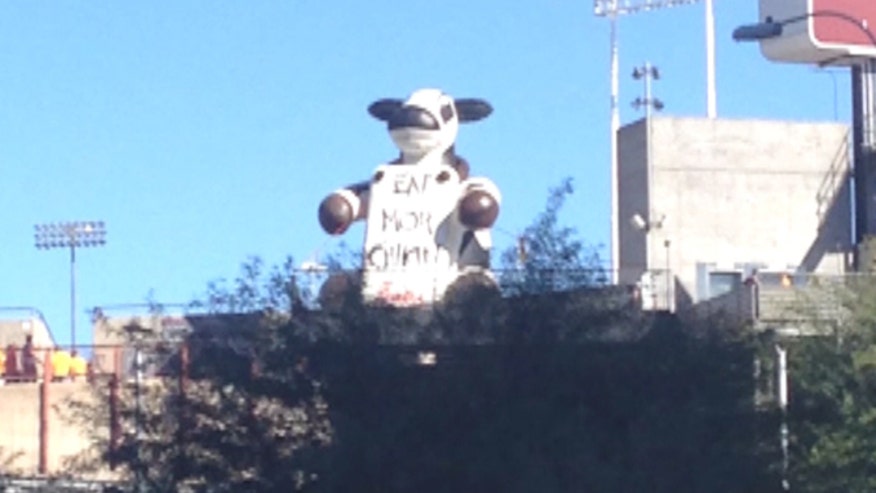 An Arizona Chick-fil-A owner is offering free chicken sandwiches to whoever brings home a giant inflatable cow that was stolen Saturday night after an Arizona State University Football game.
Phil Thomas, who owns a Tempe, Ariz. Chick-fil-A restaurant, says the eatery's signature mascot was stolen from the back of a Chick-fil-A car while it was deflated.
"Saturday night after the ASU football game...we took down our 24-foot inflatable Chick-fil-A cow that says 'Eat More Chicken'…and stowed it my truck for a few hours until we could get over to the storage unit," Thomas told FOX 10.
The cow, which weighs 350 pounds and carries the sandwich chain's signature slogan "Eat Mor Chikin," makes regular appearances all over Tempe including football games at ASU and Grand Canyon University and various store grand opening events.
Locals are shocked that anyone would steal the store's signature cow.
"I feel mad, but sad," one young customer told FOX 10.
Others say the behemoth bovine likely won't stay hidden for long.
Said one local who eats at the fast food chain often, "I think it's horrible that someone would take a cow. What are they going to do with it? mean you can't put it in front of your house."
A police report was filed Sunday and an investigation is on-going.
"This is the only 24-foot inflatable cow in the state of Arizona, so we're definitely down," Thomas says. He added, "It takes a team of us to get this thing up and tied down. It also takes a team of us to take it down and roll it back up and put it in the back of the Chick-fil-A truck."
Until police are able to catch the culprit, the franchise owner is offering a pretty savory deal to anyone who brings the cow back to the Tempe location—a year's worth of Chick-fil-A sandwiches.