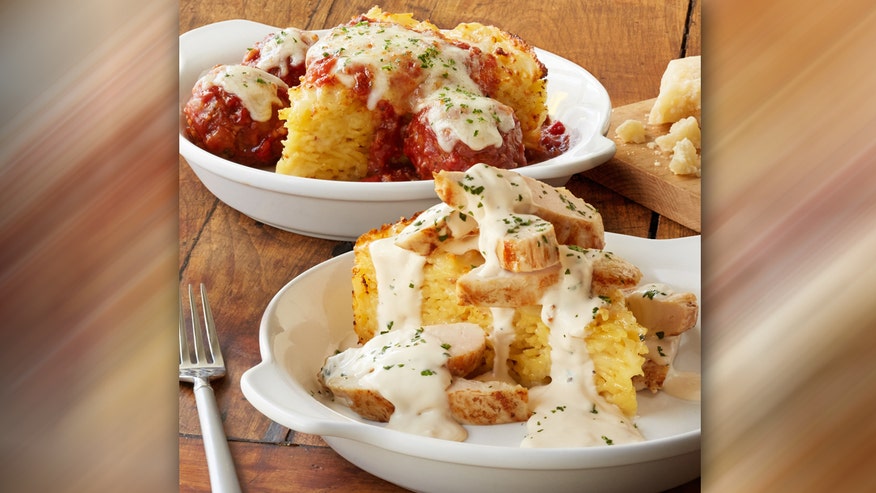 Carbo-phobes beware. Olive Garden's newest creation is not for the faint of heart.
Just in time for bikini season, America's favorite Italian chain has launched two versions of a classic hangover treat: the spaghetti pie.
According to a spokeswoman for the chain, the Deep Dish spaghetti pies are "inspired by the Italian tradition of baking leftover pasta with cheeses and ingredients to ensure that leftovers or extra ingredients never went to waste." Using up leftover supply will come as welcome news to Olive Garden shareholders at Starboard Value, the investment firm that famously declared in 2014 that Olive Garden's never-ending breadstick policy "wasteful" and lead to declining revenue.
The larger than life pie starts out with spaghetti, mixed with seven types of cheese (the chain would only confirm mozzarella, parmesan and romano) and bacon, loaded into a flaky pie crust and baked. Then the pie is cut into huge wedges and topped with either the chain's signature Alfredo sauce and juicy chicken breast or a meat-marinara sauce with meatballs. The final portion is a block of pasta and cheese that rises a good three inches off the plate.
"I feel guilty just lookin' at this thing," said one curious taster. But after one bite, the familiar Olive Garden flavors were all there. "It's just like the Chicken Alfredo, but the crust is really buttery...so more carbs!"
A few tasters liked the pie, but some were confused by the concept.
"Doesn't taste any different to me. What's different about it?" said one taster.
But many acknowledged that the spaghetti pie felt like the ultimate comfort food—and couldn't stop eating, even after feeling stuffed.
"It's cheesy, saucy, meaty-- basically everything you want from an Olive Garden dish, in a size that's bigger than my head!"
If you don't like Olive Garden, these pies aren't for you. But if you're big a fan of the chain, these pies basically combine the best of everything the restaurant has to offer, in a larger-than-life way.
And we do mean large.
One serving of the meatball spaghetti pie clocks in at a whopping 1,590 calories with 104 grams of fat. We recommended sharing with a friend-- or three.
But those heaping helpings have helped the once struggling Italian chain rebound over the few years while other casual eateries have struggled. The wildly successful Never Ending Pasta Pass promotion spawns annual digital meltdowns. And the chain has focused on its to-go business which executives say has grown in 40 percent in the past two years. Olive Garden also added large-order delivery to its restaurants to ramp up its catering business.
"We benefit significantly at Olive Garden because food travels so well, especially when we put it in bulk containers," said Lee.
In addition to the spaghetti pie, the chain has also rolled out two new versions of its breadstick sandwiches: a spicy Calabrian chicken sandwich topped with a tangy gorgonzola sauce and a classic eggplant parmigiana.
All of the new menu items are now available at Olive Garden but if you don't want to go to a regular restaurant the chain is taking its spaghetti pies and sandwiches on tour this summer, serving fans at its "Never Ending Family Table."
The table kicked off the family style dining event at the High Line, an elevated park in New York City's trendy Meatpacking District on June 2. During the next few months, one Family Table will make a scheduled stop in a new city every week, and the other table will be a surprise pop up. Olive Garden fans can submit a "summer celebration" idea —such as an upcoming family reunion, special birthday, or graduation-- for a chance to be chosen as one of the surprise locations for the Never Ending Family Table.