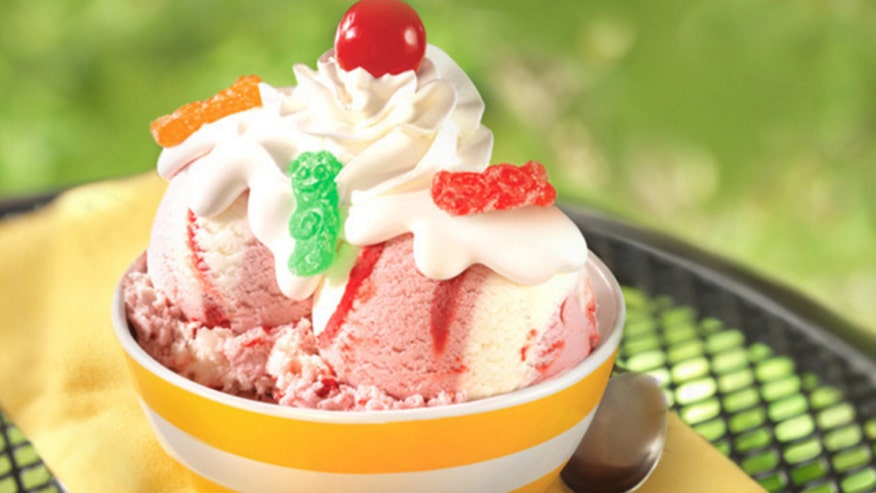 Swimsuit season may be just around the corner but Baskin-Robbins is serving up one excuse to ditch the diet.
April's flavor of the month is a sweet and tangy riff off a childhood favorite—Sour Patch Kids candy.
Redberry Blast is made with a mix of raspberry and marshmallow ice creams with a ribbon of sour gummy candy—think melted red Sour Patch Kids-- swirled throughout. Every so often you'll get a crunchy, sour citrusy hit-- just like you would from eating the gummies plain. But unlike the candy, this ice cream is super sweet at first-- then it's sour.
"It's got a very smooth base to it," said one taster of the marshmallow ice cream. "Without the candy ribbon, I wouldn't really guess it was supposed to be Sour Patch flavor."
At Baskin-Robbins you can order the ice cream as a sundae or scooped into a cone. It comes topped with even more Sour Patch Kids and marshmallows. For many of our Chew on This tasters, the ice cream was a blast from the past.
"This is a recipe for a child's party."
We had doubts about the sour candy-marshmallow combination. On first bite, the marshmallow ice cream is really sweet and overshadows any actual raspberry fruit flavor. And with so many different flavor swirls, each bite of Redberry Blast could yield a totally different taste profile. For some, the sour ribbon was just too intense to be enjoyable.
"It definitely reminds me of Sour Patch Kids," said one taster who wasn't sure if she'd be able to eat a whole serving. "One minute it's too sweet. Next minute, it's too sour, so it definitely has both extremes."
Ice cream certainly shouldn't leave you in pain. But lest you think this fruity, colorful creation is just for the kids—one taster decided it was decadent enough to replace the most adult of activities.
"Oh my god. This is better than sex."
Sour Patch Kids Redberry Blast is available at participating Baskin-Robbins locations through April.