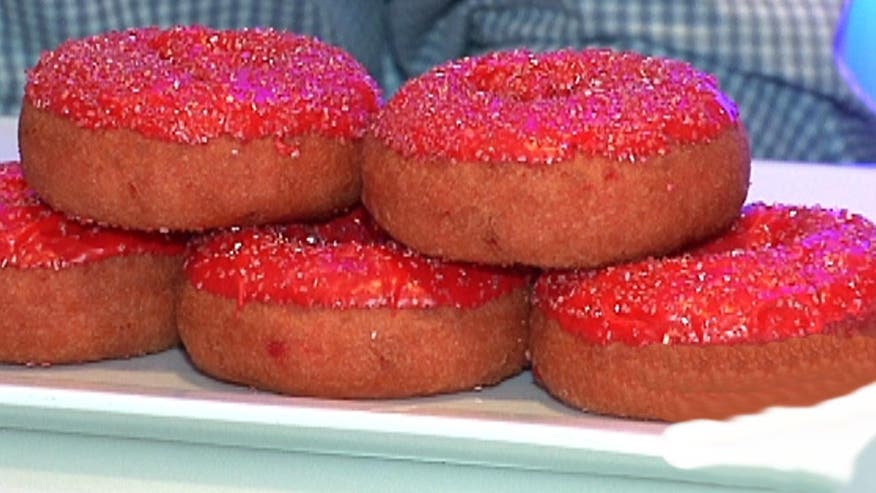 7-Eleven has created dozens of flavors for its signature frozen Slurpee drink over the years including Pina Colada, Sour Patch Watermelon and Blue Raspberry.
But does that same fruity goodness transfer to baked goods?
Behold the Slurpee Donut-- a bright pink cake donut inspired by the convenience store's Wild Cherry Slurpee. It has a slightly tart but very fruity wild cherry-flavored icing, and covered in sparkling sugar crystals, meant to give the treat an ice-like crunch.
It might not be as refreshing as a Slurpee, but the shockingly bright red confection elicited some equally colorful reactions.
"If there were a black hole in the center of the galaxy made of sugar," said one taster, "it would not be this sweet."
The universal consensus from our Chew on This tasters was that the donut was "very, very sweet"—and depending on how you like your baked goods, that could be a very, very good thing-- or the sugary kiss of death.
"I kind of don't want to take another bite of this," said another taster. But several donut lovers were eager to finish up any of his sugary leftovers.
The donut is topped with a wild-cherry flavored icing and covered in tiny sugar crystals meant to emulate the icy-tingle from the famous frozen treat. While almost everyone enjoyed the moist cake donut, the sugary cherry frosting proved divisive.
"It's pretty moist but the cherry's gross and I don't like these kind of sprinkles," said one taster who was turned off by the topping but liked the cake part.
If given the choice between an original Slurpee and the donut version, most opted for the icy treat. But one person had a suggestion for 7-Eleven's next beverage-baked good mashup.
"A Coca-Cola Slurpee flavored donut would be cool."
At the very least, the Wild Cherry donut has us craving something cold to wash it all down. Enter the real Slurpee.
The donut costs 99 cents but you can score it plus a medium Slurpee of the same Wild Cherry flavor profile for just $2.