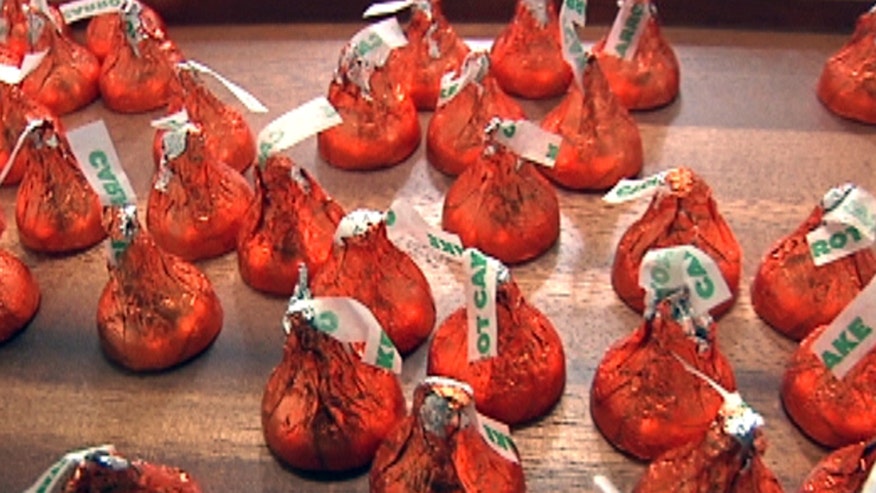 Hershey has a new product just in time for Easter and it's got nothing to do with chocolate.
The candy company has jumped into the seasonal candy rush this year with Carrot Cake Hershey's Kisses.
Hershey wants consumers to associate Carrot Cake Kisses with spring the way pumpkin spice lattes have become linked to fall or peppermint to winter. Their thinking: With Easter comes the Easter Bunny. And what does the bunny eat? Carrots.
The treat is yet another example of seasonal candy's growing influence, whereby candy makers to whip up all sorts of crazy foods for just about every holiday.
Who's buying all this candy? Pretty much everyone.
According to the National Confectioners Association, 86% of shoppers buy Halloween candy; 85% buy candy for the December holidays; 79% buy Valentine's Day candy; and 87% of parents give Easter baskets to their children, of which 83% include candy. Americans spent more than $2 billion on Easter candy alone in 2015, according to the National Retail Federation.
This year, Hershey seems to want a bigger piece of that sweet action and have tried to build some buzz around the new flavor. Sold exclusively at Walmart, rumors of the Carrot Cake Kisses began earlier this month after pictures of orange colored Carrot Cake Kisses popped up on Reddit and were spotted on shelves by consumer website, The Impulsive Buy.
When news initially spread of the candy's release, some Kiss purists in the Twittersphere released an exasperated groan.
Ok making carrot cake flavored Hershey's kisses is straight disrespectful to chocolate

— Linda Horn (@lindaharrisonh) February 22, 2016
@SavvyShopperCT NOPE. I want my carrot cake as CAKE & Hershey kisses as chocolate! #dontmesswithasurething

— KrisMothersele (@KrisMothersele) February 18, 2016
But are they really all that bad? We decided to take to the streets of New York City to find out what people thought of the treat, and how it compares to the original.
Overall people thought they tasted pretty good. (Okay, we know that it's not horrible to be getting a free piece of candy on the streets). Most thought that it tasted like the real deal.
"It's good, it tastes just like carrot cake," said one taster.
The creamy texture and look reminded us of an orange colored white chocolate. Most people weren't too bothered that there was no milk chocolate, although one man said it tasted of almonds.
Yet, a couple of testers said the candy had a flavor reminiscent of another holiday: Halloween.
"It kind of tastes like candy corn."
Should we mention that there's already a candy corn flavored Hershey's Kiss?