If you're a fan of fun shots, skip the shot glass cleaning all together at your next party by making edible glasses.
These shot glasses are generally simple to make at home. From cucumber cups to shot glasses made entirely out of Airheads, there's plenty of fun for any gathering.
1. Bacon Chocolate Shot Glass
Okay, this one is a big labor intensive, but it might actually be worth it. If you're a bacon lover (and who isn't?), all you need to make this salty treat even better is melted chocolate that acts a liner to make the 'glass' watertight. After it's cooled, it's ready for a splash of your favorite booze.Head on over to Through The Eyes Of My Belly for instructions on how to create these bacon shot glasses.
(photo: Through The Eyes Of My Belly)
2. Milk and Cookie Shots
These chocolate chip cookie shot glasses from Dominique Ansel of Dominique Ansel Bakery in New York City may be designed to be filled with cold milk, but you can easily replace that with a similarly boozy beverage, like Bailey's Irish Cream or Adult Chocolate Milk.
Worked all week on tests, and now the Chocolate Chip Cookie Shots will all be served WARM tomorrow!! (w/ cold milk) pic.twitter.com/GR0JDHMbzR

— Dominique Ansel (@DominiqueAnsel) March 13, 2014
3. Airhead Shot Glasses
Make your childhood Airheads candy part of your adult drinking with these Airhead shot glasses. These are easy to put together and filled with the booze of your choice, are the ultimate sweet and boozy treat that you can eat in its entirely.
On the bright side: Some genius made a shot glass out of Airhead candy http://t.co/zwKVADK6Bi pic.twitter.com/3nQLlBMKap

— Emily Fleischaker (@emofly) March 6, 2014
4. Strawberry Margarita Jello Shots
Jello shots can get a little messy and annoying to eat when prepared in plastic or paper cups. Make your shot-taking experience more enjoyable by using real strawberries for a snack that is also boozy.
How To Make Strawberry Margarita Jello Shots And Battle S.A.D. http://t.co/7ents0CSqy pic.twitter.com/JEBsV1AfrF

— BuzzFeed Food (@BuzzFeedFood) March 5, 2014
5. Jelly Shots
These jelly shot glasses are like eating a bag of Gummy Bears, but in shot glass form. These are also fat-free, so you can feel slightly less guilty about consuming several of these edible shots throughout the night.
Edible Gummy Shot Glasses http://t.co/9sGYmagb via @thefancy

— MutualArt.com (@MutualArt) July 1, 2012
6. Watermelon Shooter
For these watermelon shot glasses you're going to need an ice cream scooper as well as a melon baller, but after that the directions are fairly simple. Fill these watermelon shot glasses with the watermelon margarita recipe included here, or a shot recipe of your choice, then consume both simultaneously.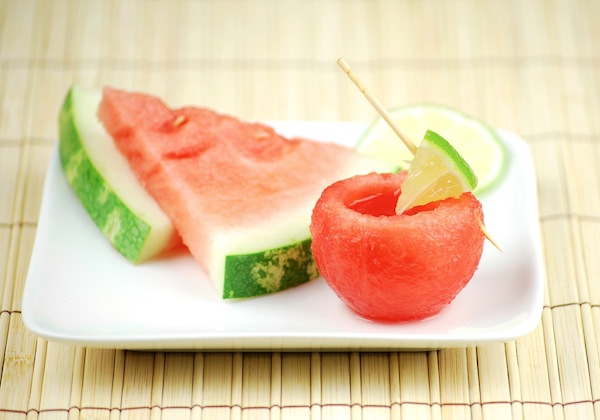 (photo: SheKnows.com)
7. Mojito Shotsicles
Rather than make mojitos to pour into shot glasses, these mojito shotsicles from Luxirare combine mint, simple syrup, lime juice and seltzer water in the actual frozen shotglasses. Pour in rum, vodka or tequila as your liquor component after the molds are completely frozen, and enjoy.
Flashback to @luxirare edible shot glasses. What incredible ideas this woman has! http://t.co/SkW2h0dR9D pic.twitter.com/ibLE6H6Mnf

— Laura Helena Murphy (@lhm8) May 3, 2014
8. Cherry Tomato and Cucumber Mint Shooters
Make shot glasses using tomato and cucumber cups to give your booze a bright, vegetal twist. If you decide to make a mixed shot to go in these cups, make sure the flavors in your recipe don't conflict with these veggies.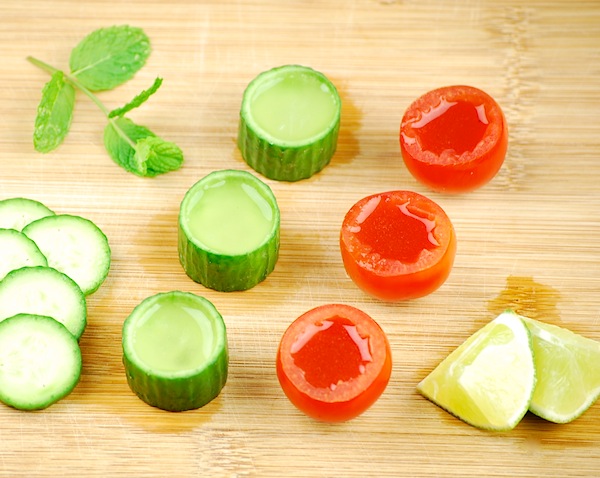 (photo: SheKnows.com)
9. Toasted Marshmallow Shot Glasses
Food and cocktail blogger Cheri Alberts of The Watering Mouth came up with a recipe for shot glasses made with only toasted marshmallows and posted the step-by-step process in this YouTube video. While she says they only work about half the time, the times they do actually work will result in a delicious, ooey gooey and boozy snack.
10. Peppermint Shot Glasses
Because one type of edible shot glass is never enough, Cheri Alberts also takes the credit for these Peppermint shot glasses, made of melted down peppermint candies that she forms around the silhouette of an actual shot glass. Watch edible magic being made in her YouTube video here.