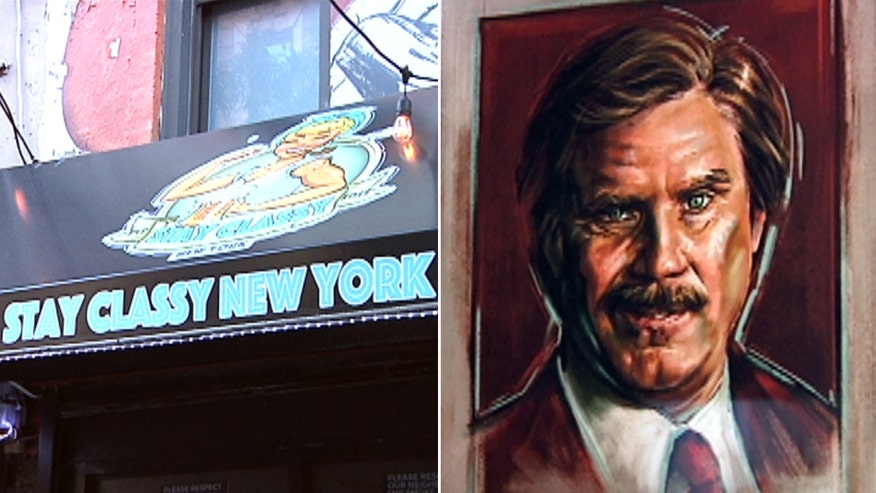 Great Odin's raven!
There's now a bar where Will Ferrell fans can dish out "Anchorman" one-liners and sip cleverly named cocktails like a Smelly Pirate Hooker.
Stay Classy New York opens Friday on Manhattan's lower eastside, but it's already promising to be a laugh.
"The idea kind of came from a joke," co-owner Brian Link tells Fox Lifestyle. "My business partner Zach Neil and I were looking to buy a bar and we were just kind of curious about what to do as a theme and so I quoted something from a Will Ferrell movie and he just kind of said 'You know what? Why don't we do a Will Ferrell character themed bar?'"
The name of the bar is an ode to "Anchorman" and the fan art on the wall spans the actor's resume. Even the drink menu reads like a list of greatest hits.
In nod to that scotch-drinking mustached newscaster here's a sample:
--Glass Case of Emotion (muddled rosemary and peach, whiskey, lemon juice, simple syrup)
--Smelly Pirate Hooker (Jalapeno margarita, tequila, Stoli jalapeno, orange
juice, sour mix, lime juice)
--Milk Was a Bad Choice (Vanilla Stoli, vanilla Schnapps, milk, ice)-- all nods to that scotch-drinking mustached newscaster.
In an homage to "Old School":
--You're My Boy Blue! (Hendricks gin, blue curacao, sweet and sour, pineapple juice)
--Shake and Bake (Shaken whiskey and sour mix and ginger beer)
And a hit tip from "Zoolander":
--Mugatu Mule (Tequila reposado, lime, bitters, ginger beer)-- just to name a few.
Not officially launched, the bar has been testing out drinks and service for select customers and it's already attracted a crowd who know their comedy.
"I go through here and probably hear about a thousand quotes a night which is great, absolutely great. It's just a fun place. The crowd has been fun. Everybody comes here and one thing in common is they love Will Ferrell movies," said Link.
They menu will be continually evolving because they welcome new drink suggestions. "So if anybody out there has any brilliant ideas as to what to add to the menu by all means please do so," he said.
Ferrell himself is not involved with the bar, Link says, adding: "We are not sure if he knows about the bar but you know, hopefully he does so, if he does, (Ferrell) please stop by."
The themes will continue with both Halloween and the holidays coming up, just in time for "Elf" references.
Because you know, as they say, "When in Rome"…
Fox News Entertainment Producer Ashley Dvorkin covers celebrity news, red carpets, TV, music, and movies. Dvorkin, winner of the 2011 CMA Media Achievement Award, is also host of "Fox 411 Country," "Star Traveler," "Fox 411 Big Screen," and "Fox on Reddit."