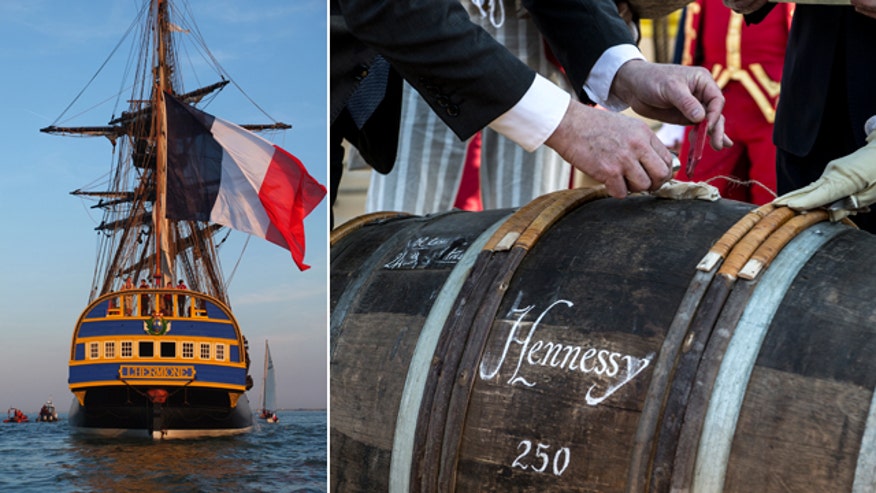 An authentic replica of the 18th century ship The Hermione, which carried aid from France to America during the Revolutionary War, arrived in New York City Wednesday.
Also on board? A few barrels of ultra-rare, high-quality Hennessy cognac.
"There's only 250 barrels of 250 liters each for the whole world," said Maurice Hennessy, International Brand Ambassador for Hennessy. "It's a collector's item."
The 250 figure is significant: The brand is marking its 250th anniversary, and sponsored the reconstruction of The Hermione as part of its celebration.
"In 1870, Marquis de Lafayette crossed the Atlantic in a ship called Le Hermione - with a little cognac, I must say - and he was here to help you guys fight the British, and at the end of the day, with Washington, they created a country called U-S-of-A," Hennessy said. "It's a very important part of your history and it's a very important part in our friendship between the two nations."
The ship is docked at New York's South Street Seaport and will be open for public tours throughout the July 4th weekend.
The two barrels of cognac on board, a nod to the cognac that originally made the voyage with Lafayette in 1780, will be donated to charity.
"There's two bottles of a very special cognac created in honor of this celebration," Hennessy said. "It's been created by the master blender Yan Fillioux out of cognacs which he has aged and nurtured during the 50 years of his working time at Hennessy. Some of them are at least 40-years-old."
You may not get your hands on the cognac from the Hermione, but Hennessy has released a few thousand bottles of its limited edition Hennessy 250 Collector Blend for $600 a pop.